Marketing Class Adopts "New York State of Mind"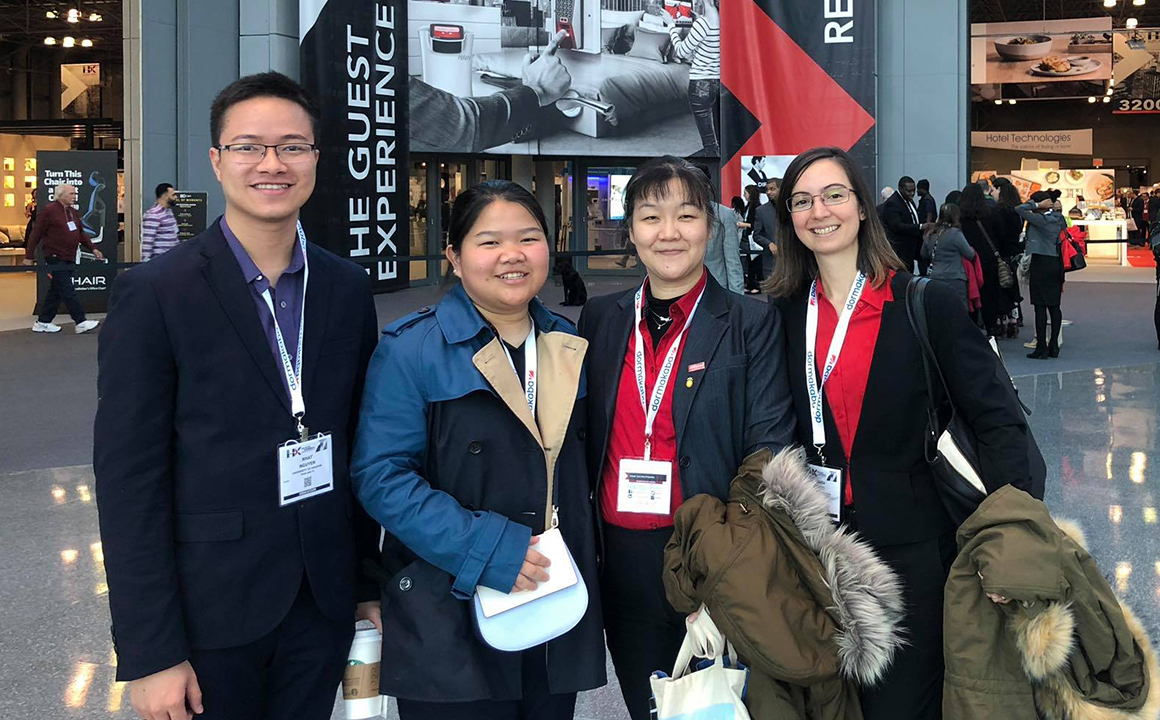 As part of a class called Hotel Marketing New York Style, 20 Hilton College students took to the streets of the Big Apple on Nov. 9-13, learning that in the world of hospitality, anything is possible… especially in The City That Never Sleeps! 
"With this trip, students got to explore a hotel market outside of Texas that is densely populated with immense market segmentation," said Instructional Assistant Professor Cathy Cheatham. "They saw a great deal of big box hotels, boutique properties, union-run hotels and a multitude of Airbnb properties. They also had the opportunity to discover some of the best restaurants, taste the night life, do some shopping and catch a Broadway show. And, they learned that any kind of new technology and hotel innovation is rolled out to the United States through New York City."  
Cheatham, who is also the director of rooms at Hilton University of Houston, has assisted Dr. Carl Boger with the class for the past three years. Dr. Boger has orchestrated this annual student trip for more than a decade. A large part of the class is spent visiting HX: The Hotel Experience, one of the largest conventions and industry trade shows in the world. Held at the Jacob K. Javits Convention Center, this year's event attracted more than 7,200 guests from more than 50 countries. More than 2,800 companies were also represented.
"With the class, I attended many educational sessions and saw the latest technology, designs, products and services to hit the market," said junior Nhat Nguyen, pictured from left with Becky Pham, Ting-Bin Wu and Laura Resco. "We also met industry leaders who shared their inspirational stories and valuable knowledge. Hospitality is so much bigger than just hotels and restaurants, and I was happy to make connections to help me grow my future career."
In addition to networking, and attending seminars at the hotel show, the students toured the Grand Hyatt New York and the New York Marriott Marquis, and explored the city through a scavenger hunt that ended in Caffe Palermo, famous for being the Cannoli King of Little Italy.
During their last night in the city, the class attended the annual University of Houston/New York Alumni Mixer, hosted by the Hilton College Alumni Association and the New York City Alumni Association at Sunset Terrace at Chelsea Piers. There, they rubbed elbows with more than 60 alumni and industry professionals in attendance.
At the mixer, Dean Dennis Reynolds provided construction updates for the College and the Hilton University of Houston, and announced the new location of our Cougar Grounds student-run coffee shop in the University's Health 2 building. The event also featured keynote speaker Robert Flores, University of Houston alumnus and studio host for the MLB and NHL Network; Mike Pede ('89), associate vice president of UH Alumni Relations; and Brent Chinn, president of the University of Houston Alumni Association Board.
Another highlight of the trip? Catching up with Ryan Rodgers ('18), who welcomed our students to the property tour at the Grand Hyatt New York, where he is completing a corporate management training program in revenue management.
"Ryan was part of this class in 2016, and he fell in love with New York City during our visit," Cheatham said. "Being part of this experience really does provide windows to wonderful opportunities, especially for students who want to work in the East Coast market."  
Click here to see photos from this very eye-opening trip! 
(Story: Pearl Cajoles | Photo: Courtesy of Nhat Nguyen)
Posted on Dec. 13, 2018