Hilton College-San Antonio Kicks Off Golden Anniversary Celebration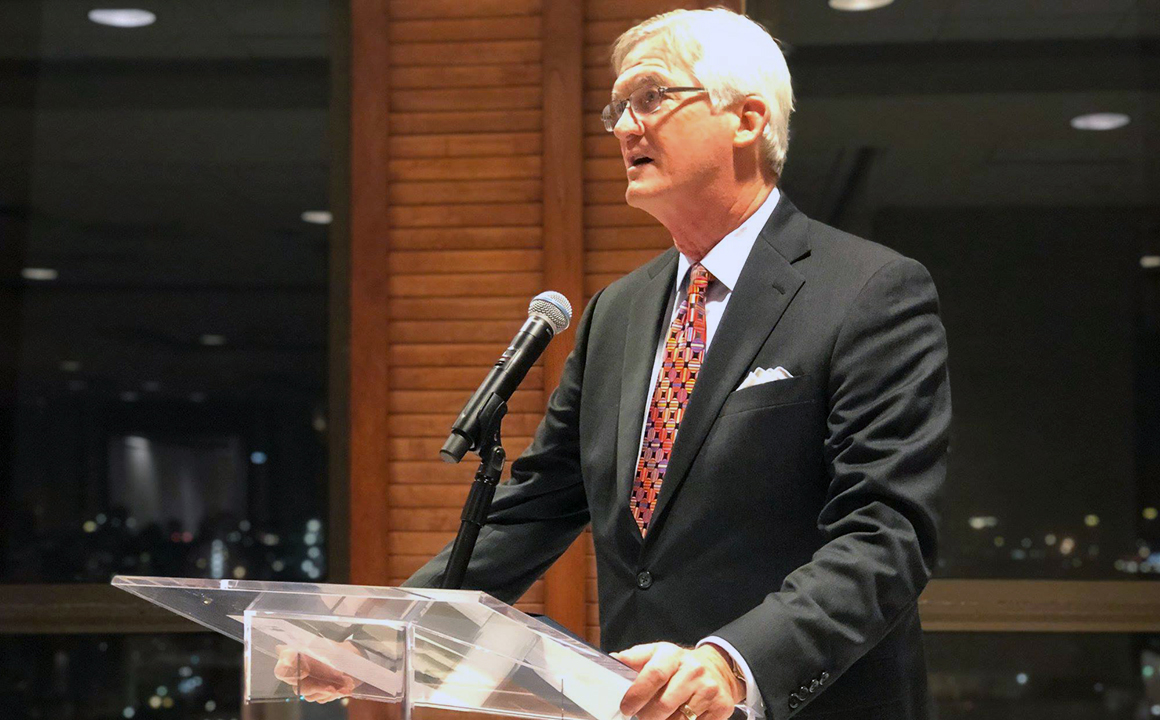 Let the festivities begin! With more than 100 guests in attendance, the year-long celebration to mark the 50th anniversary of the Conrad N. Hilton College of Hotel and Restaurant Management officially kicked off in San Antonio on Dec. 6 with a reception at the Hilton Palacio del Rio.
Robert Thrailkill ('82), vice president of operations for Zachry Hospitality, LLC, chairman of the Hilton College-San Antonio Advisory Board and general manager of the Hilton Palacio del Rio, graciously opened the doors of his hotel to host the event. Thrailkill, as well as San Antonio's Assistant Dean Ashli Johnson and Dean Dennis Reynolds all welcomed and addressed the attendees gathered in support of the College's San Antonio program. The three were also presented with an official city proclamation by San Antonio Councilman William "Cruz" Shaw to mark this historic milestone. Glasses were raised for a champagne toast and guests enjoyed the musical stylings of  Grammy award-winner Henry Brun & the International Trio.
Hilton College-San Antonio has been a part of our storied program since 2014, and is the Alamo City's first provider of a bachelor's degree in Hotel and Restaurant Management.
"As the newest addition to the Hilton College legacy, we were elated to host the kickoff to our golden anniversary celebrations," said Assistant Dean Johnson. "We were most excited to share the legacy of Hilton College with local alums, industry leaders and friends of the College who joined us from near and far." 
Assistant Dean Johnson said upholding the legacy and reputation of Hilton College means everything to her as a leader, and that maintaining a standard of academic and service excellence – as well as remaining a leading contributor to the city's hospitality community – continues to be her main focus.
"We have established high expectations for our students and consistently strive to create an environment in which they are challenged to be the very best version of themselves," she said. "Our graduates leave here knowing that the Hilton College will always be home, but also that they have meaningful contributions to make in the hospitality industry."
Supporting Assistant Dean Johnson, Thrailkill and Dean Reynolds on the host committee were Marsha Hendler ('73), and San Antonio Advisory Board members Liza Barratachea, Trent Freeman (MHM '01), Amanda Garcia, Marvin Jones ('85), Rosemary Kowalski, Kevin Latone, Rolando Pablos (MHM '96), Sam Panchevre, B. J. Patel and Rusty Wallace ('82). Fun fact: Hendler, Jones, Pablos, Thrailkill and Wallace are San Antonio-based members of the College's Eric's Club.
To see photos from this reception, visit our album on Facebook. And, mark your calendars for more "Golden Opportunities" in 2019: Alumni Awards Reception, April 12 at the UH Alumni Center; Gourmet Night, April 13 at Hilton University of Houston; Day of Volunteering, Sept. 16 at Hilton College; and the Golden Anniversary Gala, Oct. 15 at The Post Oak Hotel at Uptown Houston. More details to come!
(Story: Pearl Cajoles | Photo: Miguel Cabrera) 
Posted on Dec. 13, 2018