Alexis Jamieson Leaves Piece of Her Heart with Hilton College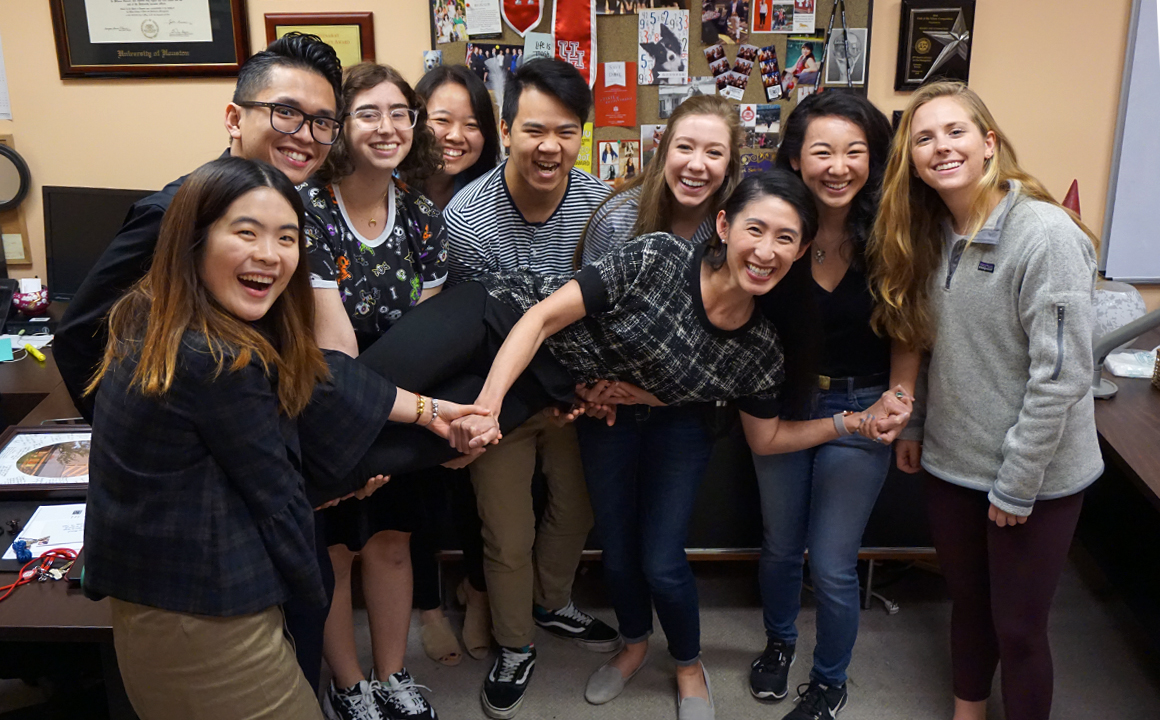 A few hours after she taught her last class at Hilton College, Instructional Assistant Professor Alexis Jamieson ('05, MS '13) took a moment to just sit in her office and take it all in. This past July, she  submitted her letter of resignation, and would soon be moving to Scotland with her husband Craig and their daughter Louise.
When the couple learned they were having a baby, they thought about their own upbringings and the values they wanted to instill in their child. They wanted to give her a different worldview. When Louise was born last November, the Jamiesons decided to raise her in Craig's home country. When he was offered a position in Aberdeen, Jamieson knew her time with Hilton College was imminent. She would soon have to say her goodbyes.
It's easy to see from the photos, thank you cards and other mementos that cover her office walls and bulletin board that Jamieson is loved by many. Perhaps it's in the way she relates to students, or that her office door is always open for anyone who needs a friend and a nonjudgmental ear.
For the students who have gotten to know Jamieson, including from left, Maggie Cai, Tuan Truong, Maya Moujaes, Youngjin Ko, Jonathan Vu, Adria Watson, Emma Sinclair and Piper Gammons, her office has also been a safe haven where they can find a confidant who is truly interested in what they have to say, and sincerely shares in their successes.
Much like her students, Jamieson came into her own at Hilton College. After graduating from Katy High School, she enrolled at the University of Houston with an undeclared major. At that time, she worked as a server at Saltgrass Steakhouse, and was part of the opening team for the restaurant's Mason Road location.
"I loved working in the industry, so when I learned about the possibilities at Hilton College, it was a pretty easy transition once I declared my major," she said.
As an undergrad, Jamieson worked and went to school full time. She was introduced to the private club industry as member of CMAA's student chapter. With her involvement, she landed an opportunity to work as private events director for ClubCorp's Bay Oaks Country Club.
After graduation, Jamieson continued to advance with ClubCorp, holding membership director positions at The Downtown Club and The Houston City Club. She remains an active member of CMAA and, through her current position as director of Executive Education, is responsible for coordinating the organization's continuing education classes through the CMAA Business Management Institute held at Hilton College.
When an opportunity to teach as an adjunct professor opened up at the College in 2009, Jamieson jumped at the chance to return to her alma mater, teaching Hospitality Sales, Introduction to Club Management, Social Media Marketing, and Advanced Hospitality Operations Management. She also worked in a dual capacity as a business development coordinator at the Hilton University of Houston, working out of offices at both the College and hotel.
While teaching, Jamieson decided to continue her education, earning her master's degree in Hospitality Management in 2013. In those days, she was so close to her students in age that she often felt more like a big sister than an instructor – it took time for her to see her former professors as colleagues.
From the time she was an adjunct to a nearly 10-year teaching career at the College, Jamieson said she has taken bits and pieces of leadership styles from her mentors – Drs. Stephen Barth, Nancy Graves, Mary Dawson and Carl Boger – and applied what she learned to complement and mold her own leadership philosophy. As she grew with the College and as a young professional, she remembers a heart-to-heart conversation she had with Dr. Boger, who was then associate dean for Academic Affairs.
"He told me he would never get mad at me for doing my job the best way I knew how," she said. "That really stuck with me and it gave me the confidence to embrace my own style of teaching and leadership. I apply a similar approach to my students today."   
In her final semester at the College, Jamieson is stepping down in her many roles that also include faculty advisor for Hospitality Industry Hall of Honor. She's been a member of the Hilton College 50th anniversary planning committee, and has recently passed the baton to Reba Haskell as faculty advisor for Gourmet Night after leading the event for the last year and a half.
In a bold move in 2016, Jamieson campaigned to try something new in place of would have been the 21st Annual Hospitality Industry Hall of Honor. The event would be called A Taste of Hilton College. Her vision was to attract more people to the College for a fun casual evening of tastings from area food purveyors, including Hilton College alumni, in conjunction with Texas Wine Month. 
But, the event was postponed due to Hurricane Harvey, and Jamieson led a team of tearful student managers who had to change their perspective after a very real-world circumstance. The next year, A Taste of Hilton College was ready for an even stronger debut. It was a huge success, attended by more than 250 and raising money for scholarships. 
Through that experience, Jamieson allowed her students the trust and freedom to be creative and to forge new paths, challenging the status quo. Whether it's A Taste of Hilton College, Hall of Honor, Gourmet Night or CMAA, she's always been on the sidelines – guiding, watching and supporting.
"Throughout our journey with A Taste of Hilton College, Alexis empowered us to create our own success by giving us the resources to develop as leaders," said Emma Sinclair, who served as GM in 2018. "She is a diligent mentor, a thoughtful friend and a sincere confidant to me and so many students and alumni."
Similarly, Jesse Nagelberg ('16), a Hall of Honor and Think Tank student manager for two consecutive years, said Jamieson allowed him to fail and figure things out on his own. But, it was with her that he learned the most and worked the hardest. 
For Associate Dean for Academic Affairs Mary Dawson, who was once Jamieson's professor, replacing her won't be easy. When Jamieson was honored with the Distinguished Alumni Faculty Award at the 2018 Alumni Awards reception, Dr. Dawson introduced her to the stage. 
"Alexis is passionate about her students and everything she does at Hilton College," said Dr. Dawson. "She has such a special way of relating to students that I asked her to share her thoughts with other professors about how to better engage with students – she understands how to nurture students and has provided them a sense of calm when College life becomes overwhelming. She will truly be missed."
Jamieson and Louise will join Craig in Aberdeen at the end of January, giving her time to plan a trans-Atlantic move from their home in the Houston Heights.
"I'm still in denial," she said. "Hilton College is a huge part of my identity, and I don't know what my life will be like without this place. It has truly been my home, and I'm never going to find another place like this again."
And, it's no surprise that of all the people at the College, Jamieson said she will miss her students the most.
"I have so much hope and optimism for every student I've been given the privilege to work with. No doubt I will keep in touch on social media and follow them in their journeys, as I hope they will follow mine," she said. "As they go off and do great things, I would like to think that some of them carry a piece of me inside their hearts. I hope I have helped them overcome an obstacle or have been there for them during a defining moment in their lives. As a teacher, what more could I ask?"   
As she turns the page on her next chapter, Jamieson is still mulling over her next venture. She has many entrepreneurial ideas – from glamping to restaurants, or perhaps even growing edible insects. Or, she might become a Pilates instructor or maybe even a barista! But wherever her entrepreneurial spirit takes her, Jamieson plans to hire our students for international internships, expanding the Hilton College network to her new home in Scotland.
No matter where the next phase of her life takes her, one thing remains certain. Alexis Jamieson will always keep Hilton College close to her heart. And, she will always be in ours.
(Story & Photo: Pearl Cajoles)
Posted on Dec. 13, 2018