Foods 2 Class Serves Heaps of Hospitality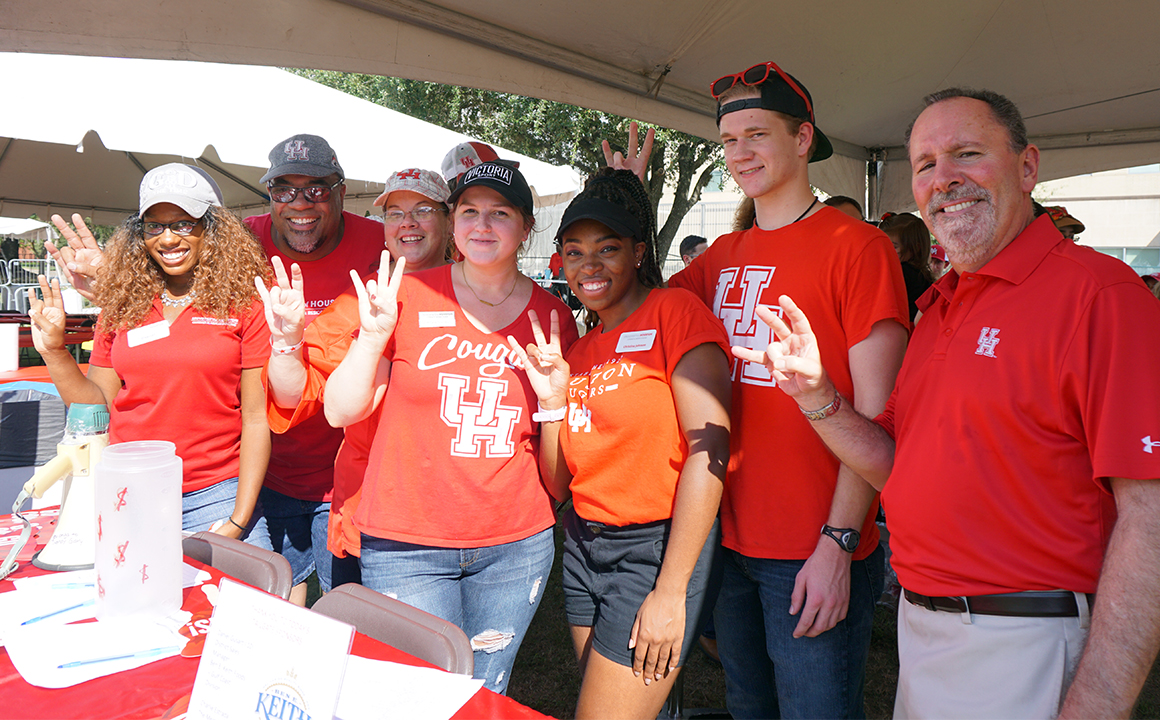 When Chef Anthony Chevalier and students from his Foods 2 class run a tailgate, it's bound to be a great time! This season, they have once again teamed up with the Hilton College Alumni Association to provide pre-game grub at Party on the Plaza, held next to TDECU Stadium before each home game. But, not just any kind of "grub!"
"When it comes to the food, we aim to please," said Chef Chevalier, pictured second from left with his students. "In addition to donations from our alumni and industry sponsors, we've served chicken and sausage gumbo, red beans and rice, bread pudding, fajitas, pralines and cornbread. We also provide vegan and vegetarian options, which President Renu Khator especially appreciates."
Approximately 200 guests visit the Hilton College tent at each tailgate, allowing Chef Chevalier's students to learn concepts of catering management and how to serve large crowds. This experience is a fun addition to required rotations in Eric's Restaurant, where students learn all aspects of the operation – from washing dishes to managing the front and back of the house.
Sophomore Ailin Fei has attended every tailgate this season. She said her favorite part of the class is the opportunity to get hands-on service experience and being able to network with alumni. In fact, it is the hospitality and service factor that Chef Chevalier want his students to learn the most.
"Not everyone will be cooking in bulk or serving large crowds in their future careers," he said. "But if they know how to make connections and create unforgettable experiences, they will go far. These are the skills that will help them succeed, no matter what field they choose."
There are two more Party on the Plaza tailgates left this season: Saturday, Oct. 27 against the South Florida Bulls, and Saturday, Nov. 10 against the Tulane Green. Tailgates open four hours before kickoff.
"We'll be there this Saturday starting at 10 a.m. with food sponsored by Chili's and our special pumpkin tarts," Chevalier said. "We're one of the most popular tents on the plaza because it's not just about our good food. People love joining us because it is run by hospitality students, who put their heart and soul into their work. Come out and meet them!"
(Story & Photo: Pearl Cajoles)
Posted on Oct. 26, 2018