Alumni Profile: Anna Schmid Inspires at Career Fair Luncheon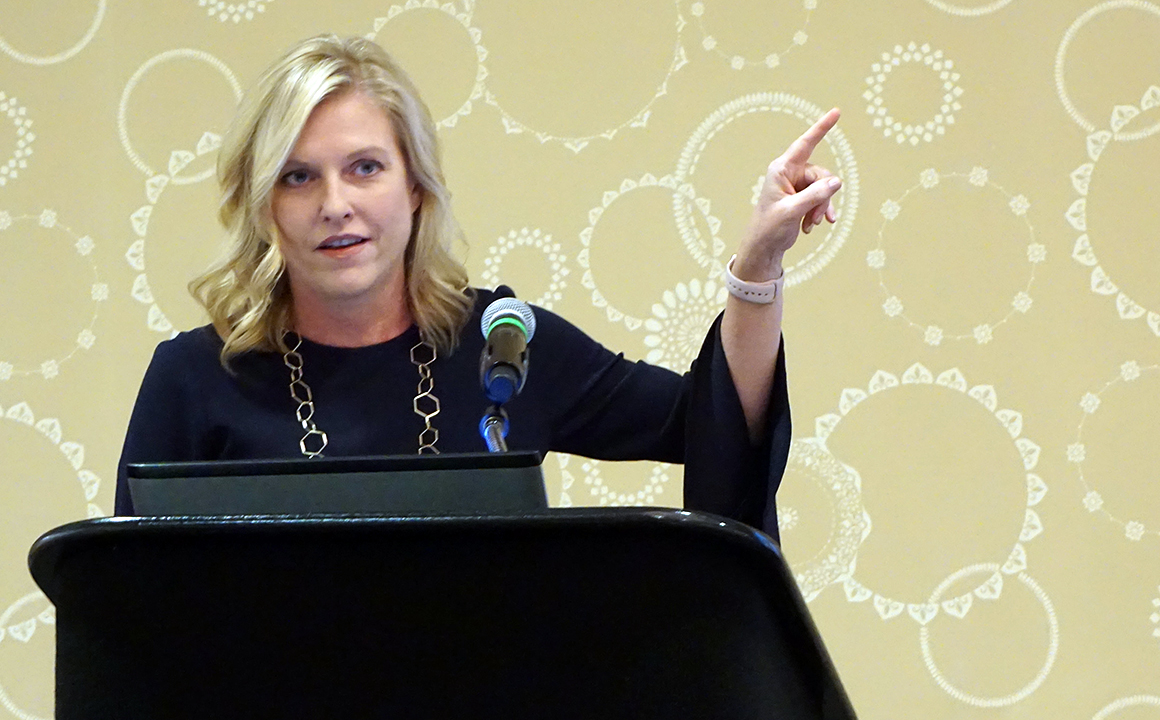 For Anna Schmid ('95), it's all about making connections, powering through life's challenges and always staying true to one's roots. Schmid is vice president of administration and event optimization at The Venetian and The Palazzo in Las Vegas. On Oct. 18, she returned to Houston and her alma mater as the keynote speaker for the Fall Career Fair Luncheon.
Speaking to an audience of students, recruiters, faculty, staff and alumni, Schmid recounted her hospitality journey – one she calls "untraditional" because of its many detours. Born and raised in Houston, she was first an international business major at Texas Tech University before finding her place in hospitality.
"The travel bug hit me in high school after I went to Italy as a foreign exchange student," she said. "I assumed that studying international business would allow me to see the world, and I didn't know I could also do that working in hotels. When I transferred to Hilton College, I knew I had fallen in love with the industry."   
As a student, Schmid held positions with Hilton and Westin hotels, as well as for the Houston Oilers and Houston Rockets organizations. Months after graduation in 1995, she packed her bags for Las Vegas, where she began her integrated resort career at the iconic Caesars Palace. There, she started as an entry-level rooms reservation agent and took every opportunity to expand her knowledge of the city and the industry.
She held management roles in concierge, business services, pool, spa/salon, quality assurance and guest services, and even did a stint as bell captain during the graveyard shift. Schmid was also part of the leadership team that developed and launched many new concepts on property, including the opening of the 1,200-room Palace Tower. 
Because she is a believer that one should never stop learning, Schmid completed her MBA from the University of Las Vegas in 2001. She encouraged the audience to take available opportunities for educational advancement – as she did – including seeking companies that offer tuition reimbursement programs or continuing education.
After nine years at Caesars Palace, Schmid took a detour and opened a couture wedding boutique and floral design business. When life threw her a curve ball in 2008, and she was encouraged to return to the hospitality industry for a job in Paradise Island, Bahamas. A single mom at the time, Schmid and her three-year old daughter Ava moved to Florida, where for the next several years she commuted from Fort Lauderdale to Nassau, Bahamas as the vice president of casino special events for Atlantis Resort and the One and Only Ocean Club.
"After going through a divorce and having to close my business, I had to change my perspective," Schmid said. "I learned that it's okay to catch yourself when you're climbing the wrong ladder, and that you sometimes have to step back and reposition your future. Failure is okay and will actually create your most defining moments."
Shortly into her tenure, Schmid was also asked to build the Love Atlantis Wedding and Celebrations brand. She and her team took wedding revenue at the properties from $1.5 million annually to more than $11 million in annual revenue, while building her venues into the premium wedding destinations in the Caribbean. While living on the island, Schmid also led the special events, entertainment and guest activities departments at the resort, and helped to grow the Battle 4 Atlantis NCAA Basketball Tournament and the Atlantis Live Concert Series. 
In 2015, Schmid and her family returned to Las Vegas for an opportunity with The Venetian and The Palazzo. Currently, she leads a division that includes the weddings, celebrations, guest satisfaction, sustainability, and community outreach departments – a "mash-up" of everything she is passionate about. Schmid also oversees several special projects for the property's executive team, and she's proud to call herself a "jack of all trades." 
Outside of work, Schmid's most important role is mom to two incredible daughters, Ava and Stella, and wife to a very supportive husband, Paul. She is also committed to mentoring the at-risk high school youth of Nevada, and is very active with the nonprofit organization JAG ( Jobs for America's Grads).
As a leader and in her personal life, Schmid said her moral compass has always been her guide, and she encouraged those attending the Career Fair Luncheon to always use theirs, to give back to their communities and to never forget their beginnings.
"Do not lose yourself. Stay true to your values, and when you're making decisions, let those values guide you," she said. "And stay connected! The people you meet throughout your time as a student can be your biggest network and the launching pad to success."
Although Schmid now calls Las Vegas home, a part of her heart will always be in Texas. During her visit, she connected with old classmates and colleagues, and chose to stay at the Hilton University of Houston, which is the training ground for students at the College.
"The students here are phenomenal, and it felt good to see them so excited for the future," Schmid said. "The industry is exploding with so much innovation and technology, and it's thrilling to know that the opportunities are endless. Hospitality is not just about greeting people in hotels and restaurants anymore… and our students are getting their training from the very best."
(Story & Photo: Pearl Cajoles)
Posted on Oct. 26, 2018