Leap of Faith Leads to Internship of a Lifetime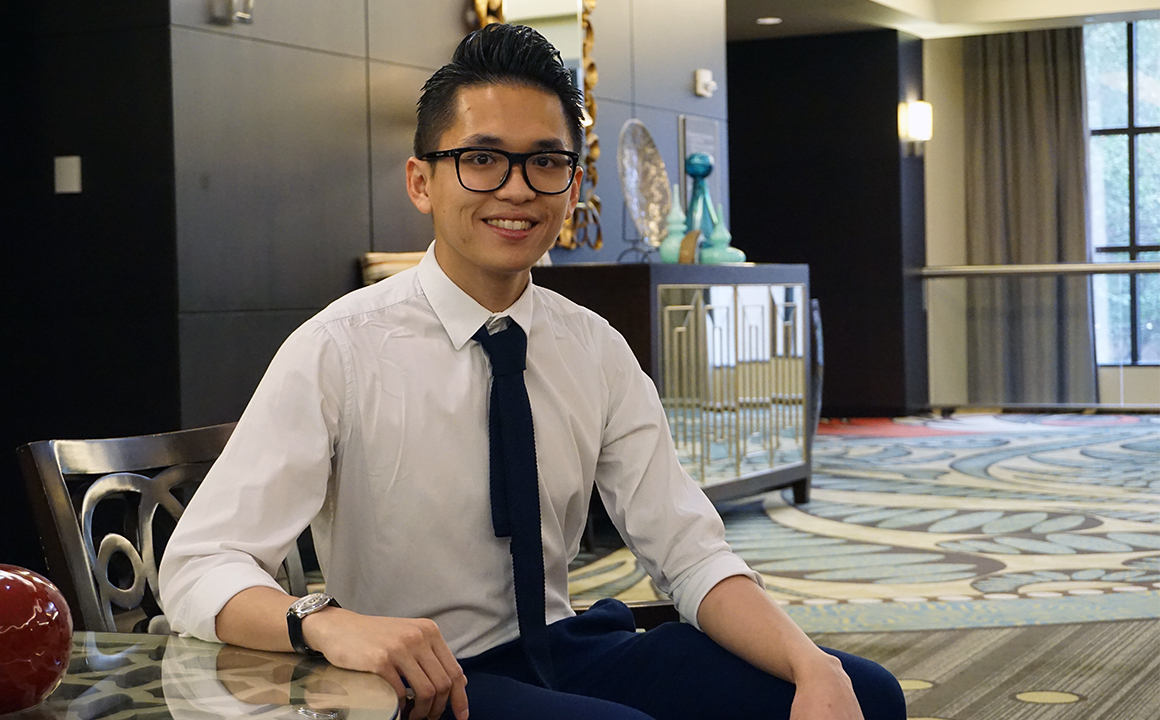 Senior Tuan Truong is a strong believer in the power of taking chances. By taking a leap of faith, he was offered a summer internship at one of his favorite luxury properties, the Sheraton Saigon Hotel & Towers. The opportunity, he said, has been life-changing.
"I had planned to be in Vietnam for three months to see my family, and I wanted to make the most of my time there," Truong said. "I really wanted to work for that particular hotel, so I went on LinkedIn, looked for the human resources manager, and introduced myself."
Within an hour, he had gotten a response from Thi Kim Hong Truong, recruitment and training manager at the Sheraton, who happened to have a position available. (The two share the same surname, but they are not related.) A week later, the younger Truong found himself sitting in Alumni Hall with his laptop preparing for a Skype interview in both English and Vietnamese. By the next day, he had received an offer. 
"I got my internship just with a few emails, and from halfway around the world," he said. "If there is one piece of advice I can give to my peers, it is to not be afraid to take chances and to go for what you want. Networking and making that great first impression can go a really long way."
At the Sheraton, Truong served as a butler in the executive lounge, where he gained experience in front desk and food & beverage operations. His superiors were impressed, and guests wrote letters praising his service. While there, he also had the chance to get to know the president of the hotel's management company, Steven Bader of United Hospitality Resources Management.   
By the time the summer was over, Truong left with a couple of offers to consider. He was invited by his manager to come back after graduation for one of two management training positions at the property. Bader, wowed by Truong's service, also offered him another internship at United Hospitality's Chicago office next summer. 
Of the students who participated in internships this summer, five also traveled to properties in Hawaii – three at the Four Seasons Resort Lanai, one at the DoubleTree by Hilton Alana Waikiki Beach and another at the Four Season's Resort Oahu. Through the Dave Smalley/Spectrum Catering Leadership Endowment, each of these students was given a $1,000 scholarship to cover expenses.
"Hospitality is truly a global industry, and you get a true sense of this when you have a chance to live and work abroad and to experience cultures other than your own. Vietnam is my home country, but I met people from all over the world through this internship," Truong said. "Because Hilton College teaches us how to network and market ourselves in professional settings, so many of us have the confidence to pursue worldwide opportunities. Choosing this major and this College have been two of the best decisions of my life."
To learn more about Hilton College internship opportunities, contact Career Counselor and Internship Coordinator Gloria Ratliff by email or call 713-743-9306. You can also learn more about the Student Leadership Program in our new Dean's Report, which is also featured in this issue of Snap Shots.
(Story & Photo: Pearl Cajoles)
Posted on Sept. 24, 2018