IT Manager Receives Top University Staff Award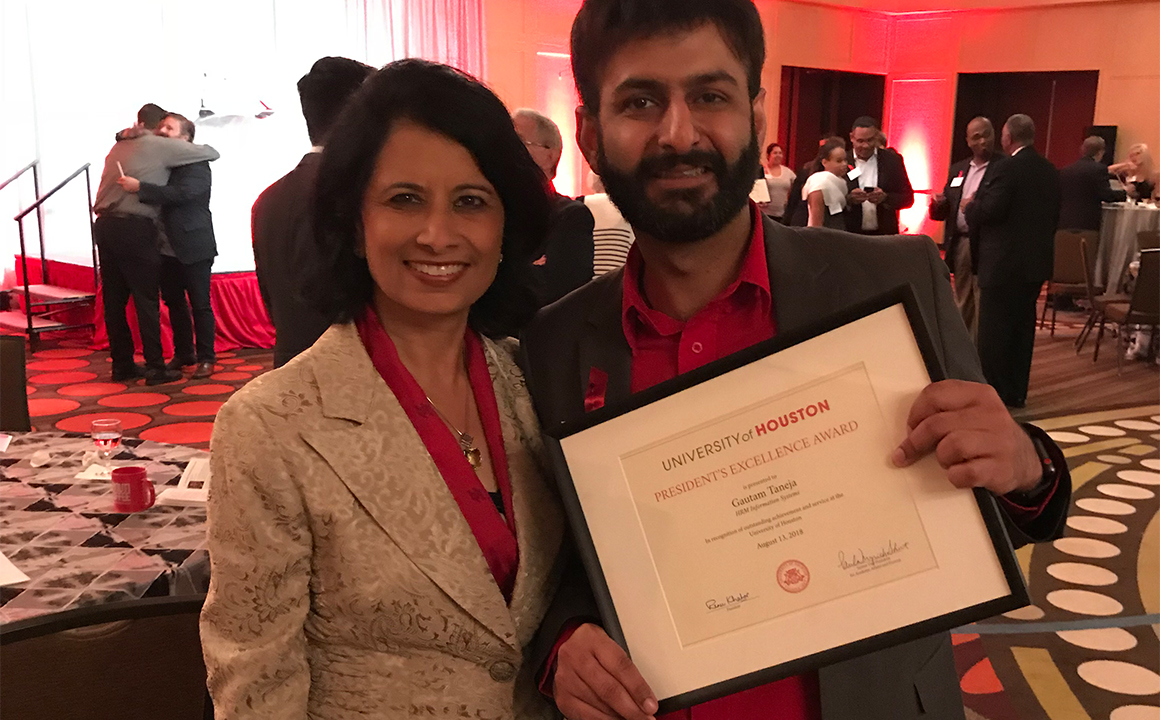 At the 2018 President's Excellence Awards Reception held Aug. 18 at the Hilton University of Houston, UH President Renu Khator bestowed one of her most prestigious staff awards on one of Hilton College's very own – Information Systems Manager Gautam Taneja.
"I first heard the news from Dean Reynolds," Taneja said. "I knew I had been nominated, but was overwhelmed because I never expected to win. It really means a lot when the College and University cares for their employees and gives them credit for their hard work."
Indeed, Taneja is one of our most dedicated and knowledgeable staff members. His reputation also extends beyond these walls. At the University level, for example, his talents have been requested by the Associate Provost of Education Innovation and Technology to assist with the annual Innovative Teaching and Learning Symposium. Taneja is also part of the pilot group that tests software for UH IT Security before it is rolled out across campus.
At both the College and hotel, many have his number on speed dial. From day one, Taneja has wowed his colleagues with his exceptional IT knowledge and exemplary customer service skills. He has also impacted the College's goals and mission – and bottom line – far beyond anyone's expectations when he first came on board to work in the department as a graduate assistant in 2010. Taneja is from India, and moved to the U.S. that year to pursue his master's degree in Information Security from the UH College of Technology.
After graduating in May 2012, Taneja was hired full time. Within five months, he was promoted to assistant manager of the IT department. In May 2014, less than four years since he first joined the College as an international student, Taneja received the College Staff Excellence Award. In February 2017, he was promoted to manager of Information Systems.
Taneja's contributions have been invaluable. He has saved the College, as well as the Hilton University of Houston, tens of thousands of dollars because of his proactive problem-solving abilities. For example, by developing our latest website in-house, he saved the College more than $65,000 in outside IT fees.
He also created an online credit card system for event registration and gifts to the College, reducing turn-around time for payments from one to two weeks to just two to three hours. And, Taneja has created multiple online approval workflow processes and streamlined operations for such areas as the business office, the Massad Family Library and Research Center, Cougar Grounds coffee shop and Eric's restaurant.
Communications Director Debbie Maurer, who works closely with Taneja to maintain and update the College's website and other forms of digital communication, nominated him for the award. Dean Dennis Reynolds and other faculty members provided letters of support.
"When faculty or staff have a computer issue, Gautam is literally in their office or working with them remotely within minutes and that's not an easy thing to do consistently," Maurer wrote in Taneja's nomination form. "His people skills are unmatched, and he is a respected resource here and across campus."
"Importantly," she added, "Gautam is the coolest IT 'geek' I have ever known and is always in step with the latest technology. He never makes you feel stupid for asking the most basic technology questions. He is an amazing and patient teacher and I've learned so much from him over the years. He even takes the time to personalize our computers based on our individual jobs to help us work more efficiently. Me personally, and so many of my colleagues simply couldn't do our jobs as well without him. Our 'Super Ninja' is a difference maker and so deserving of this award."
Going above and beyond his job duties, Taneja also has a heart of gold. He takes a personal interest in his colleagues, and finds customized solutions to meet their specific and varied needs. He even used his knowledge of 3-D printing to make a prosthetic hand for the 6-year-old granddaughter of Dean's Assistant Donna Shaw.
Throughout his tenure at the College, Taneja said his favorite thing has always been the people around him – students, faculty and staff alike. And, as a self-proclaimed technology nerd, he always has his eye on exciting industry innovations.
"I especially enjoy training faculty and staff on new technologies that can help bring more innovative ways to teach into the classroom," he said. "It's all about providing the best user experience and making our College the best for our students."
Gautam Taneja is hospitality, and it is exemplary efforts like his that make Hilton College the best in hospitality education. Congrats, Gautam! Well done!
(Story: Pearl K. Cajoles | Photo: Courtesy of Dr. Suresh Khator)
Posted on Sept. 24, 2018