Hilton College Welcomes Fourth Doctoral Cohort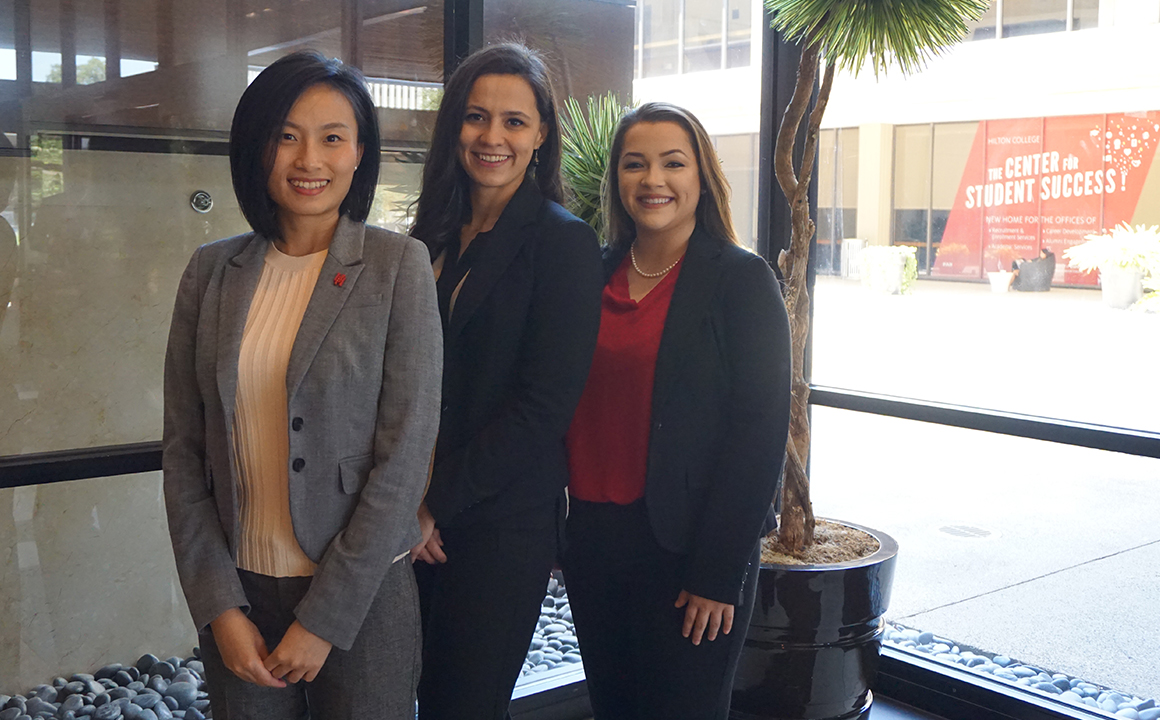 Three students pursuing their Ph.D.'s in Hospitality Administration joined our Graduate Program earlier this semester, pictured from left, Vanessa Liu (MS '18), Nefike Gunden and Karla Acosta ('16, MS '17).
Karla Acosta
Karla Acosta received her bachelor's degree in Hotel and Restaurant Management from Hilton College in 2016, graduating magna cum laude. As part of the College's 4+1 program that allows students to earn both their bachelor's and master's degrees in just five years, she earned her Master of Science in Hospitality Management in 2017.
During her time as an undergrad, Acosta served as human resources and archives manager for the Hospitality Industry Hall of Honor and as general manager of Par Excellence. After graduation, she worked as a food safety specialist for the University of Houston, ensuring the University's compliance with city and state sanitation rules and regulations.
Acosta's research topic is in food safety. With Dr. Sujata Sirsat as her faculty advisor, Acosta aims to further her understanding of the theoretical principles behind food safety programs in the hospitality industry in order to help improve them. Her current projects include looking at the disparities of food safety practices between low- and high-income grocery stores; identifying new food safety training delivery methods; and analyzing whether phrasing makes a difference on food safety exams for employees with low levels of education.
"I'm forever a proud Coog, and I chose the Hilton College and the University of Houston mainly because of the esteemed faculty who have provided opportunities for me to excel and grow since my time as an undergrad," Acosta said.
Nefike Gunden
Under the guidance of Dr. Cristian Morosan, the core focus of Nefike Gunden's research is mobile applications for the hospitality Industry with an interest in e-marketing and mobile technologies. Her goal is to find ways to integrate today's rapidly advancing technology into the hospitality industry more efficiently. She's also interested in developing mobile apps.
Gunden is an international student from Mugla, a tourist destination in Turkey. She earned her bachelor's degree in Recreation Management from Gazi University in Ankara, also in Turkey. After being awarded a Fulbright Scholarship in 2015, Gunden moved to the United States to begin her master's degree in Hospitality Management at the University of South Florida-Sarasota Manatee. Before starting her Ph.D. program, she embraced another big change in her life by getting married this past July. 
Her industry experience includes positions at JW Marriott Hotel Ankara, Walt Disney World in Orlando and the Vinoy Renaissance St. Petersburg Resort & Golf Club. Gunden first learned about the Hilton College after attending the Graduate Education & Graduate Student Research Conference in Hospitality & Tourism hosted here in 2017. 
"Different cultures have always piqued my interest, and I wanted to further my education in order to learn as much as possible about the hospitality industry," she said. "At the conference, I noticed Hilton College is a hub for like-minded individuals who want to produce advancements in the industry, and that's why I'm here."
Vanessa Liu
Vanessa Liu has a passion for teaching, and wants to help solve issues in the hospitality industry with research and academics. Liu's research topic is tourism with an emphasis in conference and event management. Her faculty advisor is Dr. Jason Draper. For the fall 2018 semester, she is working with both Dr. Draper and Associate Dean Mary Dawson on a research project in event education. 
Like Acosta, Liu also has an MS in Hospitality Management from Hilton College, graduating with a 4.0 GPA this past spring. At the Spring 2018 Convocation Ceremony, she was awarded both the Dean's Award and the Hilton College Alumni Association Award for Academic Excellence. She has worked as a graduate assistant in the Massad Family Library and Research Center, is certified in Hotel Industry Analytics (CHIA), and was awarded a Par Excellence scholarship. She also served as vice president of the Graduate Student Association.
"Because I received my master's at Hilton College, I know that I have some very valuable resources when it comes to research, as well as the full support of the faculty," she said. "I'm looking forward to helping others in the same way by becoming a professor myself." 
Including Acosta, Gunden and Liu, Hilton College has 14 doctoral candidates in its Graduate Program. Members of the first cohort graduated in May. Click here to learn more about our Ph.D. in Hospitality Administration.
(Story & Photo: Pearl K. Cajoles) 
Posted on Sept. 24, 2018