NACE Student Members Bring Home Top Honors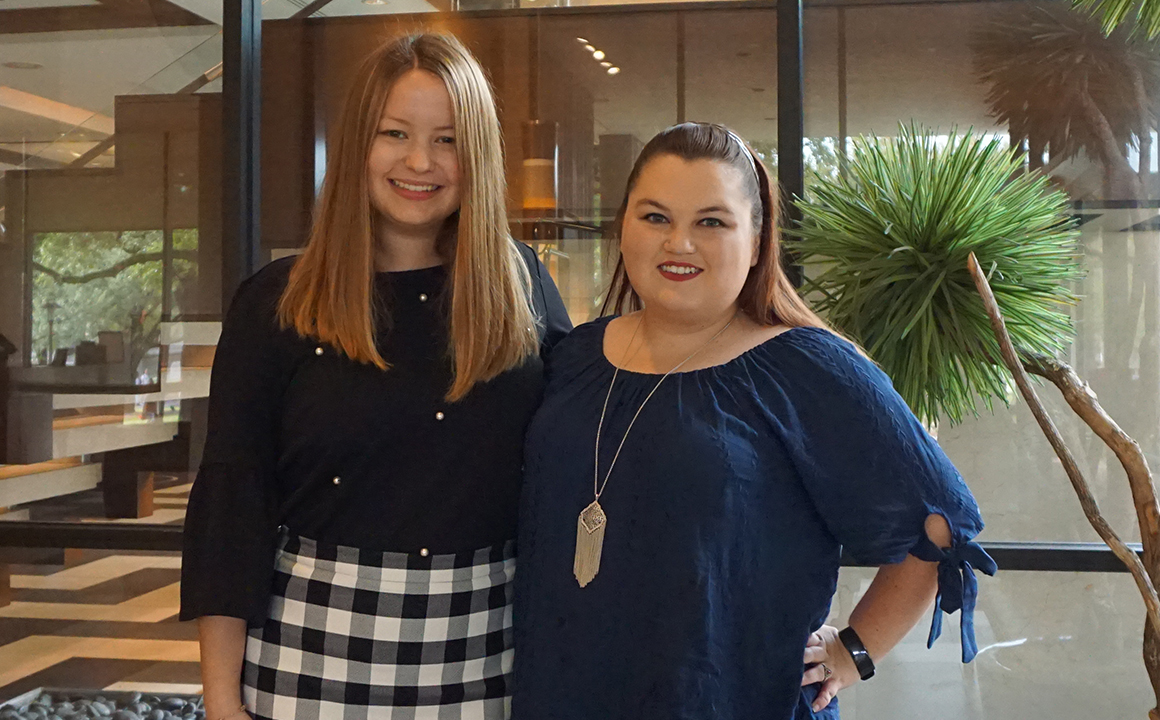 Once again, members of the National Association for Catering and Events (NACE) UH Chapter have received top honors at the 2018 NACE Experience Conference, held July 22-25 in Palm Springs. Caitlin Fuller ('18), right, won the National Student Member of the Year Award, while senior Olivia Fagerman took home the Vince DeFinis Scholarship. 
"Caitlin and Olivia have done a fantastic job representing Hilton College on the national level," said Erin Oeser Goodell, faculty advisor for the NACE UH Chapter. "The competition for these awards is tough. Winning both is a testament to the quality of our students and their dedication to the catering and events industry."
Fuller has been an active member of NACE from day one. As a freshman, she held the position of community service chair. She became 2nd vice president of membership her sophomore year, then led the student chapter as president during her junior and senior years.
By the time she graduated this past May, Fuller had accepted a full-time position with Kat Creech Events, an award-winning wedding design and event planning firm based in Houston. Owner Kat Creech ('99) is also a Hilton College alumna.
At this year's conference, Creech won the George Zell Spirit of NACE Award for her contributions to the industry and to the city in the wake of Hurricane Harvey. In a tweet last December, President Barack Obama praised Creech for turning a postponed wedding into a volunteer opportunity to help those affected by the storm.
"To be nominated by my mentors who have been such a huge part of my college career was unbelievable," Fuller said. "Then to win was really fulfilling and heartwarming. In a way, my award is a 'thank you' to everyone who has helped me grow and develop my leadership skills."
With the Vince DeFinis Scholarship, Fagerman received $4,000 for tuition, plus a package of career development tools that will provide her with opportunities to interact with industry leaders and participate in NACE education programs throughout the year. This coveted scholarship is awarded to the student who best demonstrates outstanding leadership capabilities. It is given annually in memory of the founder of NACE's first chapter.
"This scholarship is an incredible honor," Fagerman said. "I feel so grateful for all the things NACE has provided me, including so many connections with other students and industry professionals."
Fagerman is this year's student chapter president, a position she has held since the end of her junior year. As a freshman, she held the position of fundraising chair, and held dual roles as secretary and treasurer her sophomore year. She is set to graduate this May, and plans to work in event planning.
"I always have these great 'mommy moments' when I see current and former students doing so well," Goodell said. "Seeing their success speaks volumes about the wonderful foundation and the leadership abilities they have gained at Hilton College and through their participation in NACE."
Also representing Hilton College at the conference were Emily Copeland ('18), Janell Sabado ('18), Anna Oakes, Alli Hessel, Kendall Paulsen, Amara Shaikh and Lyndsey Goodnight. Under Goodell, the UH Chapter has become the largest student chapter of NACE in the country.
(Story & Photo: Pearl Cajoles)
Posted on Aug. 23, 2018