Summer Happenings: California Wine and Windy City Mixers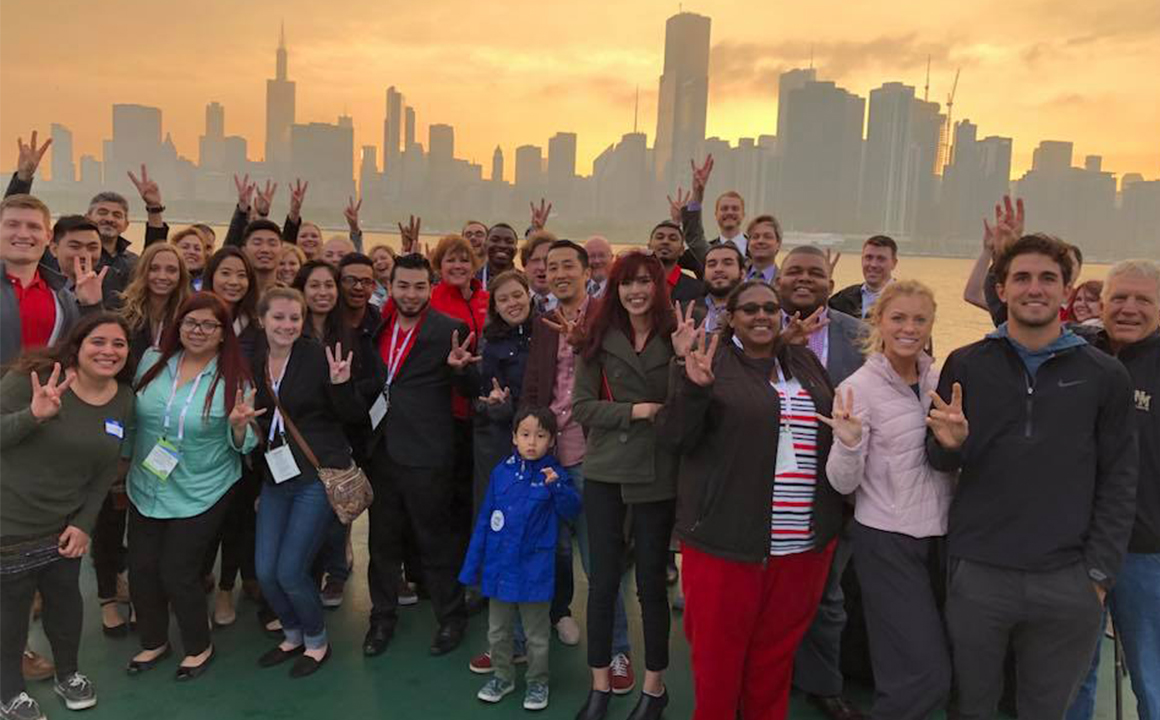 Hilton College students, faculty, staff and alumni kicked off their summer travels with trips to California and Chicago – and lots of learning and networking.
On May 13-20, Wine Appreciation Lecturer Kevin Simon and 11 students traveled to Napa and Sonoma Valley Wine Country for the annual California Wine Experience. Simon, who is also director of both Undergraduate Studies and the Fred Parks Wine Outreach Programs, has taught the class for the past 16 years. 
To understand the business practices of wineries in the United States, the group took guided tours to Trinchero Family Estates, Alexander Valley Vineyards, Robert Mondavi Winery, Gundlach-Bundschu Winery, Ferrari-Carrano Vineyards and Winery, Benziger Family Winery, Jackson Family Wines (Kendall-Jackson), Benziger Family Winery, Dry Creek Vineyards and Duckhorn Vineyards. They also learned about the barrel-making process from Seguin Moreau Napa Cooperage.
Students ended the class with a better grasp of viticulture and viniculture processes, wine production, business and marketing strategies, and the corporate culture of California wineries.
On May 18-22, Restaurant Marketing Chicago Style was on the agenda. Dr. Chris Taylor, director of the Beverage Management Program and Fred Parks Wine Cellar, and Jeremy Dafoe, undergraduate academic advisor and scholarship coordinator, accompanied 16 students on this popular annual trip.
The main order of business was to attend the National Restaurant Association Show, where students participated in six education sessions and took turns manning the Hilton College booth. In his 13 years of coordinating the class, Dafoe said his favorite part of the trip is always the joy of seeing students experience the sheer spectacle of the largest hospitality convention in the world for the first time.
Because no restaurant marketing class is complete without a gastronomical adventure, the group also took part in the Best in Chow Tour by Chicago Food Planet. They learned what goes into making the city's most iconic dishes, including the Chicago-style hot dog and the Chicago-style deep-dish pizza.
The Hilton College Alumni Association and the University of Houston Alumni Association (UHAA) also paid a visit to Chicago for this year's UHAA River Cruise Mixer on May 21. Nearly 50 alumni, students, faculty and staff in town for the restaurant show viewed the city's magnificent skyline aboard The Fair Lady of Chicago's First Lady Cruises. Everyone enjoyed Chicago-style pizzas catered by Gino's East.
The fun didn't stop at the river. Later that evening, Veronica Vazquez, Alumni/Development coordinator, and Miguel Cabrera, director of Development and Alumni Engagement, caught up with several alums, including Timothy Rodriguez ('13), his wife Michelle Aurora Krog ('11) and Robert Cavaliere ('11) at The Dearborn.  
Vazquez said this year's mixer has been her favorite this far.
"The river cruise ended with a captivating sunset… the best I've ever seen in my life," she said. "I also loved the immediate sense of community within the group. Many of us had only met for the first time, but we gathered like old friends."
 (Story: Pearl Cajoles | Photo: Miguel Cabrera)
 Posted on July 20, 2018