First Doctoral Cohort Crosses Commencement Stage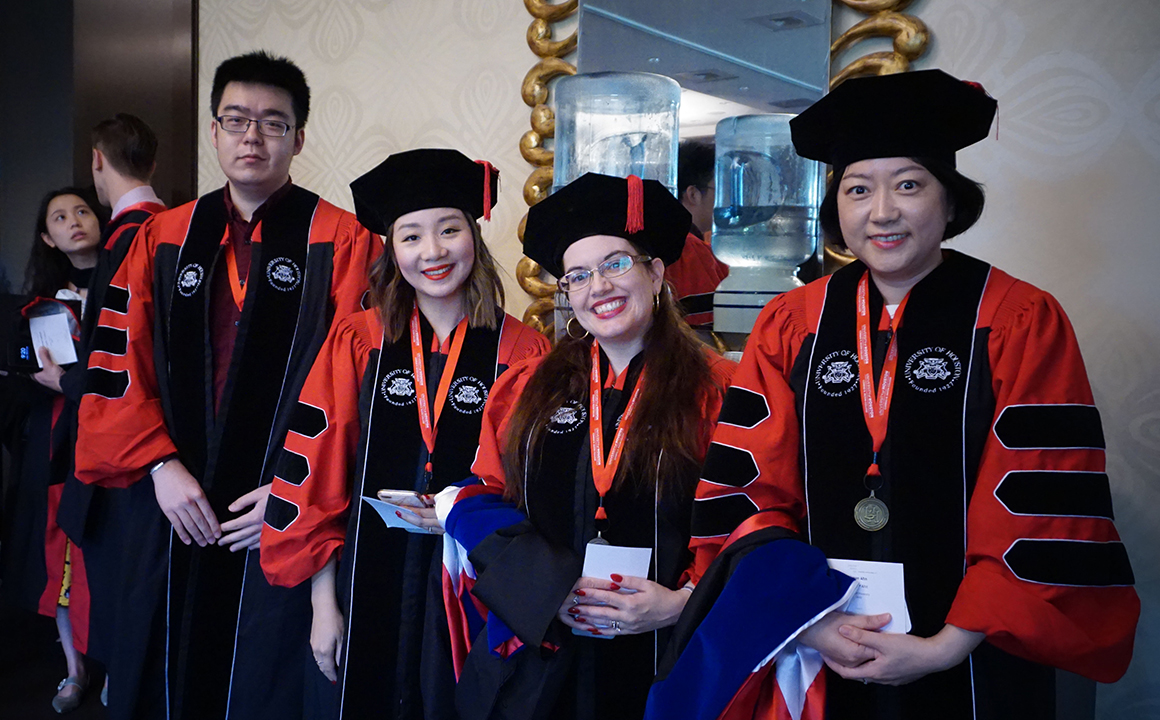 They did it! The Spring Class of 2018 celebrated the completion of their studies in front of a jubilant crowd of family, friends and supporters at UH's Cullen Performance Hall on May 11. Four students made history as the first cohort to cross the commencement stage. Another 154 undergraduates, including nine from Hilton College-San Antonio, and 28 graduate students, also received their diplomas. Among our best and brightest undergrads, eight graduated summa cum laude (highest honors), 20 magna cum laude (high honors) and 17 cum laude (honors).
Special guests in this semester's platform party included Doug Brooks ('75), the newest member to the University of Houston System Board of Regents, and Mike Pede ('89), associate vice president of the University of Houston Alumni Association. After remarks from these tireless supporters of Hilton College, Dean Dennis Reynolds introduced student speaker Emily Copeland.
In her heartfelt speech, Emily reminded her classmates that learning doesn't stop when they graduate, and to always be thankful for the people who have helped them achieve their goals. She remarked on the lifelong connections they have made during their time as students, and to remember that Hilton College will always be home.
Dean Reynolds then introduced the commencement speaker, Texas Secretary of State Rolando Pablos (MHM '96), who was instrumental in the development of Hilton College-San Antonio. The Secretary challenged the graduates to blaze their own trail, to keep a fiercely independent spirit, and to become true pioneers in all their endeavors – just as a true Texan would.
And for the ceremony's historical moment, Associate Dean for Research and Graduate Studies Ki-Joon Back called four Ph.D. candidates to the stage as their major dissertation advisors placed doctoral hoods over their heads to signify their achievement in the program. The first cohort of Hilton College Ph.D. graduates (pictured from left) and their advisors are: Heyao "Chandler" Yu advised by Dr. Sujata Sirsat; Yue Teng-Vaughan and Amanda Belarmino advised by Dr. Yoon Koh; and Jiseon Anh, advised by Dr. Back.
Kaitlyn Venable-Valdez ('12), board president of the Hilton College Alumni Association, also took the podium to present the Alumni Association Award for Scholastic Excellence. On behalf of the board, these awards went to those graduating with perfect 4.0s – doctoral student Chandler Yu, graduate students Qian Long, Sunny Wang, Yi "Vanessa" Liu, and undergraduates Ghadeer Jamal and Rodney Wagner.
Finally, Dean Reynolds presented the coveted Dean's Award to graduate Yi "Vanessa" Liu and undergraduate Caitlin Fuller. Recipients of this award are students who embody the spirit of Hilton College through academics, involvement and volunteerism. 
After the ceremony, the graduates and their guests proceeded to the Hilton University of Houston for a reception in their honor.
Congratulations to the Spring Class of 2018! Click here to see more photos from the big day.
(Story & Photo: Pearl Cajoles)
Posted on May 25, 2018