New Cougar Closet Helps Students Dress for Success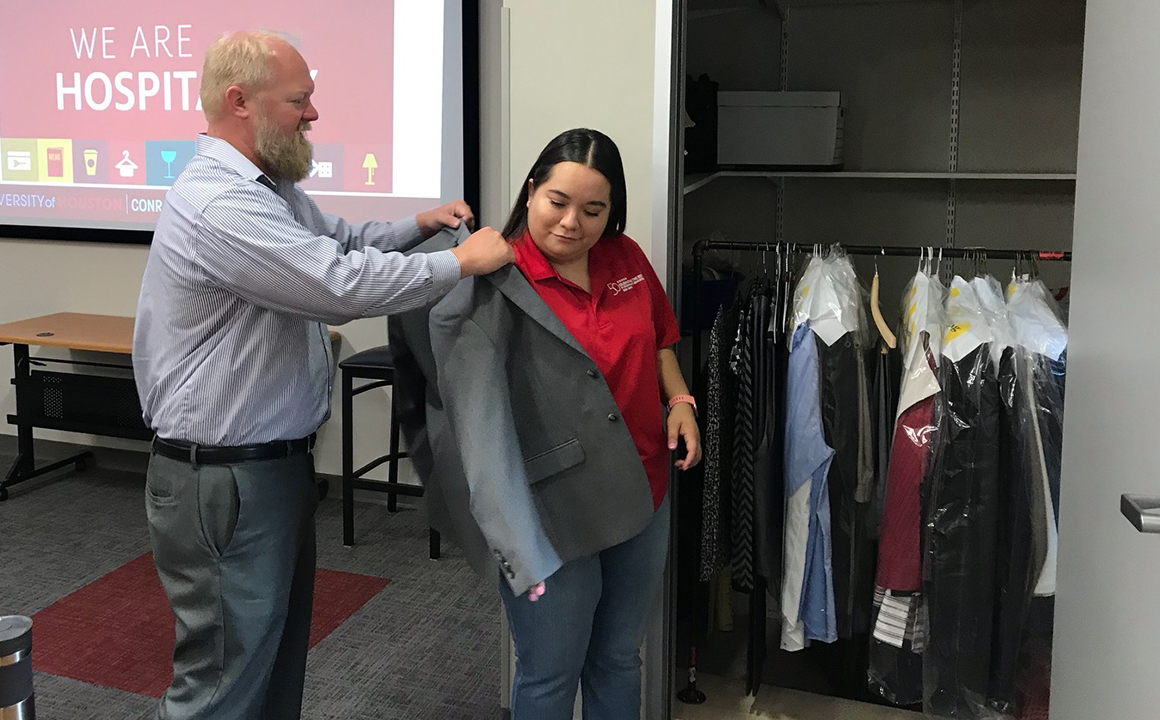 For students on a budget, purchasing a proper business suit can sometimes cause financial stress. Thanks to the efforts of Tucker Johnson, instructional assistant professor at Hilton College-San Antonio, students now have Cougar Closet, a place on-site to shop for free clothing when they need to look their best during important professional engagements.
The idea came to light two years ago when Tucker, (pictured with student Gabby Sanchez), gave his blazer to a student who didn't have money to buy one for a job interview. Realizing that more students might be in the same situation, Tucker began making trips to the thrift store, using his own money to buy suits and dress shirts that he planned to make available for anyone in need.
"One student needed a shirt, and another took a suit," Tucker said. "I thought it would be really nice if we could offer a much larger selection of items for men and women that they could wear with no shame or fear of judgement."
The perfect opportunity to expand upon his idea came this past April during San Antonio's National Travel & Tourism Week. As the faculty advisor for the student chapter of the San Antonio Hotel & Lodging Association, Tucker led his students to organize a clothing drive during the week's festivities to help augment the inventory of Cougar Closet.
Upon hearing about Tucker's initiative, Rusty Wallace ('82), area managing director and general manager of Omni La Mansion del Rio, offered to provide dry cleaning for the donated items. As a member of the Hilton College-San Antonio Advisory Board, he jumped at the opportunity to offer his support.
"Rusty is just an incredible person who is always willing to help in any way possible," Tucker said. "He hires and mentors our students, and gives freely of his time and resources. He is the epitome of the kind of graduate that Hilton College produces."
As the fall semester approaches, Tucker said he would love to add even more items to Cougar Closet with donations of new or gently used clothing that students can wear during job interviews, career fair, hotel tours and anytime they are representing the College in a professional capacity.
Students who would like to see the selections in Cougar Closet or anyone who would like to make a clothing donation can visit Hilton College-San Antonio at Sunset Station's historic Mission Hotel building – 122 Heiman St., SATX 78205. Or, they can email Tucker for more information. 
"Our ultimate goal is to have our students become successful," he said. "Dressing appropriately is an important part of getting a job, and not having the proper attire should not be the one thing that is holding them back."
(Story: Pearl Cajoles | Photo: Courtesy of Tucker Johnson)
Posted on May 25, 2018