Innovation Challenge Brings out the Best in Our Brightest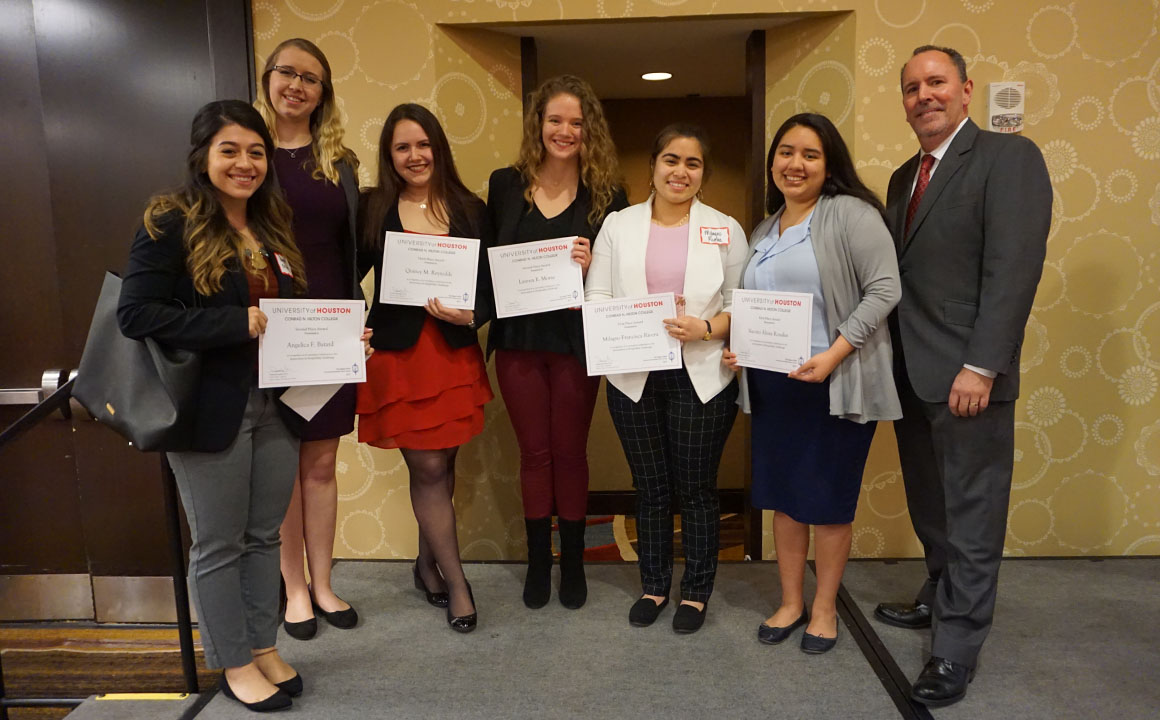 When Assistant Professor Priyanko Guchait introduced the first Hospitality Innovation Challenge last fall, he knew the best and brightest at Hilton College would jump at the chance to present their most imaginative ideas. After reviewing more than 30 submissions, he was beyond impressed.
"All the entries were phenomenal, and it was difficult for us to choose the winners," he said. "I wanted to create a platform for students to display their creativity, and they produce the best work when they are challenged."
Dr. Guchait announced the winners on Feb. 21 during the Pre-Career Fair Mixer hosted by the Eta Sigma Delta International Hospitality Management Society and the National Society of Minorities in Hospitality. Held on the eve of Career Fair, the mixer is designed to connect students and recruiters in a casual setting before the formalities of next day's big event.
First place went to Alberto Beiza, Milagro Rivera and Naomi Rosales for Dreamscape, a proposal to use virtual reality in the events industry to help clients better envision the possibilities for their special day. With a virtual reality program designed for each venue, event professionals can show clients the options for colors, décor and room layout without having to describe them through words.
Second place went to Lauren Morse for Not FOSSE, an idea inspired by Marriott's property management system FOSSE. Lauren's proposal aims to improve FOSSE by bringing together all front desk needs in a single web platform instead of having to open multiple applications. With this system, front desk agents are more productive with their daily tasks and have more time to focus on guests and service. 
Second place awards also went to Juliana Arias, Angelica Batard, Justin Genitianno and Morgan Hamburger for Pest-Bot, a robot that inconspicuously deters and exterminates common pests found in hotels. By working with a hotel's point-of-sale system, Pest-Bot helps any property maintain the highest cleanliness standards while reducing the need for human labor.
Catherine Forkner and Quincy Reynolds snagged third place with Your Sheets, a new approach to customization in the hotel industry. This innovation allows guests to choose from three bedding materials and have it saved as a preference for future visits. Executed through an online reservation process and clever inventory storage, the idea intends to increase customer loyalty and revenue with guests who are willing to pay a higher rate for the ability to customize their stays.
Winners were selected by the Hospitality Innovation Challenge Advisory Board, led by Dr. Guchait and consisting of Hilton College faculty and management from Hilton University of Houston. Advisory board members include General Manager Fernando Cuellar, Director of Facilities Akash Grover, Banquet Manager Nam Nguyen, Executive Chef Thomas Valdivieso, Director of Rooms and Instructional Assistant Professor Cathy Cheatham, and Assistant Professor Tiffany Legendre.
The winners were awarded their certificates by Dean Dennis Reynolds in front of more than 100 recruiters, alumni, faculty, students and staff. Not all winners were present, but pictured from left are Angelica, Catherine, Quincy, Lauren, Milagro and Naomi with Dean Reynolds. 
"Announcing the winners during the mixer was a great way to show the industry the caliber of our students," Dr. Guchait said. "When they hire from Hilton College, they know they are hiring the best."
(Story & Photo by Pearl Cajoles)
Posted on March 23, 2018