Grasshoppers for Lunch? We Tried Them!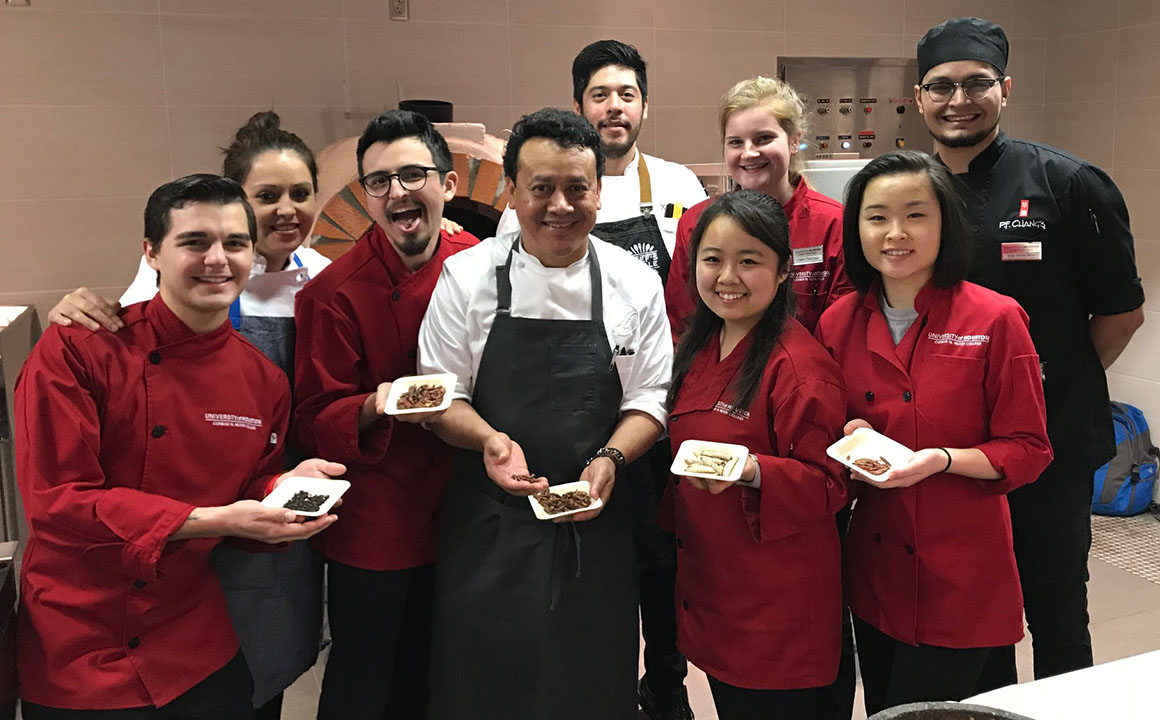 When Chef Hugo Ortega (center) came to Hilton College to cook ants and grasshoppers, it was standing room only for the curious students, faculty and staff with adventurous palates who came for a taste. Their consensus? Crunchy, with the perfect amount of spice… and highly recommended!
"It is the uncertainty about flavor that deters people from trying insects," said Assistant Professor Tiffany Legendre. "But bring in someone like Chef Hugo who has the perfect recipes, and you might just change your mind! It can be eye-opening to realize that grasshoppers can be delicious when seasoned well."
Chef Hugo, a James Beard-award winner, is the force behind critically acclaimed Backstreet Café, Caracol, Hugo's and Xochi. For his demonstration, he brought recipes featured on his menus – the Tacos De Chapulines (grasshoppers) can be found at Hugo's, and Mole de Chicatana (ants) is a favorite at Xochi.
In addition to wowing the audience with his culinary artistry, Chef Hugo also spoke about his humble roots in Mexico, his grandmother's influences on his cooking, his take on traditional Mexican cuisine and his passion to share it with the world. Many of the attendees didn't know that eating grasshoppers and ants has been commonplace in Mexico for hundreds of years.
Dr. Legendre, our edible insect expert, collaborated with University of Houston Dining Services to bring the event to the Spec's Beverage & Food Appreciation Laboratory on Feb. 19. It is the first in the newly launched Celebrity Chef Series, an initiative to introduce the UH community to different types of innovative cuisine.
Before Chef Hugo began his cooking demonstration, Dr. Legendre spoke about the benefits of adding edible insects to one's diet. By packing in more protein than traditional meat sources, and cost-effective in terms of farming and harvest, insects are one of the most sustainable food sources on  the planet. Lauren Ross, director of wellness and sustainability for UH Dining Services, also talked about the most commonly eaten insects – including mealworms, crickets, bees and beetles – and shared their nutritional information.
Student Ethan McEwin (pictured far left), along with his classmates from the Texas Restaurant Association – Cougar Chapter, assisted Chef Hugo and his staff. Ethan said more than learning about the nutritional value of insects, he loved how the event showcased Chef Hugo's food and culinary techniques as well as his hospitable nature.
"Hearing stories about his grandmother and how she helped inspire him to be involved in the culinary world really made him approachable," Ethan said. "This opportunity to meet Chef Hugo really inspired me to shoot for greatness and emphasized that when I get there I can be as real and down to earth as he is."
With the event's success, Dr. Legendre is one step closer to her goal of seeing more people on campus – and in Houston – enjoying insects as a source of food and nutrition. With the growing market, she said people will begin seeing more insect proteins in meal replacement powders, cookies or energy bars. Event sponsors Canada's One Hop Kitchen, Mexico's Merci Mercado and South Korea's Korean Edible Insect Laboratory are just a few of the companies leading the market in the development and distribution of edible insect products.
Ultimately, Dr. Legendre would love to see more grasshoppers, ants and mealworms in menus all over the city, including the University's restaurants. She believes students would benefit from having protein-rich insects in their diets, especially since they need plenty of energy and are using so much brain power during their college years.
In the meantime, Dr. Legendre will continue to collaborate with UH Dining Services in terms of food innovation, and to bring more Celebrity Chef events to campus. She hopes that tasting Chef Hugo's cooking and learning about the nutritional value of edible insects made a lasting impact on those in attendance.
"The beauty of Houston is that it is so diverse, and people want authenticity when it comes to cuisine," Dr. Legendre said. "Because Houstonians are well-educated about their food, and are open to trying new things, we're in a wonderful position to be the leaders in food innovation."
If you'd like to see pictures of these dishes, check out our Facebook album.
(Photo & Story: Pearl Cajoles)
Posted on March 23, 2018