Keynote Speaker Inspires at Career Fair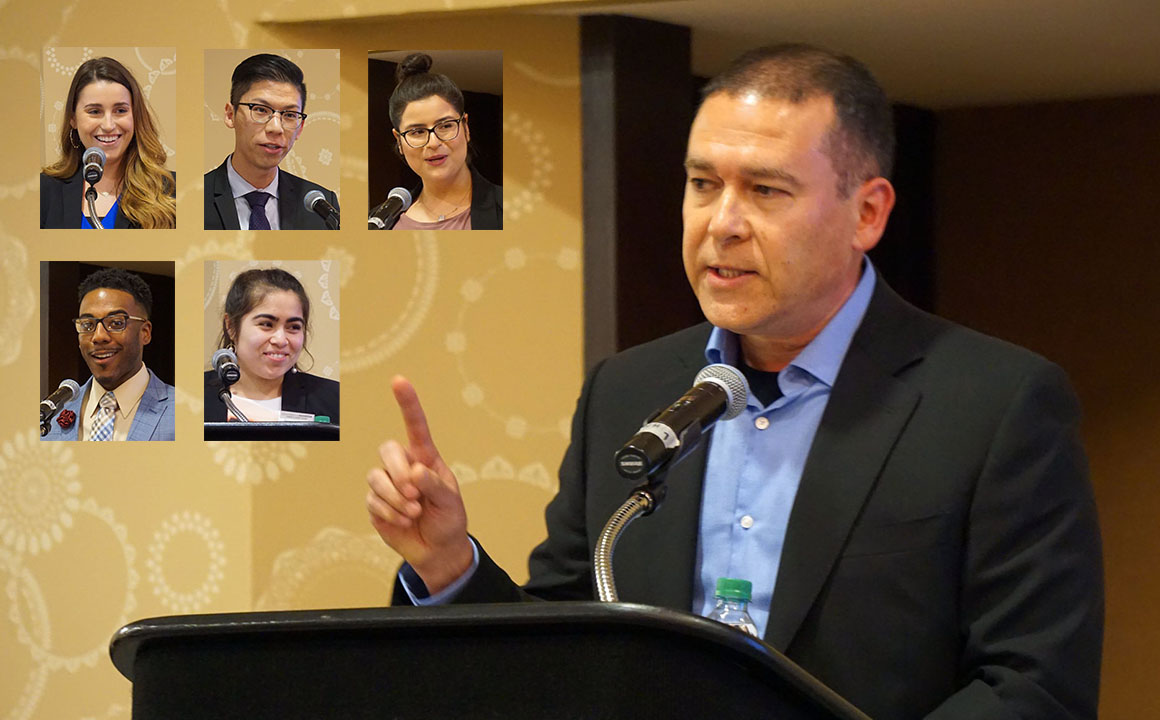 More than 365 job seekers connected with 62 hiring employers during this year's Spring Career Fair and Luncheon, held Feb. 22 at Hilton University of Houston. At the luncheon, graduating students Haley Ware, Richie Han, Ghadeer Jamal, Milagro Rivera and Kendall Russell (pictured clockwise from left), took the podium to deliver remarks and introductions.
Guests had the pleasure of learning about the inspiring story of keynote speaker Russell Ybarra, a restaurateur's son who worked his way from dishwasher to becoming the owner, president and CEO of Gringo's Mexican Kitchen and Jimmy Changas Mexican Restaurants.
In 1993, a turning point came in Russell's life after he and brother Troy took over a building in Pearland that had housed four failed restaurants. The venture came with a multitude of challenges, but they persevered with Russell's commitment to serve the highest quality Tex-Mex at the lowest price.
Today, Gringo's has nine locations, including four franchised stores. Russell and his team have also developed two other popular Tex-Mex concepts – Bullritos, a quick casual restaurant, and Jimmy Changas.
Russell credits his success to three personal tenets in which he lives by: develop a high standard of excellence; stay in the habit of giving; and live by the Golden Rule. In fact, Russell practices his own version of the Golden Rule, something that he encouraged the audience to adopt – When you wish the best upon others, you wish the best upon yourself.
After taking time to speak with students after the event, Russell said he thoroughly enjoys meeting and getting to know the next generation of foodservice and hospitality leaders. He hopes that his journey inspires them to be the best at whatever they dream.
As always, Career Fair is hugely successful thanks to the leadership of Career Development Director Colleen Gleeson and Career Counselor & Internship Coordinator Gloria Ratliff. For the past two semesters, they have been working with the Career Fair Management class to plan and execute this industry event. The spring 2018 class includes Anna Castleberry, Connie Feng, Rasham Nasim, Quoc Pham, Quincy Reynolds and Elizabeth Tuch.
"We have exceptional students in the Career Fair Management class leading our signature recruiting event with their creativity and passion," Colleen said. Career Fair is always a chance for our students to showcase their professionalism, servant spirit and passion for hospitality. They always make us proud."
Every semester is a little bit different in terms of what students are primarily looking for and which companies are hiring for what positions. This semester was no different.
"We also happen to have some of the very best partners in the industry who continue to show their support of the College by offering our students exceptional internships, and part-time and full-time positions," she said. "These career opportunities put our students on a path for future leadership, and we couldn't do this without them."
(Story & Photo by Pearl Cajoles)
Posted on March 23, 2018