Ashli Johnson Takes Helm at Hilton College-San Antonio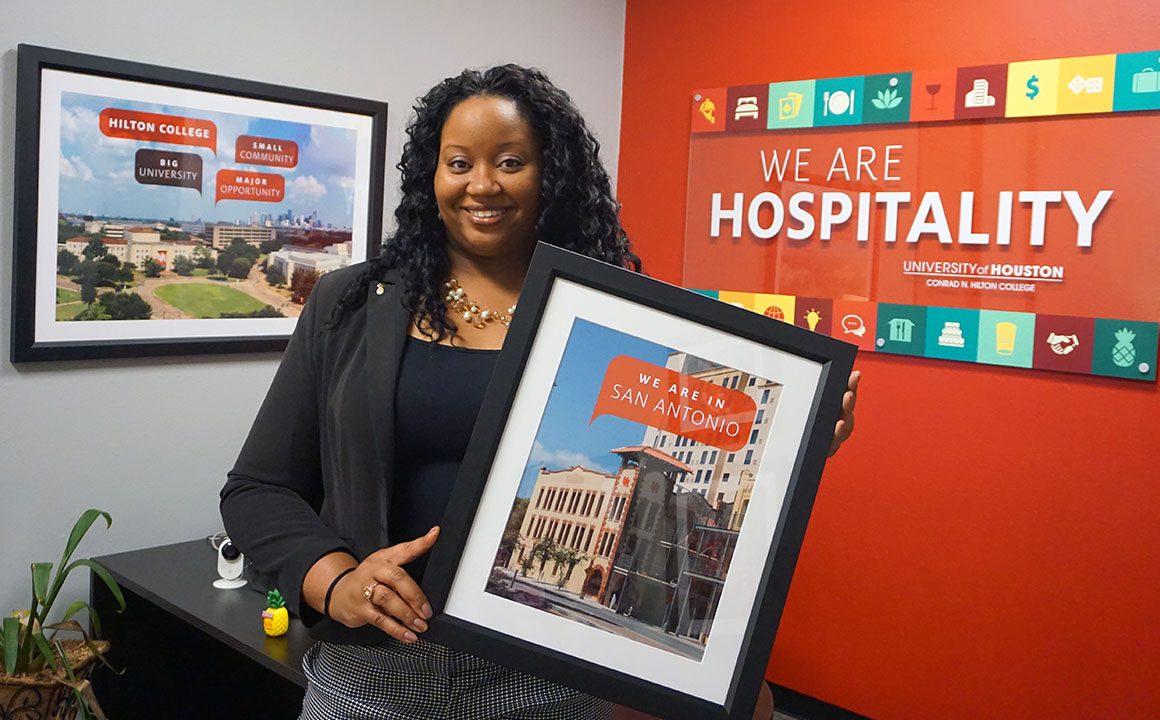 Since joining Hilton College-San Antonio this January, Assistant Dean Ashli Johnson has infused our Alamo City program with an invigorating energy that aims to take enrollment levels to new heights. She's also committed to strengthening the College's relationships with the area's top employers.
"With San Antonio being the Tourism Capital of Texas, our students have endless opportunities in terms of hands-on training and job placement," Ms. Johnson said. "We're in a very special location, and it's encouraging to see how much support we have received from the city and the industry."
Hilton College-San Antonio opened its doors in 2014 to become the city's first provider of a bachelor's degree in hotel and restaurant management. The program allows students from San Antonio and the surrounding areas to take classes close to home with the full benefit of receiving their degree from the University of Houston.
"The reputation of Hilton College precedes itself," Ms. Johnson said. "When I learned of this open position in San Antonio, I knew it was time to take on a new leadership role and help grow an already promising program to its full potential."
Before joining the College, Ms. Johnson held teaching and advising roles at University of Central Florida's Rosen College of Hospitality Management. One of her favorite parts of that position was connecting students with recruiters and talent acquisition professionals.
She also has extensive experience in human resources and training at the corporate level, as well as a master's degree in hospitality and tourism management with a concentration in hotel investments from Florida International University.
Two weeks after learning she had gotten the job, Ms. Johnson packed her bags and boarded a plane to Texas.
"It was a really fast turnaround, but I'm used to starting over in a new city," she said. "My father is a retired Marine, so I spent my entire childhood moving around."
By the time she was a freshman in high school, Ms. Johnson had already lived in Japan and Germany, and a handful of cities across the United States. In fact, it was discovering new locales and staying in hotels during her youth that sparked her interest in hospitality. Living among different cultures also gave her a true appreciation for diversity.
With her first semester in San Antonio in full swing, Ms. Johnson is building upon initiatives that will – among other things – display the very best of what the program has to offer potential students, community and corporate partners.
"There is something magical about people who really know service because they have worked in hospitality," Ms. Johnson said. "Because of this, our graduates can make waves across any sector of any industry. The possibilities are endless!"
(Story & Photo by Pearl Cajoles)
Posted on March 23, 2018