Convocation Draws Moments of Inspiration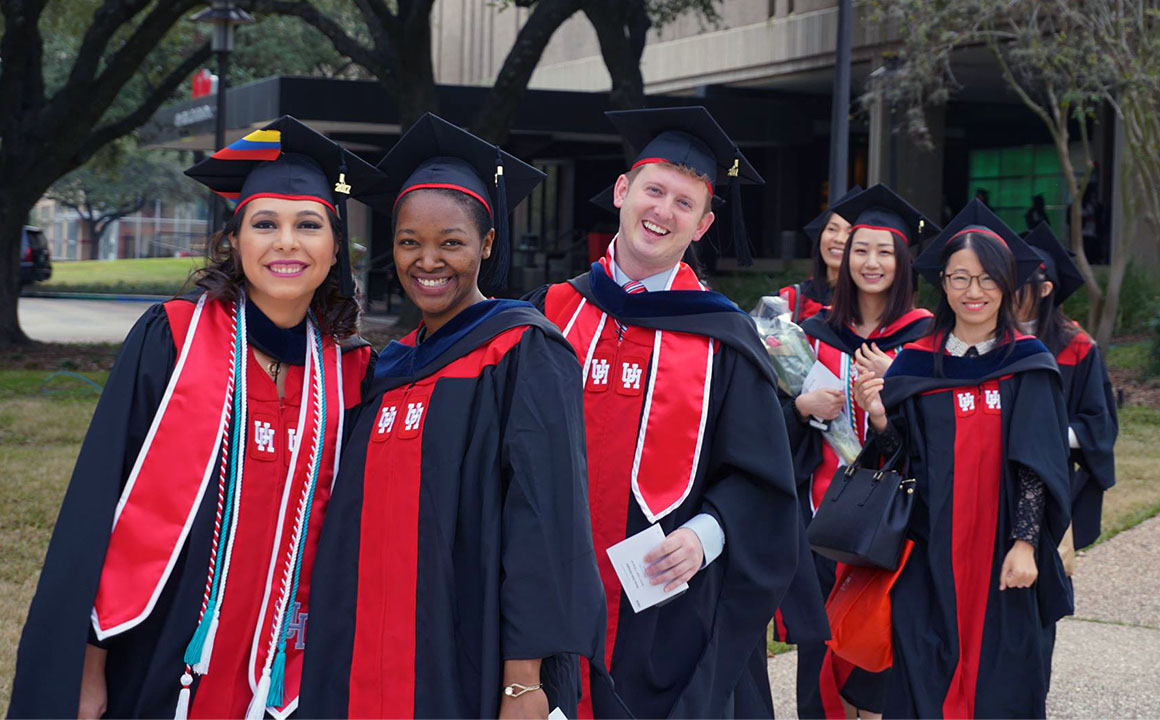 The Fall Class of 2017 walked across the commencement stage at the Cullen Performance Hall and into the "real world" as Hilton College alumni on Dec. 16.  Degrees were conferred upon 132 undergraduates and 17 grad students, including five from Hilton College – San Antonio and seven from the first cohort of our Executive Master of Hospitality Management program. Among these students, 18 graduated summa cum laude (highest honors), 28 magna cum laude (high honors) and 23 cum laude (honors).
Dean Dennis Reynolds welcomed a packed hall of families and friends, and Sarah Prince Little had the honor of addressing her classmates as the student speaker. She urged the graduating class to never forget the faculty, students, staff and alumni who have helped shape their journey.
Sarah also introduced industry speaker Maggie Rosa, general manager for the Hilton Houston Galleria Area Hotel. With her experiences as deeply personal and relatable examples, Rosa challenged students to find strength when faced with adversity, and to become strong leaders who make an impact. 
As testament to the College's global reach, eight students from our partnership with the Universidad de San Ignacio Loyola (USIL) in Lima, and 36 from our Master of Science in Global Hospitality Business program also received their degrees.
The Global Master's program is a partnership with Ecole hôtelière de Lausanne (EHL) and the School of Hotel and Tourism Management at Hong Kong Polytechnic University (PolyU). Associate Deans Achim Schmitt (EHL) and Catherine Cheung (PolyU), conferred this second cohort of graduates and presented special awards.
The Spirit Award went to Anastasiia Horashchenko, whose leadership encouraged her classmates to persevere during their scholastic journey across three continents. Zhenni Tang, Hanrui Li and Heng Liu received the Capstone Award for outstanding work on their final project with the Alibaba Group.
Kaitlyn Venable-Valdez, board president of the Hilton College Alumni Association, also took the podium to remind our freshly minted graduates about the importance of staying connected to their classmates and alma mater. On behalf of the board, she then presented the Alumni Association Award for Scholastic Excellence to those graduating with perfect 4.0s.
These hard-earned awards went to graduate students Karla Michelle Acosta, Kevin James O'Brien, Ziwei Su and Jingyue Zhang, and to undergraduates Yanjun "Maggie" Cai, Tien "Becky" Phan and Hui Zhu. Executive masters graduates Danielle Adams and James Nelson also received this award.
Before inviting the audience to a reception in the graduates' honor at the Hilton University of Houston, Dean Reynolds presented the coveted Dean's Award to graduate Huan Chen and undergraduate Fredy Romero. Recipients of this award are students who embody the spirit of Hilton College through academics, involvement and volunteerism. 
Congrats to our newest Forever Coogs… in Houston and around the world! Click here to see more photos from the big day.
(Story & Photos: Pearl Cajoles)