Cathy Cheatham Comes Full Circle with New Hotel Appointment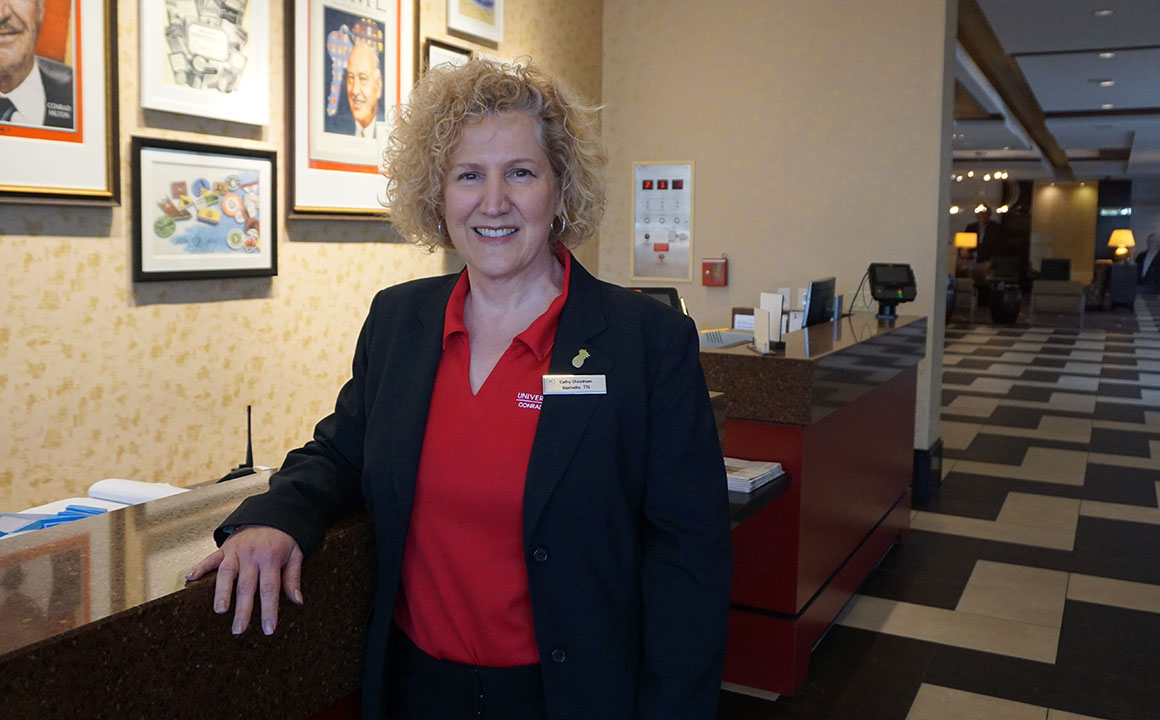 Instructional Assistant Professor Cathy Cheatham has been named director of rooms for Hilton University of Houston, a move that allows Hilton College to further integrate the hotel as a true learning laboratory.
By managing hotel operations while retaining her teaching responsibilities, Cathy is in the unique position to develop programs that will help bridge the gap between classroom instruction and practical experience.
In addition to teaching Hotel Operations, Advanced Lodging Operations, and Online Rooms & Housekeeping Management, Cathy will also mentor students working at the hotel's front desk, and in housekeeping and revenue management positions.
"Anyone can run a hotel simulation, but we can train our students using an actual hotel," Cathy said.
Cathy accepted her new position last December, and she could not be happier with the decision. Because she was a student here, Cathy is passionate about helping others who were once in her shoes.
After graduating with a bachelor's degree in hotel and restaurant management in 1989, Cathy ventured out into the industry, working for such companies as Westin Hotels & Resorts, Omni Hotels & Resorts, 1859 Historic Hotels and the Landry's Hotel Division.
Her positions took her to California and Arizona, and internationally to properties in Shanghai and in Barbados. After more than a decade of traveling, and with a wealth of lodging operations management and hospitality technology under her belt, she set her sights on returning to the United States.
"I had so much fun with my travels, but I had a longing to come back home," Cathy said.
In 2001, Cathy found herself back at Hilton College to do research for a consulting position. Moving back to Houston and being on campus again inspired her to get involved, and she soon became active in the Hilton College Alumni Association Board, where she served as president in 2004-08. In 2006, she received the Hilton College Distinguished Alumni Award.
When opportunity came knocking to teach at the College, Cathy answered the call. "It was meant to be," she said. "There has always been a training aspect in all my jobs, and I loved the idea of being able to teach at my alma mater."
Cathy joined the faculty in 2013, and also went back to school to earn her MS in hospitality management in 2016. For this passionate alum, her journey has come full circle.
"It really is the best of both worlds," she said. "I love teaching, but I've also missed working in the industry. Now, I can work in two areas that I love and impact the lives of students who are just about to step out into world."
(Story & Photo: Pearl Cajoles)