Students Embark on a First-of-its-Kind Agave Adventure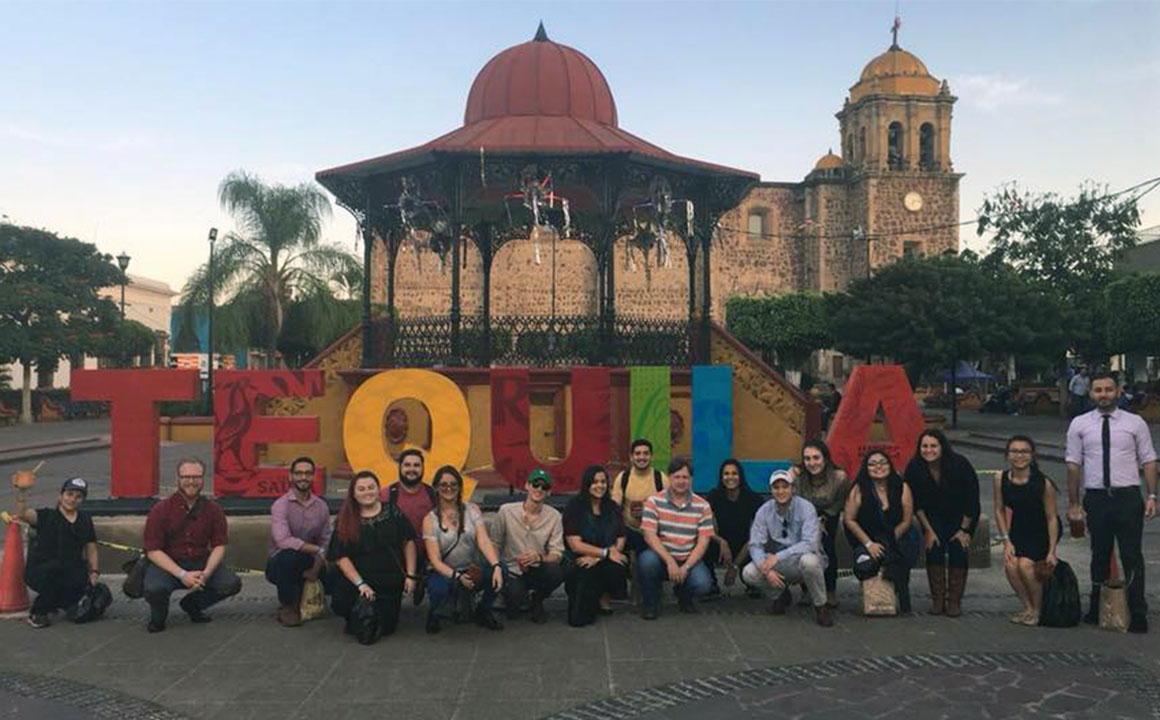 While most students were enjoying the holiday-semester break, seven students from Hilton College-San Antonio and seven from the Houston campus boarded a plane to Guadalajara, Mexico as part of a new class to "drink tequila." But they did so much more than just sip, taste and write a paper to learn about this hugely popular agave spirit.
The inaugural class of Spirits of Mexico, the first of its kind in higher education, was developed by Clinical Assistant Professor Nathan Jarvis, whose goal was to fill an educational need in this area.
"The business of tequila and agave spirits is one of the fastest growing in the industry, and is a significant part of restaurant and culinary operations in San Antonio," Dr. Jarvis said.
The winter mini-session began on Jan. 3 with three days of classroom instruction at Hilton College-San Antonio, and through Skype with students in Houston. Dr. Jarvis introduced students to tequila and mezcal, including aspects of production, agriculture, sustainability, history and the role of agave spirits in today's culture. The syllabus also covered business operations, sales and distribution, as well as costing and pricing.
Then, their travels began! Accompanied by Assistant Professor Chris Taylor, they spent five days in Mexico taking a behind-the-scenes look at tequila production with exclusive tours of the haciendas and distilleries of three major global players headquartered in Mexico – Patrón Spirits International, Casa Herradura and Jose Cuervo.
There, students walked through vast agave fields, had their hand at harvesting pinas, and took in the sights and smells in the roasting, distilling and production areas. They were also treated to decadent meals – featuring tequila, of course – before, after and during their tours.
"They hosted us just like you would a guest in your own home, and the level of hospitality was over the top," Dr. Jarvis said. "We learned the different histories of each company, and the amount of information and insider access we received was phenomenal."
Aside from the tours, the class also met with representatives from the Guadalajara Convention and Visitors Bureau and the Consejo Regulador del Tequila A.C. (CRT), where they learned about strict industry regulations and the process of authenticating tequila.
Dr. Jarvis said his 14 students are now well-versed about premium, middle-of-the-road and boutique spirits. Students who want to open a bar will know how to design menus that feature tequila and mescal, and those interested in beverage sales have learned how tequila is distributed and how to make a profit. And, of course, they all gained a better appreciation of what goes into making a great margarita!
But the class isn't just for students interested in sales and bar menus. Senior Caitlin Fuller, who is concentrating in event management, took the class in order to better connect with future clients.
"If they come to me asking for advice on what drinks to serve at their event, I will have an educated answer on what to recommend and why. This is also the same reason why I took Beer Production and Beverage Marketing," she said. "At the very least, it's a great conversation starter!"
Would she recommend Spirits of Mexico?
"Most definitely! This class is about so much more than just tasting tequila," Caitlin said. "It was a truly exclusive tour that allowed us to see how much work, passion and history really goes into producing tequila. And it helped us understand its cultural importance and the reason behind price points."
Claire Pan, a senior working toward a double major in Hotel and Restaurant Management and Economics, said the class gave her unexpected insight about relations between the United States and Mexico.
"The class is certainly worthwhile for any student interested in learning more about the cultural, political and gastronomical impact of tequila and mezcal in the United States and around the world," Claire said. "Dr. Jarvis also did an incredible job of choosing three distilleries with very different feels, as well as restaurants with menus that complemented our tastings. His knowledge about all aspects of tequila – and the company of our marvelous tour guides – made the trip educational and memorable."
(Story: Pearl Cajoles | Photo: Courtesy of Caitlin Fuller)