From Paris to Houston… and Finding Home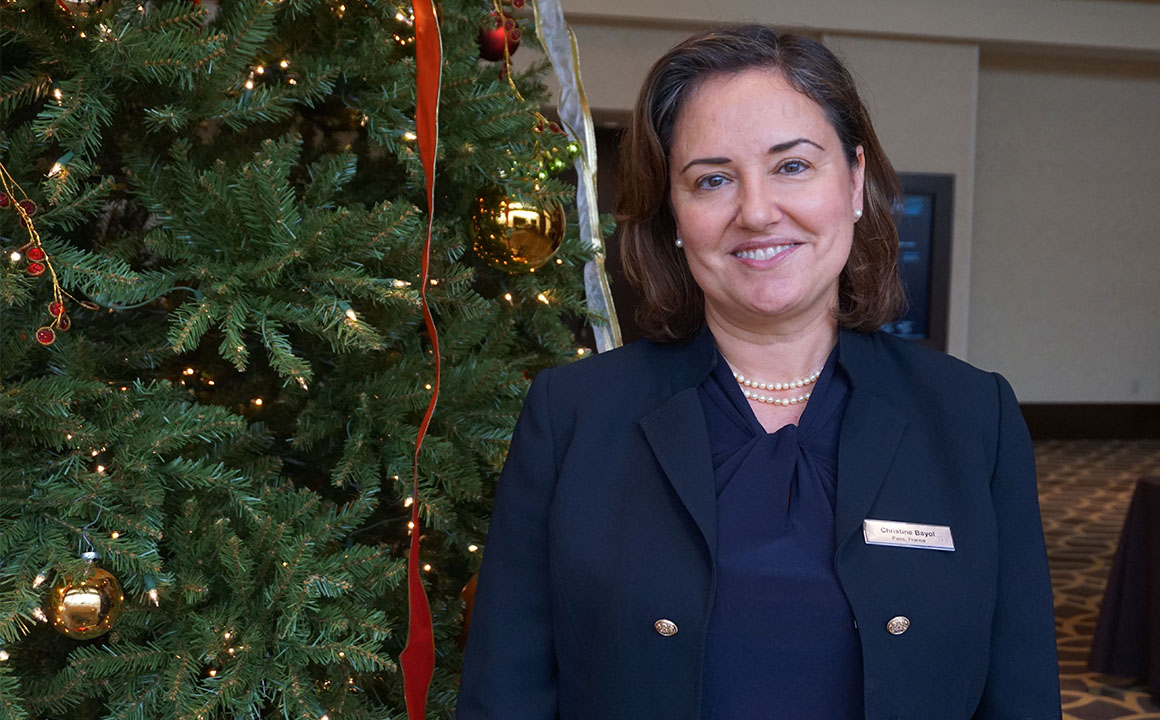 From Paris to Houston… and Finding Home
Christine Bayol, the new director of sales and marketing at Hilton University of Houston, didn't always set out to work in the hotel industry. She wanted to follow in the footsteps of her parents, who poured their hearts into running their family's restaurant in Paris.
She remembers her mother, an outstanding chef, getting up at the crack of dawn to prepare fresh ingredients for the day's menu, and her father supporting all the operations at the front of the house. Naturally, her love for hospitality stemmed from growing up around the restaurant.
"I was born and raised in the service industry," Christine said. "I started working as a busser when I was 11 years old, and have felt a connection with guests ever since."
When it was time for college, she attended Ecole hôtelière de Lausanne in Switzerland – the most prestigious hospitality school in Europe – with a goal to grow the family business. But, plans changed when she was given an opportunity to spread her wings in the United States.
The Hotel Lancaster, a historic luxury hotel in downtown Houston, was looking for a management trainee. So, Christine got on a plane and switched her focus to learning all she could about hotels. At that time, all she knew about her destination was what she had seen in country western movies.
"There I was, a young French girl with no attachments," she said. "I thought I would come to Houston, get to know some cowboys, then move on after 18 months or so."
When Christine arrived, things were much different than she expected. She found a diverse, friendly city with lots of open spaces. She said she fell in love with Houston, and never looked back. When she met her future husband during a friend's wedding in Italy, she also knew Houston would be the place where she would want to start a family.
"I have two beautiful girls who consider themselves Texans first and foremost," she said. "With my husband being Italian, it's a melting pot of cultures at home."
At the Lancaster, Christine advanced in her career to become director of the rooms division. After nearly a decade, she was offered a new opportunity at another luxury property – to open the Hotel Granduca Houston as the director of operations. She worked there for 11 years, serving the last six years as director of revenue and sales management before coming to lead the Hilton University of Houston's sales team this past November.
Since Christine has been here, some have asked about her motivations to work in a hotel with such a different identity, and one that has a primary focus on education. The answer, she said, is simple.
"There is nothing more rewarding than working with an organization where innovation and the training of the future leaders of hospitality is top priority," she said. "In fact, throughout my entire career, my best colleagues were those who went to school at Hilton College – they had fresh ideas, as well as incredible energy, enthusiasm and a strong team spirit."
She also feels a connection to the College because of its association with her alma mater. Since 2015, Hilton College, Ecole hôtelière de Lausanne and The Hong Kong Polytechnic University have partnered to offer a tripartite Master of Science in Global Hospitality Business degree.
Christine said knowing about the special relationship between these colleges has made her even prouder to work here. As she tackles her new responsibilities, her wish for everyone in the city – including UH students, faculty, staff and their visitors – is to think of Hilton University of Houston as their first choice for travelers and events.
After all, our hotel's prime location – just 10 minutes from Hobby Airport and three miles from downtown Houston with its world-class restaurants, professional sports venues and cultural arts events – is only one of the many selling points in her marketing arsenal.
She also plans to promote the fact that it's a teaching hotel and the ideal meeting place for conference attendees, UH sports fans, and potential students and other visitors to the UH campus. Christine is excited to share all of the "hidden treasures" of this campus hotel, such as guest access to one of the best recreation centers in the nation, theater and music productions, and a bookstore, bowling alley, movie theater and various casual dining options right across the street in the Student Center.
"With our location and amenities, our team, our students and our sense of hospitality, we rival the most recognized hotels in Houston," she said. "We are Hilton, and we truly are hospitality."
We couldn't agree more. Welcome to your newest Houston home, Christine!
(Photo & Story: Pearl Cajoles)