Alumni Spotlight: Unpaid Internship Leads to World Series Experience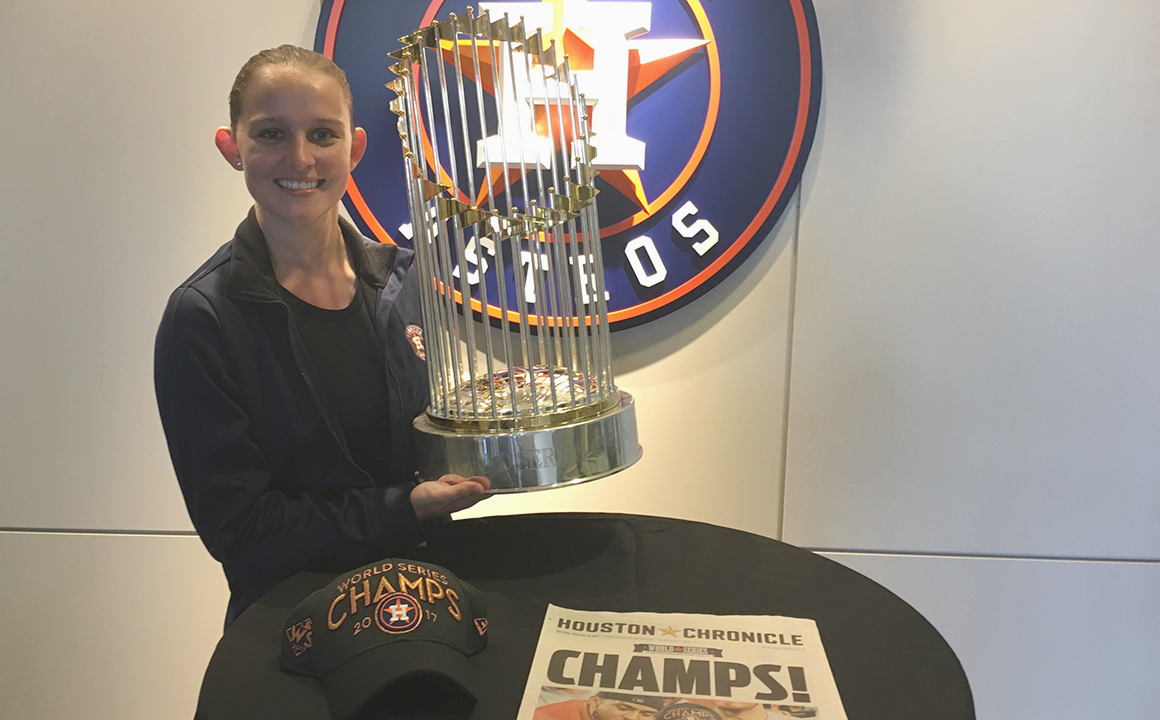 When the Houston Astros clinched their first World Series title in franchise history on Nov. 1, Lena Vogt ('12) was at work inside Minute Maid Park. As the manager of safety for the Houston Astros, she was there to make sure the 20,000 fans who came for the watch party – including ballpark employees and contractors – would remain safe for the evening.
"When we won, my initial reaction was pure joy, knowing this was probably the best experience of my professional career," Lena said. "We jumped up and down and cheered, and we all hugged and congratulated each other."
The historic victory was especially meaningful for Lena, as she started her career with the Astros right out of college. She said baseball has definitely shaped the last few years of her life, and has helped create special memories and lifelong friendships.
When the Astros came home with the championship trophy, she had the chance to admire it up close, and being able to hold it only intensified her pride for being part of the organization. Fun fact? It is heavy, weighing in at 25 pounds!
Lena's journey with the Astros began at Hilton College, where she learned about an unpaid internship at Minute Maid Park through the Facilities Management class of Lecturer Anthony Caterina. Not knowing a thing about baseball, but wanting the experience of working at a world-class sports stadium, Lena submitted her application with his encouragement.
"I never thought they would even call me, let alone hire me," she said. "This was my last semester of college, and I was about to graduate with a work history that only included a pool company and a restaurant."
As fate would have it, Lena got a call the next day. And, after a round of interviews, she was awarded an internship with the ballpark's facilities department. Three months later, just before the start of baseball season, Lena got more good news. The engineering department, responsible for all maintenance and repair for the stadium, needed a new coordinator.
"My boss offered me a paid, full-time position, and of course I accepted," Lena said. "I fell in love with the organization and the department my first year. I knew so little when I first started, but I learned so much so fast."
After working four years in the engineering department, Lena was promoted to manager of safety, a role she has held since March. As her title suggests, she's responsible for minimizing risk in and around the ballpark through safety training and other initiatives.
As for unpaid internships – like the one that led to the most unforgettable experience of her career? Lena says not to dismiss them so easily.   
"Taking the opportunity will give you an idea of how a company operates, and it gives you a chance to figure out if you're in the right place," she said. "Not every job is a right fit, but you will get a feel for it when you're an intern."
It might go without saying that her drive and willingness to learn has led to many wins for Lena. Word is, she might be getting a championship ring for her role in ensuring the safety of all who pass through the doors of Minute Maid Park.
"I'm anxiously waiting to find out, but we won't know anything until January," she said. "Either way, it was surreal to hold the trophy and to be part of the entire experience. We are World Series Champions, and no one can ever take that away from us!"
 (Story: Pearl Cajoles | Photo: Courtesy of Lena Vogt)