Hilton College Students Raise the Bar at Fall Career Fair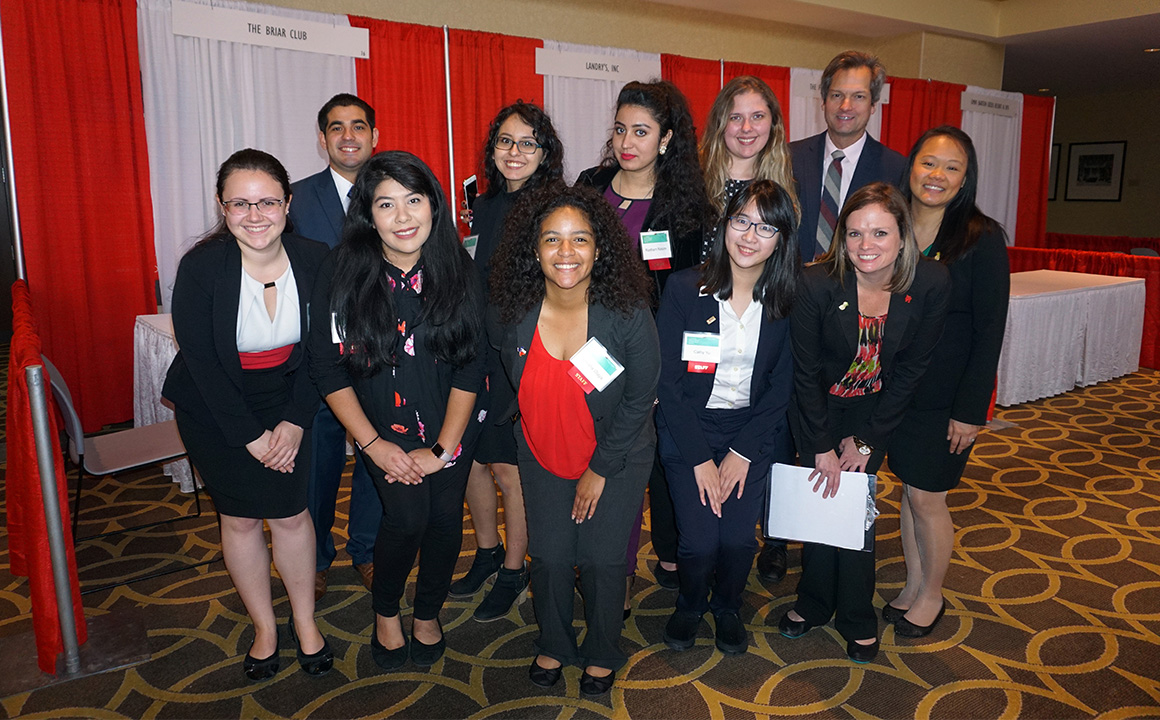 Hospitality is always hiring, and more than 475 job seekers came with their A game to meet representatives from 72 companies at this year's Fall Career Fair and Luncheon, held Oct. 19 at Hilton University of Houston. During the luncheon, undergrads Makeda Stewart, Becky Phan and Fredy Romero delivered remarks, while Career Development Graduate Assistant Kevin Schoppe introduced keynote speaker Dr. Cassandra Caldwell, president and chief engagement officer of The Kaleidoscope Group.
"On the day of the event, many of our recruiters told me that our students were better prepared than ever, and that they had seen some real super stars," said Director of Career Development Colleen Gleeson who, along with Career Counselor Gloria Ratliff, has introduced several initiatives to help students polish their resumes, ace their interviews and hone their networking skills. 
Coffee with Counselors and Speed Interviewing Workshops, both launched this year, have allowed Colleen and Gloria more opportunities to interact with students and to gain a comprehensive understanding of their career development needs.    
Colleen and Gloria are also teaching the new Career Fair Management course, which aims to help students develop the skills needed to produce a convention-style event, including managing a budget, creative marketing strategies, vendor/employer relations and logistics.
The first class, pictured with Colleen and Gloria, are from left: Quincy Reynolds, Ryan Garcia, Veronica Martinez, BreAna Gutierrez, Nekisha Olaya, Rasham Nasim, Chuying Yu and Elizabeth Tuch. Graduate student Devin Tinney, while not enrolled in the class, has also been a key part of Career Fair every semester, helping with interview preparations and information sessions while the luncheon is underway. Colleen commends these students whose leadership, teamwork and resilience resulted in one of the best Career Fairs in recent years.
"Our team had to be very adaptable and amenable to change. Thanks to Hurricane Harvey, we lost two whole weeks of class at the beginning of the semester, so we had to rewrite the syllabus as we went," Colleen said. "This was a challenging semester on all fronts. The success of our Career Fair is really a testament to the dedication of our students and volunteers."
(Story & Photo: Pearl Cajoles)