Vegetarian Fare at a Tailgate? But of Course!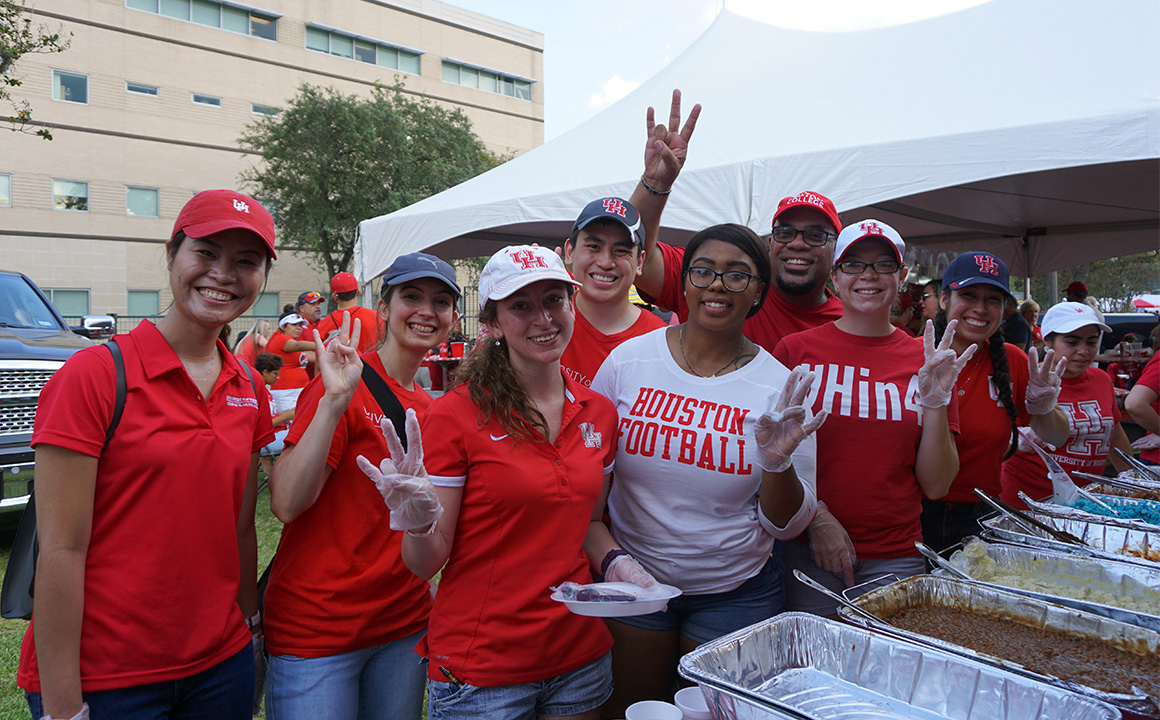 Come to a Party on the Plaza tailgate and you'll find Chef Anthony Chevalier and his Foods II students on the front lines! This season, they have put an ingenious twist on the traditional tailgate menu by including weekly themes and vegetarian and vegan options.
"We are hospitality, so we are here to make sure we are taking care of everyone's needs." Chef Anthony said.
The Hilton College Alumni Association, in conjunction with the University of Houston Alumni Association, plays host to the home game tailgates set up next to TDECU Stadium. During the first tailgate of the season against the Rice University Owls on Sept. 16, alums, students, faculty and staff enjoyed fajita-grilled vegetables, including blue-colored rice. Get it? Rice Owls!
A week later, during an early home game versus the Texas Tech Red Raiders, breakfast vegan burritos were the featured fare. When the Coogs played the Southern Methodist University Mustangs on Oct. 7, black bean burgers sizzled on the grill. Everyone was excited when UH President Renu Khator, a vegetarian, stopped by the College's tent!
And of course, a tailgate isn't complete without hot and cold brews! Special thanks goes to Avi Katz ('97) of Katz Coffee and to 8th Wonder Brewery co-founders Aaron Corsi ('09, MS '11) and Ryan Soroka ('11) who have generously provided drinks at each event. Aaron also is a lecturer at the College.
"The additions to our menu have worked out amazingly, and we have gotten wonderful feedback," Chef Anthony said. "Tailgate food should be accessible and enjoyable for everyone!"
Plan to attend Homecoming on Nov. 4, when UH plays the East Carolina Pirates. Special guest Dean Dennis Reynolds will be the official Hilton College grill master!
What else is making our tailgates even sweeter this year?
"Dessert!" Chef Anthony said. "After all, a meal isn't complete without it!"
Students who are interested in volunteering for Party on the Plaza tailgates can sign up by contacting Chef Anthony. Tailgates begin four hours before each home game, and are open to UH alumni, their guests and, of course, faculty, staff and students.
Bon appétit and Go Coogs!
(Story & Photo: Pearl Cajoles)