Hilton College Welcomes New Faculty Members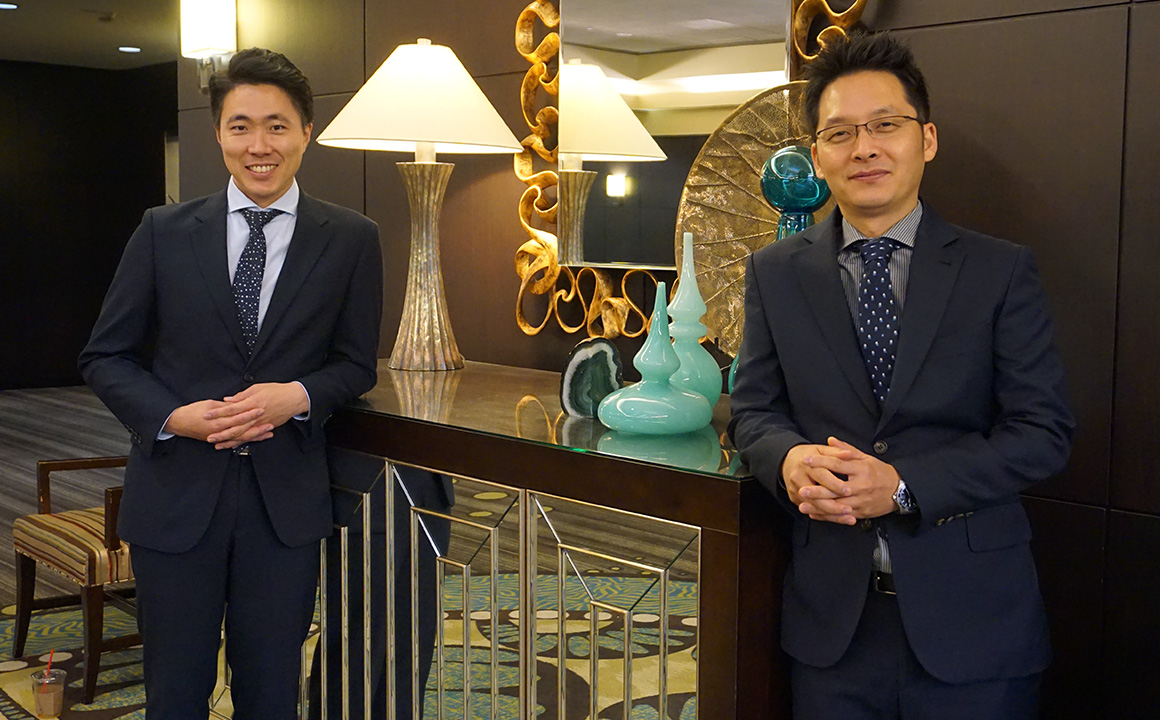 Two assistant professors joined Hilton College this fall – Drs. Jaewook Kim and Minwoo Lee.
For Dr. Kim (left), teaching at the College has been like coming home. After completing his undergraduate studies in hotel and tourism management from Sejong University in Seoul, he moved to Houston to earn his master's degree in hotel and restaurant Management from Hilton College.
As a student here, Dr. Kim said the College's curriculum and its wonderful culture made a lasting impression. So, after earning his Ph.D. in Hospitality Management from Iowa State University, he returned to Houston.
This fall, he's teaching Gaming and Casino Management, as well as Human Resource Management. Specifically, he's researching human resource management practices in the casino industry and micro entrepreneurship in sharing economy platforms.
Now that Dr. Kim is back as a faculty member, he is enjoying spending time with students, faculty and staff. In fact, he calls them true superstars!
"My colleagues are outstanding performers in their research fields, and the students and staff are literally the best in the world," he said. "I learn from them, work with them, and we help each other accomplish our ultimate goals."
Dr. Kim also said he could not have found a better place globally.
"Hilton College has been my dream place to work," he said. "And, now, I'm here!"
Dr. Lee joined the College after earning his Ph.D. in Management from the University of Massachusetts Amherst. He has a BBA and MBA in management science from Korea Aerospace University, and a master's degree in management information systems from Texas Tech University.
He is applying his expertise in information systems and e-commerce strategies to the growth of the hospitality industry. His research focuses on big data and business analytics; organizational and individual impacts of IT in hospitality management; and user- and firm-generated content in social media.
He is especially interested in how the hospitality industry is turning to new technologies to meet growing customer expectations; increasing customer satisfaction and loyalty and attracting potential customers; and enhancing employees' job satisfaction and performance.
For Dr. Lee, Hilton College was his top choice among other schools when deciding on his postdoctoral career.
"The quality of education and the outstanding achievements of students at Hilton College are very well-known," he said. "As part of a Tier One research university, the College has world-renowned faculty members who are not only actively publishing their work in premiere journals, but also passionately imparting their professional knowledge and topnotch skills to our students."
Since Dr. Lee's arrival, Hilton College has far exceeded his expectations, and he loves that our students have so many ways to gain practical, hands-on experience. He is teaching Hospitality Technology at the undergraduate level and Business Analytics at the graduate level. He is also developing a course in Social Media Marketing and Management that will be offered at the undergraduate level next semester.
With the addition of our newest assistant professors, now we have even more to brag about! 
(Story & Photo: Pearl Cajoles)