Hurricane Heroes Ride Out the Storm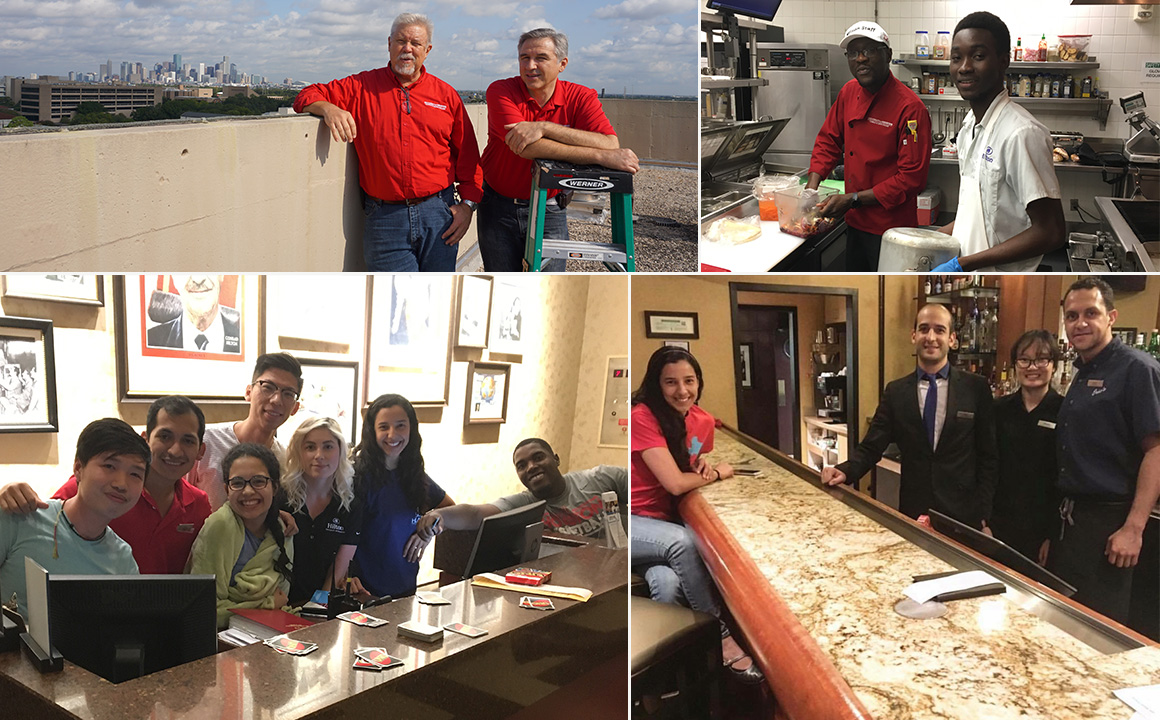 As Hurricane Harvey dropped more than 50 inches of rain in the Houston area over six days, a dedicated few stepped up to ensure the facilities at Hilton College and Hilton University of Houston remained safe, and that hotel operations continued as normal. 
Days before Harvey made landfall on Saturday, Aug. 25, Director of Facilities Michael Scott had already met with the University of Houston Ride Out Team to discuss emergency response procedures. When Harvey started gaining hurricane strength as it approached the Gulf Coast, Michael wasted no time preparing our buildings and staff for the storm.
Under his direction, the facilities team with the assistance of hotel management and staff, began to cover desks and electronics in case of roof leaks, and placed waste cans, shop vacuums and drop cloths in strategic areas. They confirmed availability of water and food supplies, as well as flashlights and batteries. They also gathered sand bags, and made sure emergency communication methods were in place.
By 1 p.m. on Friday, the University had closed operations in anticipation of the storm. Because the hotel had a number of registered guests for the weekend, including members of the University's emergency response team and other Houston first responders, a small of group of dedicated team members, under the leadership of Director of Food & Beverage Brane Poledica and Banquet Manager Nam Nguyen, volunteered to work in order to maintain essential services.
From Friday evening through at least Wednesday, student front desk agents Elizabeth Gutierrez, Brendaly Escobar and Richie Han patiently answered concerns and diffused difficult situations when frustrations arose after road conditions and airport shutdowns prevented guests from leaving.
Eric's Restaurant strived to keep business as usual. Victor Glorioso, Trang "Hannah" Le and Hernan Gonzalez handled front-of-the-house operations, while Issa Karambiri, Elie Bonkoungou and Chef Willie Mukes kept the kitchen running smoothly.
Housekeeping and maintenance, including Estefany Nerio, Angel Flores, Nhung Pham, Ashton Charlton, Maria Flores, Irma Campos and Larry Brown, maintained standards as best as the situation allowed. Leaking room windows kept them busy, and they worked with limited linens and towels. By checking the building for leaks several times a day, their diligence minimized damage to our rooms, offices and equipment. 
As part of the UH Ride Out team, Michael committed to stay on campus in anticipation of and throughout the storm. It was a long week! Many of our staff members were in the same boat, albeit in the safety of our hotel.
"Like many in the city, we just watched and waited," Michael said. "At the hotel, we became confined, helpless observers of catastrophic destruction all around us. UH had prepared well and the storm was relatively kind to the campus. Unlike many thousands of others around us – who had become flooded and endangered – we had electricity, AC, food, water, TV, internet and comfortable beds. We were more concerned about the safety or our family and friends, and of the entire city of Houston, than our own."
By Monday – four days after the storm made landfall – the sun finally peeked through the remaining storm clouds. With mixed emotions, Michael stepped out to take photos of his surroundings.
 "The joy, pleasure and relief of seeing sunshine was immense," he said. "But to see the sun shining on an essentially empty campus was sobering. The quiet was very loud."
And even though the rain had stopped, the University – as with most of the city – would remain closed for the rest of the week. In a show of teamwork, members of the hotel staff reported to work to relieve those who had not yet be able to return home.
Supervisors Jenniffer Gonell and Justin Arriazola, and agents Lisa Green and Huynh Le took their turn to service the front desk. In housekeeping, Lead Supervisor Dayra Mendez organized her team, and Sabas De Leon, Vy Nguyen, Rosa Giron, Lam Huynh and Van Loung reported for duty.
As Michael reflects on his time "stuck" on campus, Michael said his job was easy. He said the hotel staff did the real work.
"The entire hotel team was outstanding, and it was truly a cooperative effort," Michael said. "Everyone just stepped up and handled it. I am immensely proud of spending an exceptional few days with a group of people who represented the best of what hospitality is ultimately about – service, dedication, quality and positive attitude."
The campus reopened after Labor Day, and on the outside Hilton College seemed unscathed, thanks to the dedication and service of those who rode out the storm that is now considered the worst flooding disaster in our country's history.
In a letter to the Hilton College community, Dean Dennis Reynolds praised the efforts of our hurricane heroes, including the many who stepped up off campus.
"Our advisory board members and our alumni were incredibly supportive with an outpouring of compassion and offers of assistance," he said. "Our faculty and staff were great in their communication; and our students were some of the first to volunteer at the various shelters, which speaks for itself."
As classes and university activities resumed, and as people remarked about life slowly getting back to normal, Dean Reynolds shared a sentiment that is perhaps still on the minds of all affected by the storm.
"This is only the beginning of our collective recovery," he said. "I know that we will emerge even stronger than before we met Harvey."
(Story: Pearl Cajoles | Photos: Brane Poledica, Pearl Cajoles)