Nick Massad Jr. Receives Hilton Lifetime Achievement Award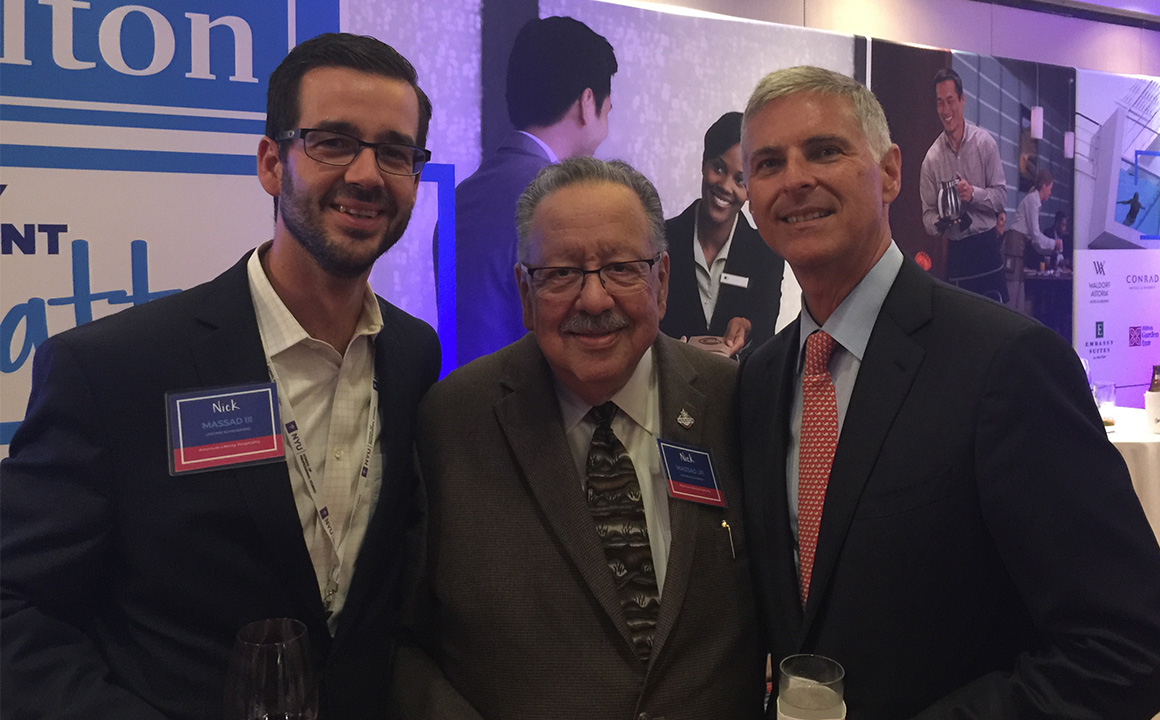 On June 5 at Hilton headquarters in McLean, Virginia, Hilton bestowed its 2016 Lifetime Achievement Award to Eric's Club member Nick Massad Jr. ('73), a longtime friend and supporter of Hilton College. Nick is president and CEO of American Liberty Hospitality, and received the award for more than 40 years of contributions to the hotel development industry.
"I am extremely honored," said Nick, pictured with son Nick Massad III ('02) and Hilton President and CEO Chris Nassetta after the awards ceremony.  "When I was a student, I told myself that if I ever became successful, I would love to develop Hilton properties."
After graduation, Nick became the food & beverage director at the Sheraton Hotel in Dallas, which was then owned by American Liberty Hospitality. In 1991, Nick and wife Vicki (Hon. '03) purchased the company, and now run the business with children Nick, Margo Kaplan ('03) and Taylor Tritt ('03) – all proud Hilton College alumni!
To date, American Liberty Hospitality owns 18 properties in Texas and Louisiana, with nine of them Hilton developments. The company is currently adding to its Hilton portfolio with a dual-brand property in the Texas Medical Center that is expected to break ground at the end of the year.
"Hilton College, through the generosity of Conrad N. Hilton and the Hilton Foundation, has literally changed my life," Nick said. "I knew by the time I was a junior or senior that I definitely wanted to work in hotels. And what better way to give back to Hilton than to lead the development of properties that carry its name?"
With more than four decades in the business, Nick has seen the industry change, and he appreciates the innovations in building technology and design that allow a property to run more efficiently in terms of energy and operating costs.
But no matter how much the industry changes, Nick said the keys to success remain the same: keep and document a professional network; stay bright and positive; and maintain a spirit of philanthropy.
To that end, in 2007, Nick's family gave back to Hilton College with a $1.5 million gift to enhance its library and hospitality archives. This is the largest single gift ever presented to the College from a source other than the Conrad N. Hilton Foundation. The Massad Family Library and Research Center and Hospitality Industry Archives opened in 2010.
In recognition of his service to the College, Nick was awarded an honorary Doctorate of Humane Letters during the University of Houston's spring 2012 commencement. He is the only alumnus to have ever received this honor.
With his Lifetime Achievement Award, Nick is a bona fide trailblazer, and has no plans of slowing down. 
"It is a fantastic honor, but it doesn't mean we're done," he said. "Vicki and I love what we do. We might curb our schedules a little bit in the next few years, but we can't imagine a day when we aren't working."