A Tour of Italy… for the Love of Wine!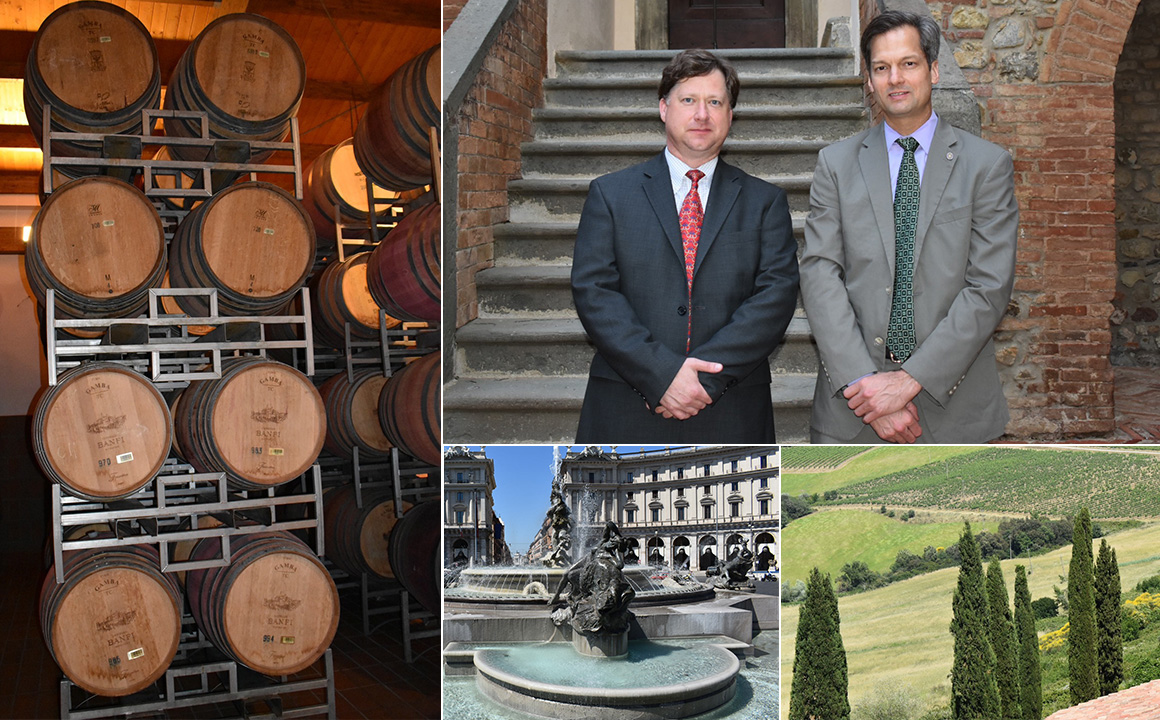 As participants in the Banfi Scholastic Tour on May 27-June 1, student Devin Tinney (right) and Dr. Chris Taylor, director of the Beverage Management Program and Fred Parks Wine Cellar, traveled to Italy to study food, wine and culture – an experience they both called once in a lifetime.
Sponsored by the Banfi Vintners Foundation, the trip allowed students the opportunity to visit four cities in Italy's winemaking regions, as well as time to take in the sights in Rome. The group visited vineyards and restaurants, and got a firsthand look at wine production and area hospitality programs.
The trip culminated with a reception in Castello Banfi, a restored medieval fortress built in the 1700s that overlooks the company's majestic vineyards in Montalcino. John Mariani Jr., Banfi's chairman emeritus and son of the company's founder, hosted the event.
Banfi Vintners has been operated by the Mariani family for three generations, and is internationally known for award-winning wines from its Italian estates. Incidentally, the Mariani family was inducted into the College's Hospitality Industry Hall of Honor in 2012.
At the reception, participants were greeted with regal trumpet fanfare and a flag performance before proceeding to dine on selections from Castello Banfi's Michelin star-rated restaurant. Devin also had the good fortune to speak one on one with the event's gracious host.  
"It's really hard to pick the best part the trip, since everything was amazing – from the scenery to the history to the connections we made with students and faculty from the top programs in the world," said Devin. "I will never forget our visit to Verona, the city of Romeo and Juliet with its marble sidewalks, or the sight of a vineyard clinging to a hillside."
Dr. Taylor chose Devin to go on the trip because of his proven wine experience, his involvement with Gourmet Night and his academic performance. Devin, a senior who plans to graduate May 2018, is also a certified sommelier who plans to pursue his Master of Wine certification. The Banfi experience helped further his exposure to many aspects of the wine business, and is something he "will remember forever."
Ten universities from the United States and Ireland were invited to attend this year's tour, and Hilton College has participated nine times before.
"We cannot thank Banfi enough for their incredible generosity and hospitality," Dr. Taylor said. "We would be very humbled if we received another invitation next year, so that others here can share in this remarkable experience."
(Photos: Courtesy of Devin Tinney)