Hilton College Deans Strengthen Relationships in Asia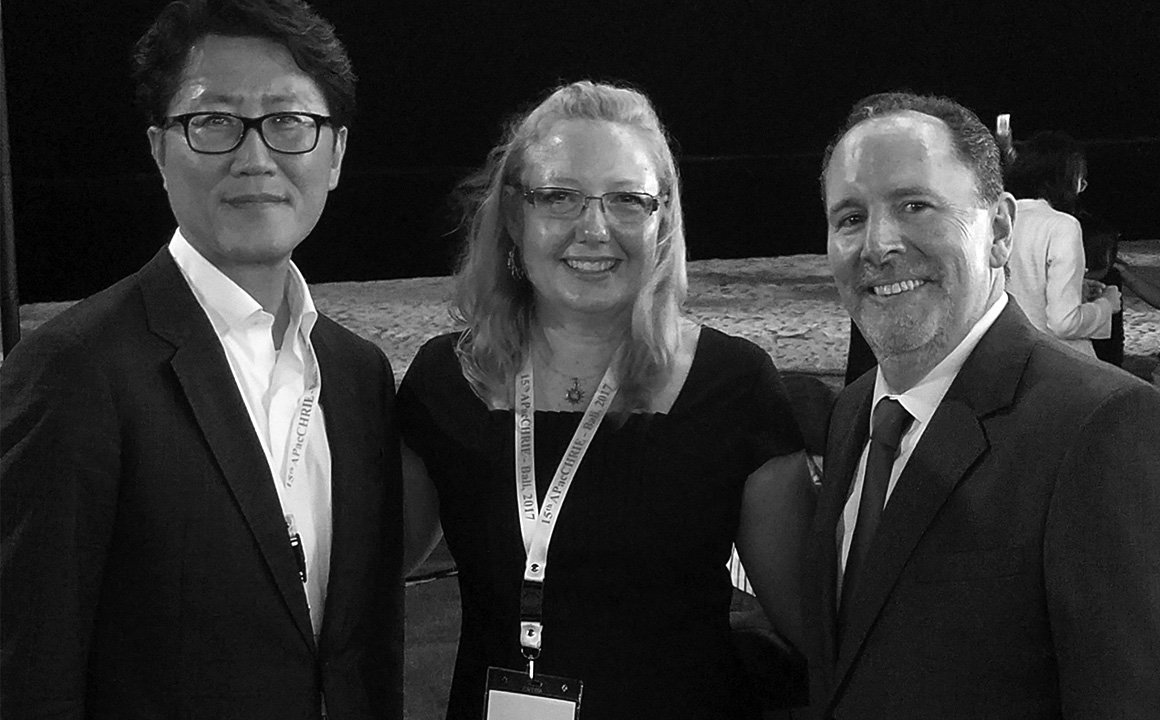 Dean Dennis Reynolds, along with Associate Dean for Academic Affairs Mary Dawson and Associate Dean for Research and Graduate Studies Ki-Joon Back, embarked on a whirlwind trip to Asia this summer in a successful push to strengthen the global reach of Hilton College.
With stops in Korea, Hong Kong, Macau, Bali and Tokyo, they attended three conferences, served on several panels, chaired sessions, presented papers, met with alumni and faculty from partner universities, toured hotels, and made industry and academic connections to identify and solidify partnerships.
"One of our five areas of focus is international reach and recognition," said Dean Reynolds. "This includes providing internships in countries throughout the world, which will allow our students to develop empathy for other cultures. We also want companies and other programs to know who we are and to be aware of the diversity of degrees that we offer."
First stop was Hong Kong for the Dean's Summit on our global master's program, where Deans Reynolds and Back met with their counterparts at Ecole hôtelière de Lausanne and Hong Kong Polytechnic University to reach consensus on several modifications and improvements to the program. Hilton College will welcome the second cohort of this exclusive tripartite program in August.
While in Hong Kong, Dr. Dawson toured the Hotel Icon and Hong Kong Polytechnic University to explore potential opportunities for the College and hotel. She also met with the editor of Business Traveler Asia Pacific.
Next stop was Indonesia, for the Asia-Pacific Council on Hotel, Restaurant and Institutional Education (APacCHRIE) Conference in Bali. Dean Reynolds met with the executive board to discuss the organization's future, as well as the new ICHRIE global strategic review where he will serve as chairman.
Key industry connections were also made with the general managers of the Hilton Bali Resort and the Conrad Bali. At the Conrad Bali, an agreement was made to formalize an internship arrangement in which the hotel would provide free housing for our students during the peak summer season. Colleen Gleeson, director of career development, is currently working on the logistics of this internship.
After the APacCHRIE Conference, Deans Back and Dawson traveled to Korea to attend the Academy of Global Hospitality and Tourism Conference in Cheongju. Dr. Back was a panelist and speaker for the Research Plenary Session and served on the Best Paper Selection Committee, and Dr. Dawson was the keynote speaker for a session on effective teaching strategies.
In Korea, Dr. Back also attended the Asia Pacific Tourism Association Conference, where he is a regional representative and board member. Most importantly, he met with Hanyang University to create 4+1 and dual degree programs, supervised seven undergraduate Hilton College students on their current internship in Korea, and secured $20,000 to support his fall class on Korean Food, Culture and Tourism.
"We want to get our name out there every time we're in another country," said Dean Reynolds. "During all of our international travels, our goal is to plant a few seeds. Then, we'll see what grows!"
(Photo: Courtesy of Dean Dennis Reynolds)