Kudos to our Newest Associate Professor!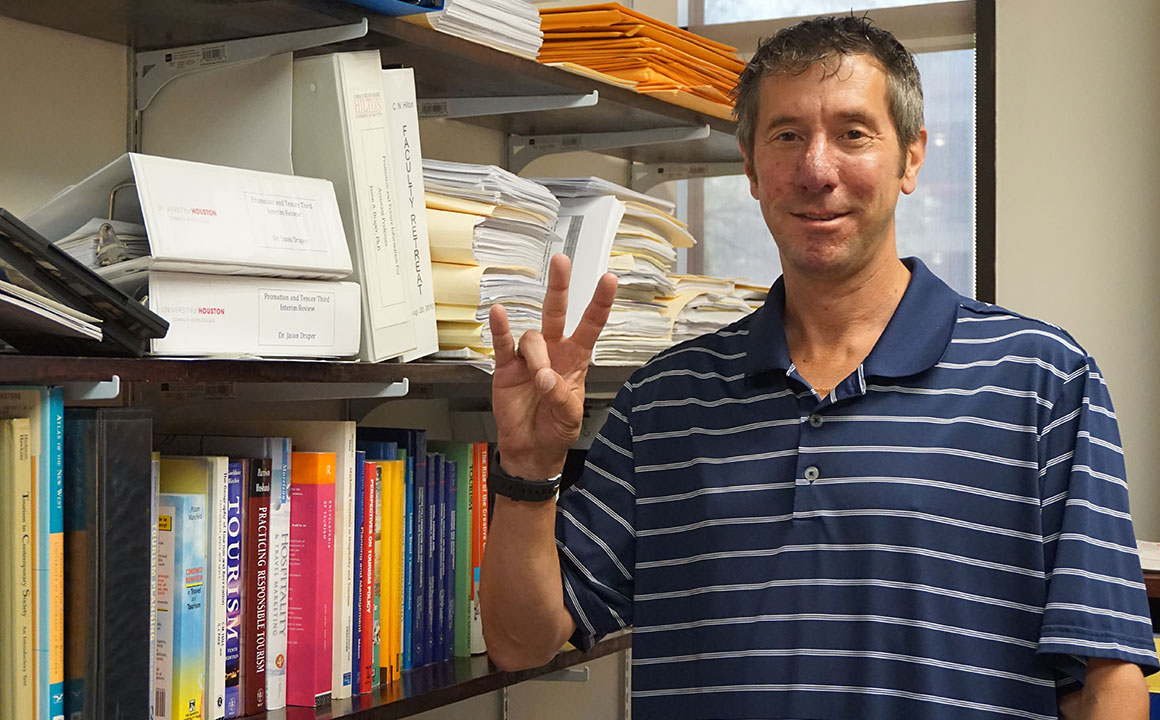 He joined the Hilton College faculty in the fall of 2010, where receiving tenure has been his focus since day one. After years of intensive research, peer reviews and penning more than 30 academic and industry journal submissions, Dr. Jason Draper has been promoted to associate professor! Dean Dennis Reynolds shared this coveted accolade during last month's Faculty and Staff Appreciation Luncheon.
Dr. Draper thought he wanted to coach and teach high school English. After switching majors while an undergraduate student at Illinois State University, he became seriously interested in tourism. He graduated with a BS in Park and Recreation Administration and began working for a company that provided group tours worldwide. Dr. Draper then continued his education to earn an MS in Recreation, Park and Tourism Administration from Western Illinois University.
After spending five years as a research manager for Choose Chicago, formerly called the Chicago Convention and Tourism Bureau, Dr. Draper moved to South Carolina to pursue his doctorate in Park, Recreation and Tourism Management at Clemson University.
When Hilton College needed an expert in the area of tourism, including Meetings, Incentives, Conventions and Events (MICE) and visitor inquiry studies, Dr. Draper packed his bags for Houston. He is the College's only professor with extensive expertise in the tourism sector. He received Hilton College's Stephen Rushmore/HVS Faculty Research Award in 2013.
"I especially appreciate my colleagues, as well as the College's flexibility to allow me to pursue my emphasis area," Dr. Draper said. "Tourism is so complex, and people have so many different motivations for traveling."
With tenure, Dr. Draper said his work is only beginning. He's keeping busy this summer with a project reviewing MEEC (Meetings, Expositions, Events and Convention) industry research published since 2004. He's also working on two additional papers: one about motivations to attend the biennial Conference for Food Protection, and the other about how past travel experiences influence people's attitudes toward tourism in their own communities.
Dr. Draper also plans to play a few rounds of golf, do some wood working, and spend quality time with his wife Kim and their fur babies, a Shih Tzu named Roxie, and a Whippet mix he recently rescued, Macy. Another project that might be on the horizon? Building dog beds! A busy schedule, indeed, for our newest tenured faculty member! Congratulations, Dr. Draper!
(Photo: Pearl Cajoles)