Creative Brains on Display… Literally!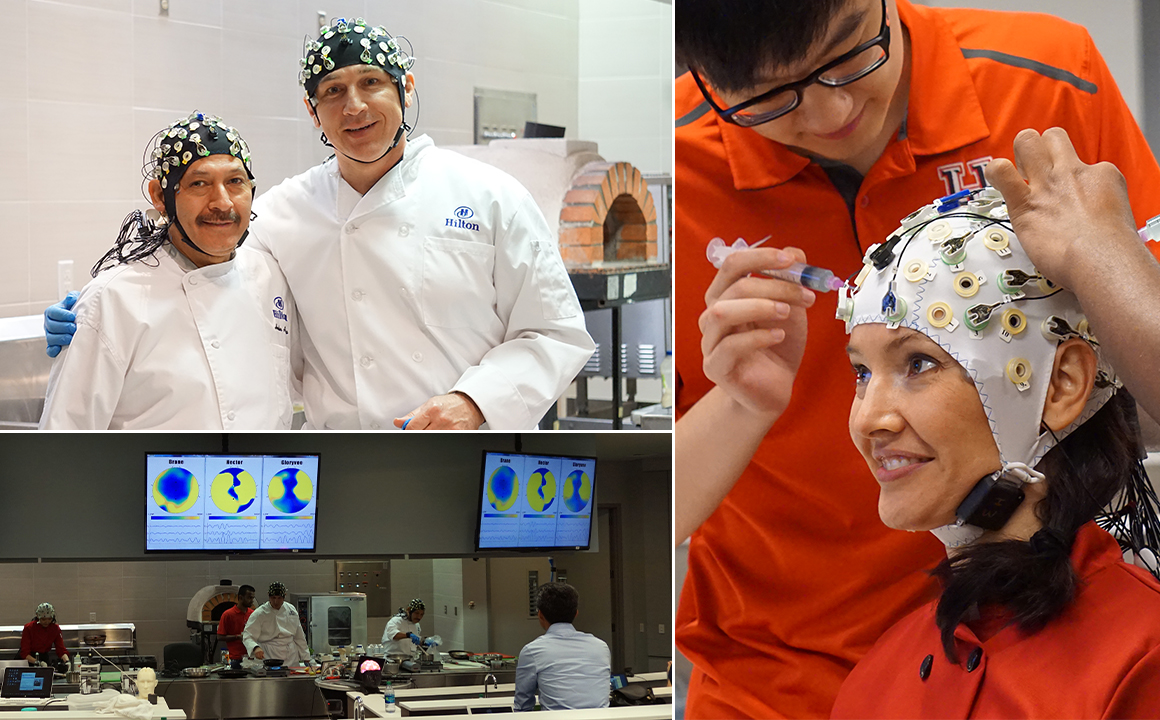 At the Spec's Beverage & Food Appreciation Lab on May 16, Culinary Arts Lecturer Gloryvee Ramos, along with Hilton University of Houston Director of Food & Beverage Brane Poledica and Sous Chef Hector Amaya looked like they belonged on the set of a science fiction movie.
Wearing skull caps wired with electrodes and attached to sensory equipment, the trio were part of a demonstration led by Dr. Jose Luis Contreras-Vidal, director of the Laboratory for Noninvasive Brain-Machine Interface (BMI) Systems at the Cullen College of Engineering. His research seeks to track neural activity as people make and view different works of art, and how the brain functions during the creative process – in this case, while "tag teaming" to create a three-course meal.
For 15-minute intervals, each participant worked at a station designated for the appetizer, entrée and dessert. With every thought and every movement – Brane cutting vegetables for his salad, Chef Hector flambéing in a sauté pan, Chef Gloryvee smiling at the scent of orange zest for her dessert – the skull caps would measure the location and intensity of brain activity, which was displayed in real time on monitors for the audience to see. 
Results from the demonstration will help further Dr. Contreras' research, which is funded by a grant from the National Science Foundation's Brain Initiative to accelerate the development of neurotechnologies that can help answer fundamental questions about the brain.
Dr. Contreras has led similar demonstrations at the Blaffner Art Museum, where he measured the brain activity of an artist, and at UH's School of Theatre and Dance, where he also recorded the brain activity of dancers and choreographers during a performance.
These demonstrations – including our culinary version – are a take on the Exquisite Corpse, a game made famous by surrealists where players take turns to collectively and creatively assemble a series of words or images.
Indeed, putting together an exquisite meal is definitely an art, and requires creative genius. A shout out to Associate Dean for Research & Graduate Studies Ki-Joon Back who coordinated this collaborative research effort, and to our brave chef volunteers who literally put their creative brains on display!   
(Photos: Pearl Cajoles)