Convocation Comes Back to Special Setting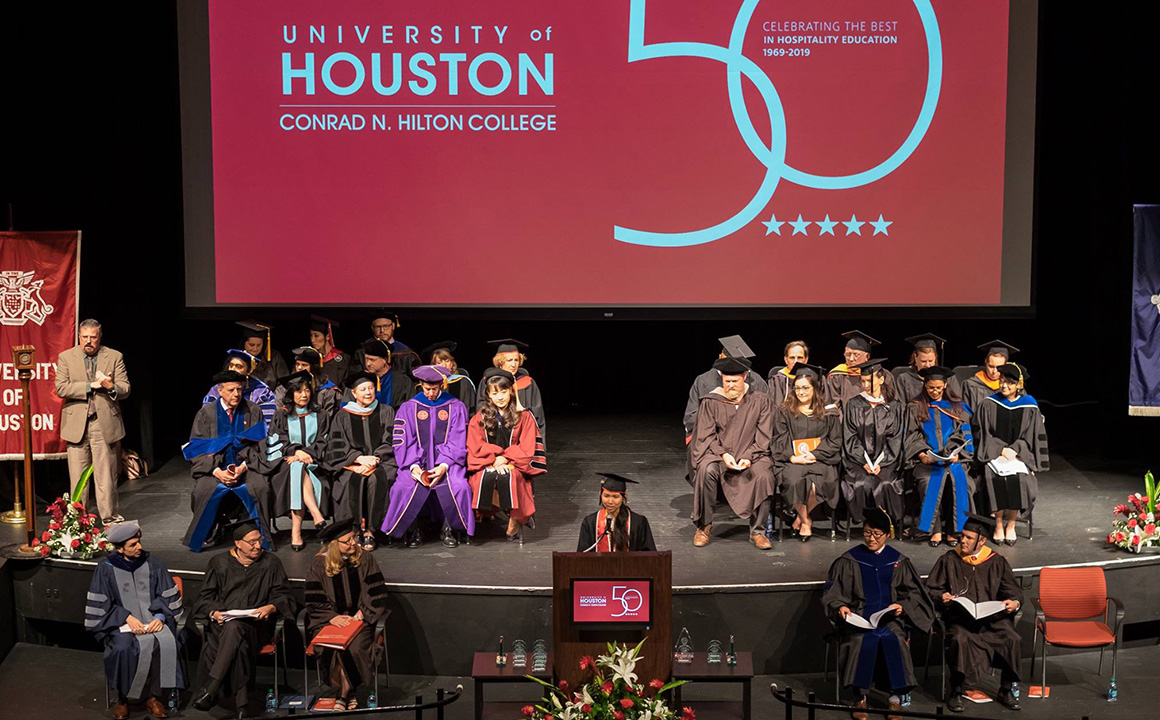 Since fall of 2009, Hilton College has shared the convocation stage at Hofheinz Pavilion with graduates from the Colleges of Technology and Education. But with a new basketball arena under construction, the timing was right to once again "fly solo." 
On May 13 – eight years after it was last held there – graduates celebrated their spring convocation in the University's Cullen Performance Hall. Not a bad encore to the university-wide commencement on May 12 with speaker Arnold Schwarzenegger!
"We were so excited to have the opportunity to celebrate the successes of our students and to make the ceremony about them," said Associate Dean for Academic Affairs Mary Dawson, who presided over the 2017 spring convocation. "By having our own ceremony, we have the opportunity to invite relevant industry leaders, form our own traditions and recognize the outstanding achievements of our students. This was made possible thanks to the dedication of Jeremy Dafoe and Kevin Simon, who were instrumental in securing the venue and organizing the entire ceremony."
One of those new traditions was the addition of a student speaker. Lydia Liou (center) is the first student to have the honor of addressing her classmates, faculty, families and friends. She shared her personal story of her family's immigration to the United States from Taiwan, and how her experiences at Hilton College have paved the way for her future.
Scott McClelland, Houston-area division president of H-E-B, gave the industry address and peppered his remarks with personal anecdotes and lessons learned from his college days and leadership positions. He challenged the graduates to always stand up for what is right, and to never live life as a bystander – in their personal and professional lives.
Following the address, 139 undergraduates and 34 graduates, including seven students from our San Antonio campus, crossed the stage. Eight graduated summa cum laude (highest honors), 28 magna cum laude (high honors) and 23 cum laude (honors).
A record 10 students graduated with perfect 4.0s and received the Alumni Association Award for Scholastic Excellence from Michael Alcorn ('07), president of the Hilton College Alumni Association. These scholars included undergraduates Soohyun Lee, Dong Won Park and Dave Waldron, and graduates Matthew J. Bauman, Yongwook Ju, Zoheb Nizarali Manesia, Sazmin Nizarali Momin, Ashley M. Norred, Sara Varano and Kimberly Nicole Zabaneh.
The coveted Dean's Awards, given to the graduate and undergraduate student who best represent the spirit of the College, were presented by Dr. Dawson to graduate Nafiseh Gonabadi and undergraduate Shining Wang, respectively.
Following the ceremony, graduates and their guests, as well as faculty and staff, gathered for a reception at the Hilton University of Houston's Waldorf-Astoria Ballroom. With the Cullen Performance Hall within close walking distance, it was the best attended reception since, well, fall of 2009!
Also of note… At our partner university in Lima, the Universidad de San Ignacio Loyola (USIL), four students received their UH diplomas in the presence of Professor and Conrad N. Hilton Distinguished Chair Agnes DeFranco, who represented Dean Dennis Reynolds during the ceremony on June 5.
Congratulations to our newest Hilton College alumni! We can't wait to see the special marks you will make in the world of hospitality. Click here for more graduation photos. Go Coogs!
(Photo: Aria Pramesi)