Young Hoteliers Summit Fosters Global Connections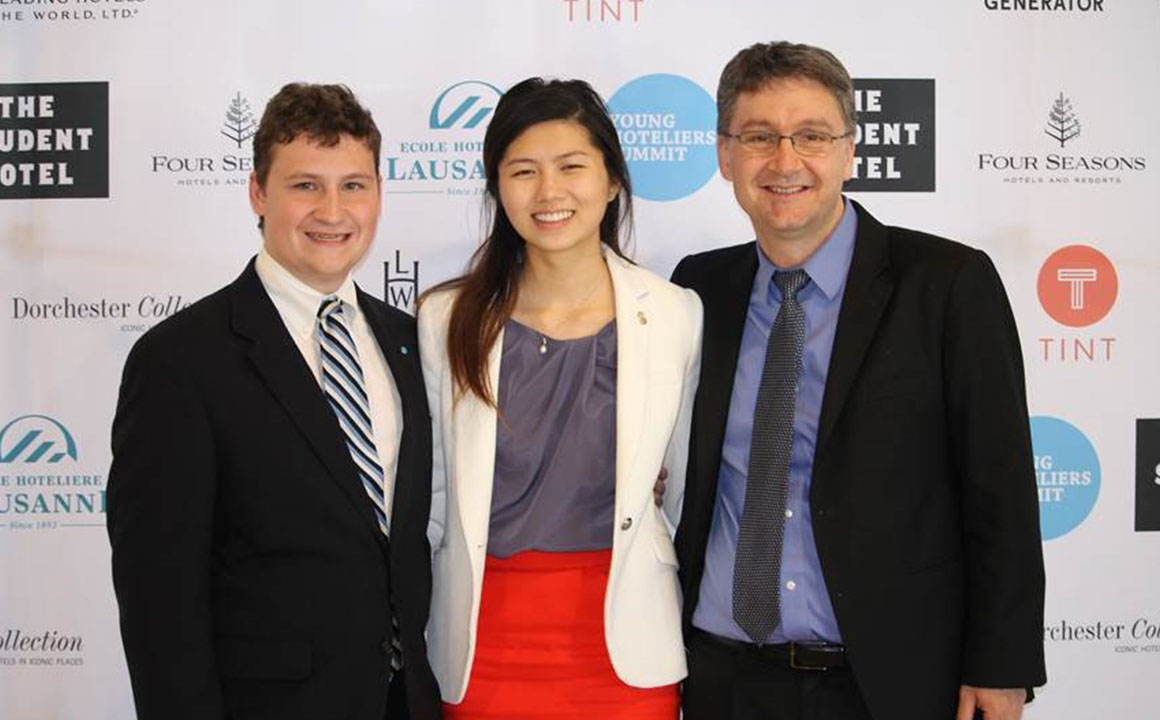 For the second year in a row, Hilton College received an invitation to the Young Hoteliers Summit, held each spring in Switzerland's École Hôtelière de Lausanne. Our delegates, senior Shining Wang and junior Clay Lamberton, attended the event from March 13-15 with Associate Professor Cristian Morosan.
A welcome gala kicked off the Summit, where our Hilton College trio met 79 other delegates from 40 hospitality schools from around the world. The next couple of days were a whirlwind of panel discussions, Q&A sessions and countless networking opportunities. The students were also divided into groups and tasked with a challenge from The Student Hotel, an event sponsor.
With nine properties around Europe and eight more under construction, The Student Hotel provides housing for first-year university students similar to a dormitory, while also offering rooms for leisure and business travelers in a different wing. All residents and guests are able to come together in designer living and dining spaces, and leisure facilities.
The challenge, said Clay, was to present to hotel executives the most unique way to connect the students with hotel guests in order to create the best experience for everyone. Clay's group developed an app, while Shining's group created a project which she said was definitely outside the box.
"I came to the Summit knowing I was going to meet the best and brightest from around the world," Shining said. "I was not mistaken."
Clay, whose team project placed second, said it was incredible to see so many students, all with different languages and cultures, share the same passion for hospitality.
"The Summit brought together the future leaders of hospitality in one room," Clay said. "In 15 years, we could all be your future executives!"
Dr. Morosan said he especially enjoyed the challenge presentations. "All students were bright and it showed that the future of our industry is in great hands," he said. "The depth of their insight, their creativity and their willingness to build upon their knowledge was fantastic."
Hilton College will have another seat at this invitation-only table next year. Yes, we're excited! (Photo: Courtesy of Dr. Cristian Morosan)