Alumni Awards Reception Showcases Cougar Spirit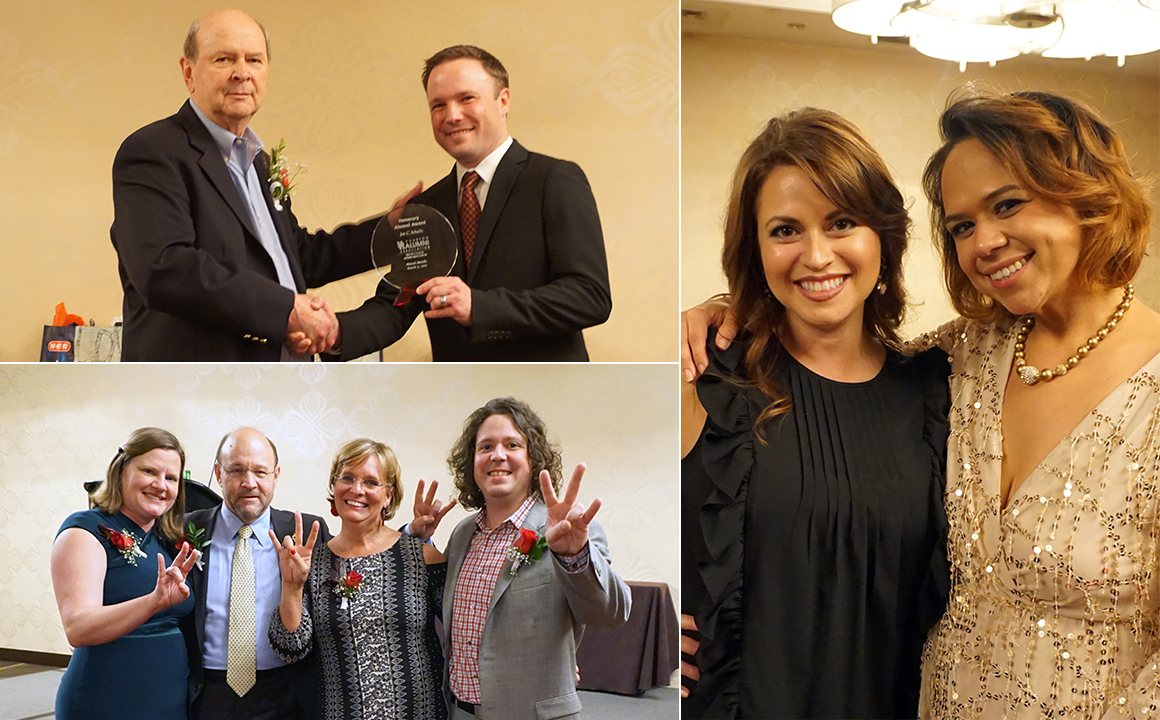 This year's Alumni Awards Reception, the newest springtime tradition that now takes place on the eve of Gourmet Night, was the most energized and best attended since the Hilton College Alumni Association Board of Directors reinstated this event in 2015. Co-hosted with the University of Houston Alumni Association (UHAA), more than 100 well-wishers were on hand to toast the evening's honorees in the Hilton University of Houston's Shamrock Ballroom on March 31.
The evening began with cocktails and a "sneak peek" of the Gourmet Night silent auction appetizers. Then, each recipient took to the stage to receive their awards after introductions by fellow alums. All bled Cougar Red!
Jon C. Schultz, recently retired assistant dean for business development, received the Honorary Alumni Award. Patty Godfrey ('89, UHCL MBA '97), president of the UHAA Foundation Board, took home the Distinguished Service Award. Lecturer and executive director of Gourmet Night Erin Oeser Goodell ('98) was recognized with the Distinguished Faculty Award. Lecturer Aaron Corsi ('09, MS '11), co-founder and brewmaster of 8th Wonder Brewery, was this year's Distinguished Young Alumni awardee. The biggest honor of the night went to Charles D. Dorn, CCM ('80). Charles, who received the Distinguished Alumni Award, is the chairman of the Dean's Advisory Board and the managing director of The Dorn Group, Ltd.
The alums introducing these honorees, respectively, were Randy McCaslin (MBA '80, Hon. '07), Ricki Oberoi ('86), Dr. John Bowen (Hon. '06), Dr. Jay Neal ('91, MHM '04), and Richard Weil ('78). Alumni Board secretary Jessica Lewis ('07) was the evening's emcee. Kudos and special thanks to Alumni Board member Jessica Howton ('11, MS '13) on organizing such a great event!
Congratulations to our awardees, and Go Coogs! (Photos: Pearl Cajoles)