Spring Career Fair Brings New Traditions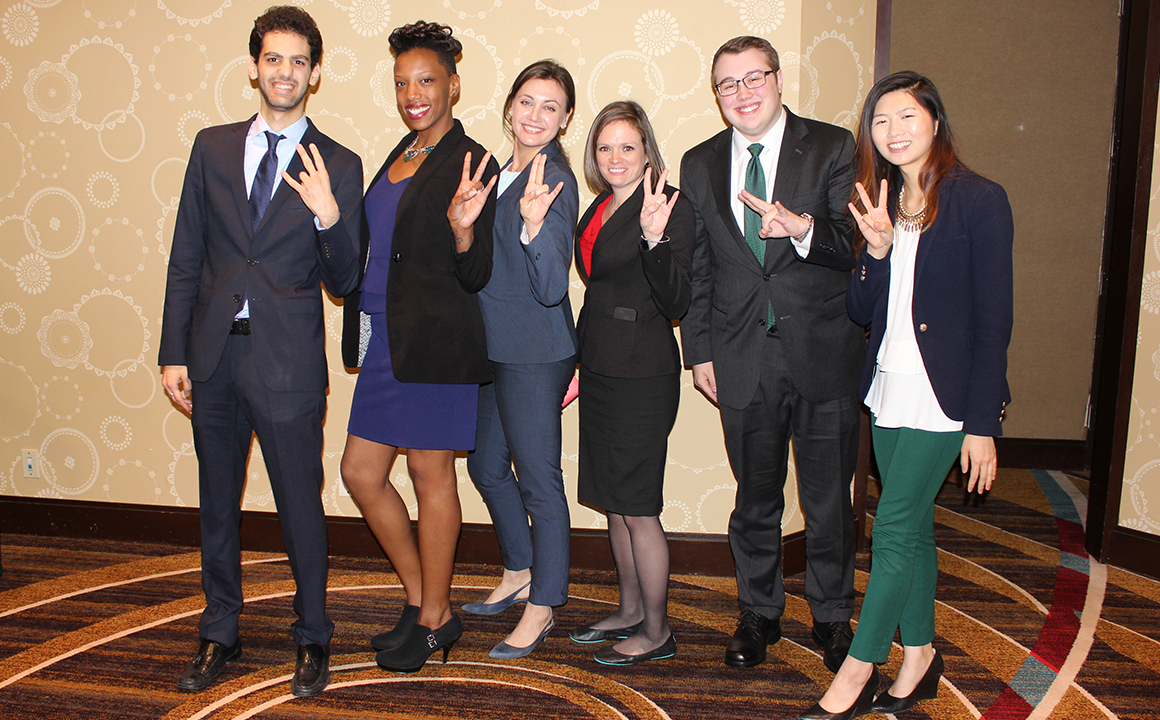 Some 450 job seekers and recruiters from 76 companies attended the 2017 Spring Career Fair and Luncheon, held March 2 at Hilton University of Houston. After a morning of networking and interviews, recruiters and students joined faculty and staff in the Waldorf-Astoria Ballroom for the luncheon, where keynote speaker Martin Ostermann ('02), partner at Prediam Partners, discussed the importance of making connections and the global reach of the hospitality industry. He also encouraged students to find their niche, just as he did with international hotel development.
At the luncheon, guests also heard from students Dani Augi, Monique Hall, Irina Covaliova, Riley Rundquist and Shining Wang, who delivered remarks and shared their successes and career aspirations. They are pictured from left with Director of Career Development & Placement Colleen Gleeson (center).
Perhaps the most unforgettable part of the luncheon? The delectable Korean menu, prepared by guest chefs and professors Younbok Jeong, Wonkyung Song and Taewon Yoon. The guest chefs were at Hilton College for the Korean Cultural Food Experience, which also included a traditional Korean music performance by singer Dahee Kim during the Pre-Career Fair Mixer. Held the evening before Career Fair, the mixer gave recruiters and students a chance to meet and break the ice before the next day's formalities. Students prepared elevator speeches and recruiters also gave tips on how to ace an interview. Due to the event's success, organizers Eta Sigma Delta and the National Association for Minorities in Hospitality plan to make it a bi-annual event.
Kudos go to Assistant Dean for Research and Graduate Studies Ki-Joon Back for bringing international flair to Career Fair, as well as to Colleen, Career Counselor Gloria Ratliff and their volunteers for putting on another outstanding event! Special thanks also goes to the International Association of Exhibitions & Events Cougar Chapter and faculty advisor Anthony Caterina, who started assisting with Career Fair's planning and execution in early January. Members of the IAEE Cougar Chapter are: Yusmery Gutierrez, Richie Han, Cathy Luong, Sabrina Nguyen, Khan Pham, Milagro Rivera, Kevin Schoppe, Ashley So, Olivia Sun, Devin Tinney, Gabriella Villela, Cathy Yu, Yukai Zhang and Kris Zhu.
"In addition to putting in time throughout the semester to assist with employer communication, volunteer training, event marketing and logistics, these students volunteered their time the day of Career Fair. They started at 6 a.m. and left around 7 p.m.!" said Colleen. "They truly deserve the recognition." (Photo: Pearl Cajoles)