Hilton College Gets a Taste of Korea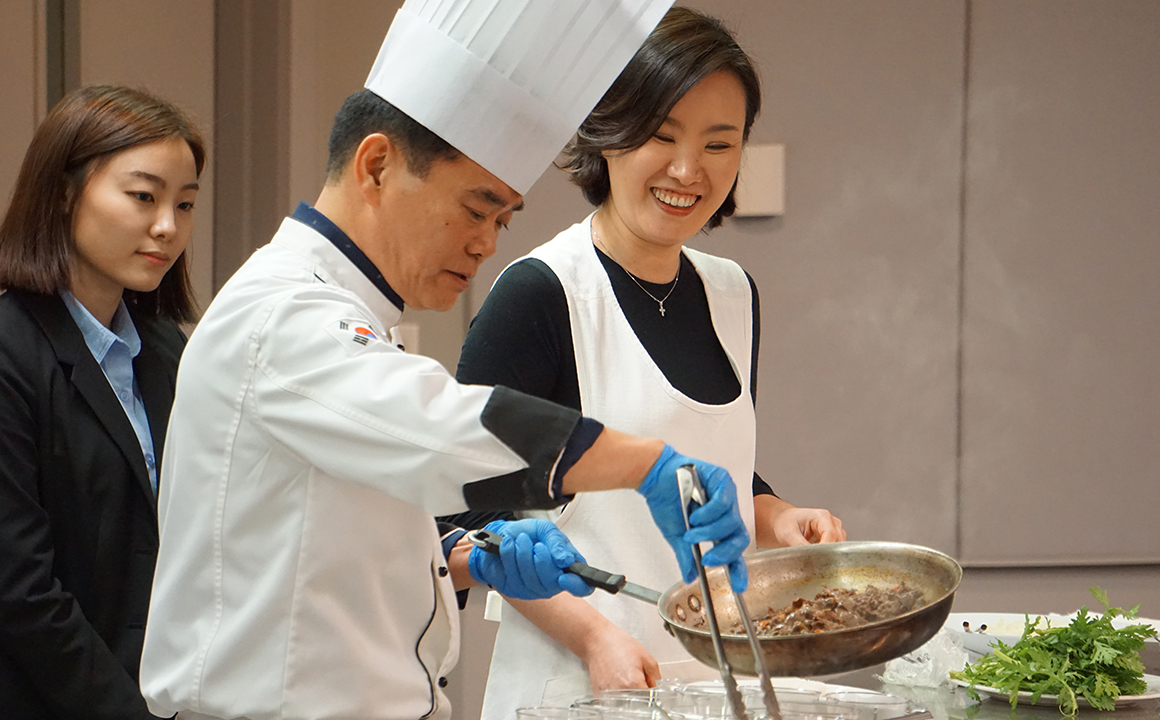 Hilton College held its first ever Korean Cultural Food Experience March 1-3, and the event was delightful proof that food and music always bring people together. Held in conjunction with Spring 2017 Career Fair activities, the experience brought a series of culinary events to the College featuring renowned guest chefs and professors Younbok Jeong, Wonkyung Song and Taewon Yoon, as well as singer Dahee Kim. The event was made possible by Associate Dean for Research and Graduate Studies Ki-Joon Back in partnership with the Korea Foundation, the Consulate General of the Republic of Korea in Houston, and the Mayfield Hotel and School.
Day One began with a culinary demonstration with Chefs Jeong (center) and Song (right) in the Spec's Beverage & Food Appreciation Laboratory. Student Dahee Hyun (left) assisted with translation. Guests learned about trends in Korean cuisine before being treated to Chef Song's interpretation of classic beef bulgogi with black raspberry sauce. That same evening, Dahee Kim captivated guests with traditional Korean melodies at the Pre-Career Fair Mixer. The mixer, also the first of its kind, was co-hosted by Eta Sigma Delta and the National Society of Minorities in Hospitality.
At the Career Fair Luncheon the next day, Chef Yoon joined Chefs Jeong and Song to bring more Korean flavor to the menu. Recruiters, faculty, staff and students had wonderful things to say about the pan-fried zucchini and king prawn, kimchi salad, and beef short ribs with kalbi sauce. The traditional Korean dessert with spiced cinnamon tea also proved to be a big hit. Many remarked the food was the best they'd ever had at a Career Fair.
The experience concluded with an invitation-only workshop presented by Chefs Jeong, Song and Yoon, along with Dr. Back and Assistant Professor Sujata Sirsat. Designed for Korean restaurant operators and future entrepreneurs, the workshop included panel discussions on trends in Korean cuisine and marketing strategies for the U.S. market, as well as a lecture on food safety issues and ethnic restaurants.
"It was a tremendous event, and we did it all together successfully," said Dr. Back. "Hilton College continues to be an innovative global hospitality leader by bringing cultural experiences like this to our students." (Photo: Pearl Cajoles)