'Super' Experiences with the Super Four Experience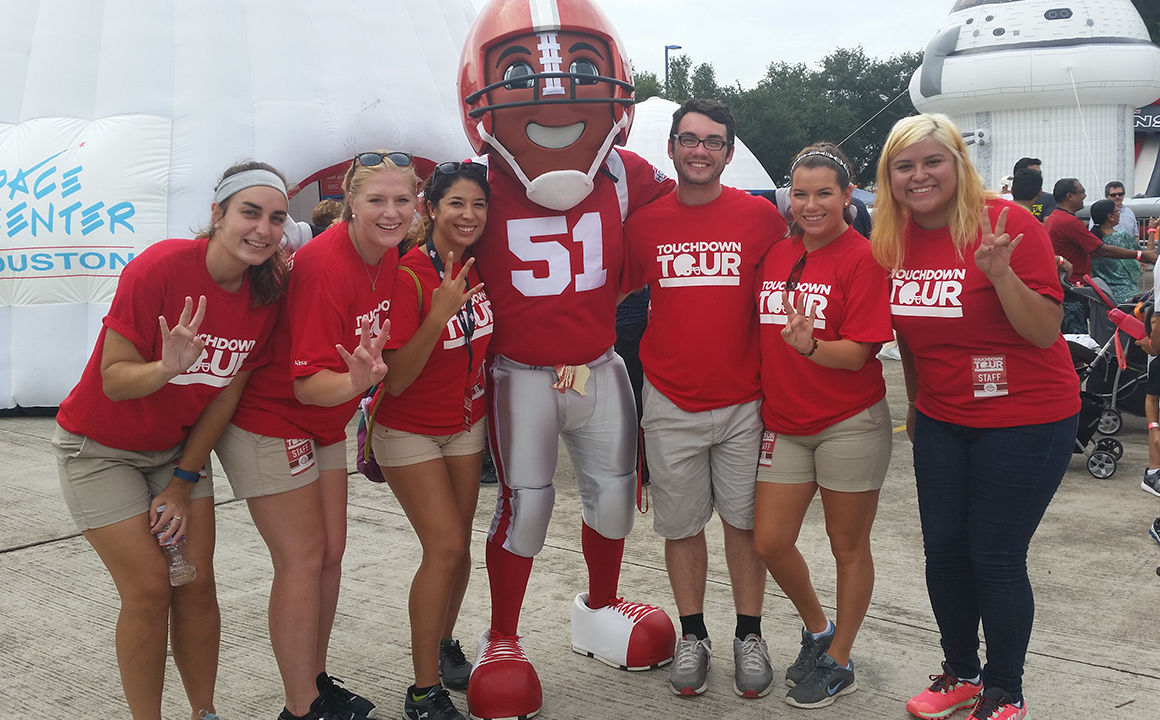 Through their work with the Super Four Experience, our students can now list on their resumes the impressive roles they played during the NCAA Final Four Tournament and Super Bowl LI. The experience, which began in fall 2015, was developed by Hilton College lecturer Anthony Caterina and Dr. David Walsh of the Department of Health and Human Performance's Sport and Fitness Administration Program. It gave students an unprecedented opportunity for experiential learning during two of the biggest sporting events in the country.
"Very seldom will you see a city host the Final Four and the Super Bowl back to back," said Anthony. "Through this class, our students now have stories they will tell the rest of their lives."
All class activities were tailored to the needs of the NCAA Final Four and Super Bowl Host Committees, and students worked in the areas of event planning, event management, sports marketing and communications, budgeting, project management, facility management, guest services, and sports governance. During the Final Four, the students supervised volunteers for the tournament, and worked behind the scenes during special events. When the Super Bowl came to town, they worked closely with the Super Bowl Host Committee to plan and execute a Touchdown Tour at Kingwood High School (pictured above).
And, through the NFL's White Glove Program, they received training from Jeff Wielgopolan, vice president of learning and development for the Forbes Travel Guide; from management and staff at the Four Seasons Hotel Houston; and from Tony and Donna Vallone of Tony's Restaurant. Then, after a series of interviews, they were assigned to work with NFL team representatives and VIPs during the Super Bowl. Senior Jennifer Trussell was paired with Mark Davis, principal owner and managing general partner of the Oakland Raiders.
"It was a wonderful learning experience," Jennifer said. "I helped Mr. Davis with hotel check in, and escorted his guests on the field after the game. And we saw Tom Brady!"
More than her brushes with celebrity, Jennifer said being in the Super Four Experience has prepared her for the real world. "We learned that even with all the planning, things can go a different direction once an event starts. So you have to be flexible, find solutions and make it work," she said.
The class will spend the rest of the semester reviewing what they learned from the course, as well as analyzing opportunities for improvement. They also plan to tour several sport venues in the city. Anthony said he is proud of what his students have accomplished, and is happy about the partnership with Dr. Walsh.
"Looking back at the past four semesters, I love how two colleges from the University were able to work together so well to bring this once-in-a-lifetime opportunity to our students." (Photo: Courtesy of Jennifer Trussell)