Kicking hunger with Taste of the NFL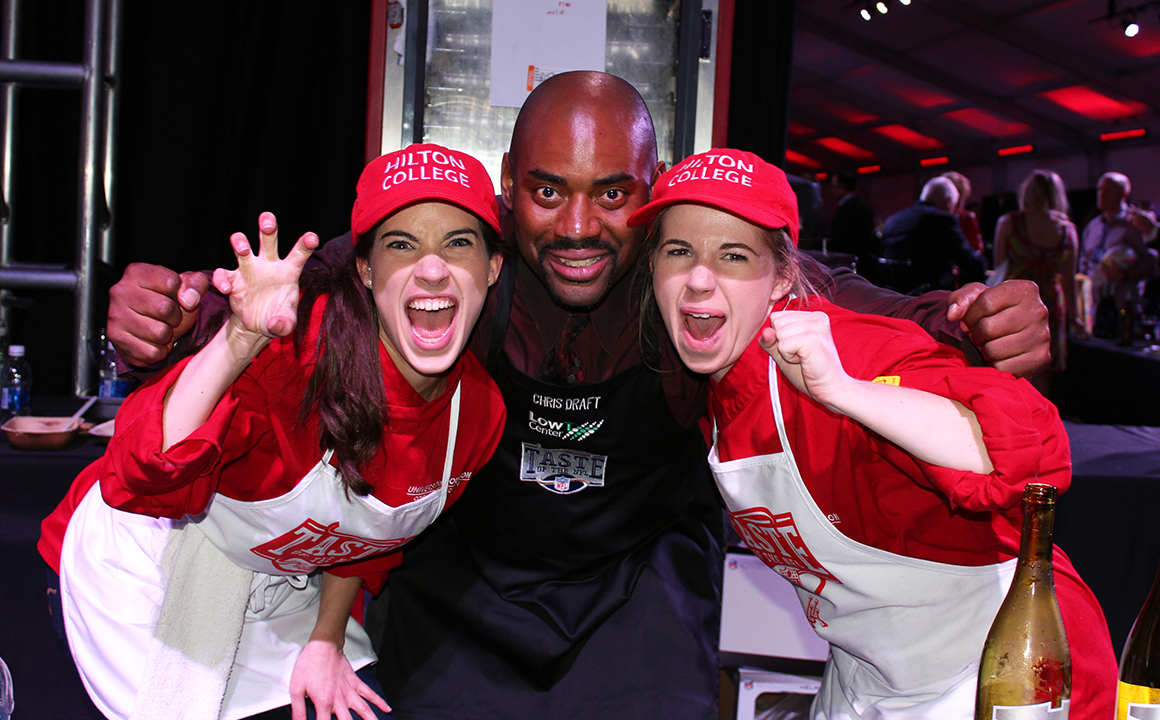 It was a celebration of fabulous food and football – all with a goal of kicking hunger in the United States. Taste of the NFL, an annual fundraiser that features cuisine from executive chefs representing 32 NFL cities, was held at the University of Houston on Feb. 4. Representatives from each NFL team – Hall of Famers and alumni players – were also at each station to meet guests, pose for photos and sign autographs. The best part? Our students were all part of the action, working as sous chefs and serving food for the star-studded event.
Through the event's partnership with UH, Hilton College offered a Taste of the NFL class, open to students of all majors interested in volunteering for the event. Led by lecturer Reba Haskell, the class focused on the skills needed to prepare students to work side by side with acclaimed chefs from some of the best restaurants in the country. The class also focused on hunger and food insecurity, and students spent a day volunteering at the Houston Food Bank.
Additionally, the curriculum included a knife skills workshop from Chef Georgea Pappas of Pappas Restaurants, and lessons on how to cook the perfect batch of scrambled eggs from Café Annie's Chef Robert Del Grande, who represented the Houston Texans with his delectable "Flat Iron Steak with Beef Crackling Egg Salad." Chef Del Grande had nothing but praise for his sous chefs.
"I've been all over the country with Taste of the NFL, and I can say Houston is the best, and UH students are the best," he said. "They are enthusiastic, smart and motivated."
Student Nicole Krout, (pictured right with classmate and volunteer Arianna Sosa), worked with the Atlanta Falcons, represented by Chef Kevin Rathburn and player Chris Draft. "Working toward a great cause, with such talented chefs, was a once-in-a-lifetime experience. I am blessed to be at this college and to see exactly what it takes to produce events like this," Nicole said.
The night ended with words from Taste of the NFL founder Wayne Kostroski, UH President Renu Khator, honorary host and Olympic medalist Carl Lewis, Miss America Savvy Shields and a number of celebrity chefs – all before a performance by The Band Perry.
"The students had so much fun, and they learned so much from the chefs who were very patient," said Reba. "And by learning about food insecurities, our students have become aware that they can make a difference in a person's life."
Special thanks, too, to Executive Chef Mark Riley and the entire F&B staff at our Hilton University of Houston. Our hotel kitchens were used for all of the advanced food preparations. The chefs also stayed at our hotel. A big score for Team Hilton! (Photo: Pearl Cajoles)