NACE Cougar Chapter Goes Head-to-Head With the Pros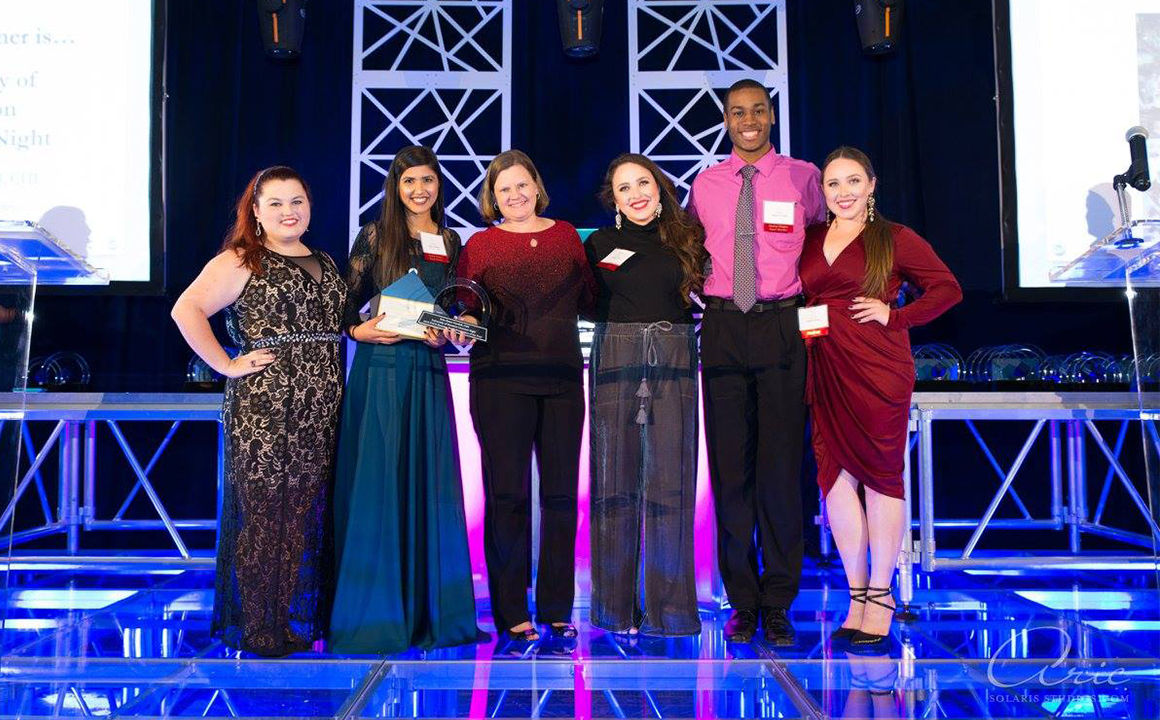 Our students can throw a party just like the pros! In fact, they are pros!
At the National Association for Catering and Events (NACE) Houston Awards, held Dec. 19 at the Omni Hotel Houston Galleria, our NACE Cougar Chapter received the Event Production of the Year Award for the 43rd Annual Gourmet Night, themed Jockeys and Juleps: A Tribute to the Kentucky Derby.
"It's a huge accomplishment that really validates the quality of our students' work," said Erin Oeser Goodell, Gourmet Night executive director and NACE Cougar Chapter faculty advisor. Erin attended the awards ceremony with members of the 2017 Gourmet Night student management team, who accepted the award on behalf of their 2016 predecessors.
This year's student managers, pictured with Erin (center), are from left: Caitlin Fuller, co-logistics manager; Sania Ahmed, general manager; Lindsey Grace, co-events manager; Dezmon Tinsley, co-silent auction manager; and Kalynn Grace, co-events manager. Dezmon added to the night's accolades by winning the Student Member of the Year Award, which is given to a student with an outstanding record of participation, contributions and involvement in their chapter and academic community.
These awards give our Cougar Chapter – and Dezmon – a chance for national recognition at the 2017 NACE Experience Conference, scheduled for July 16-19 at the Marriott Marquis in downtown Houston.
With the annual conference being held in our own backyard, watch for more from these Cougars, who will surely have a hand in producing another wonderful event! (Photo courtesy of Aric C. Hoek, Solaris Studios)­­