Jon Schultz Passes the Torch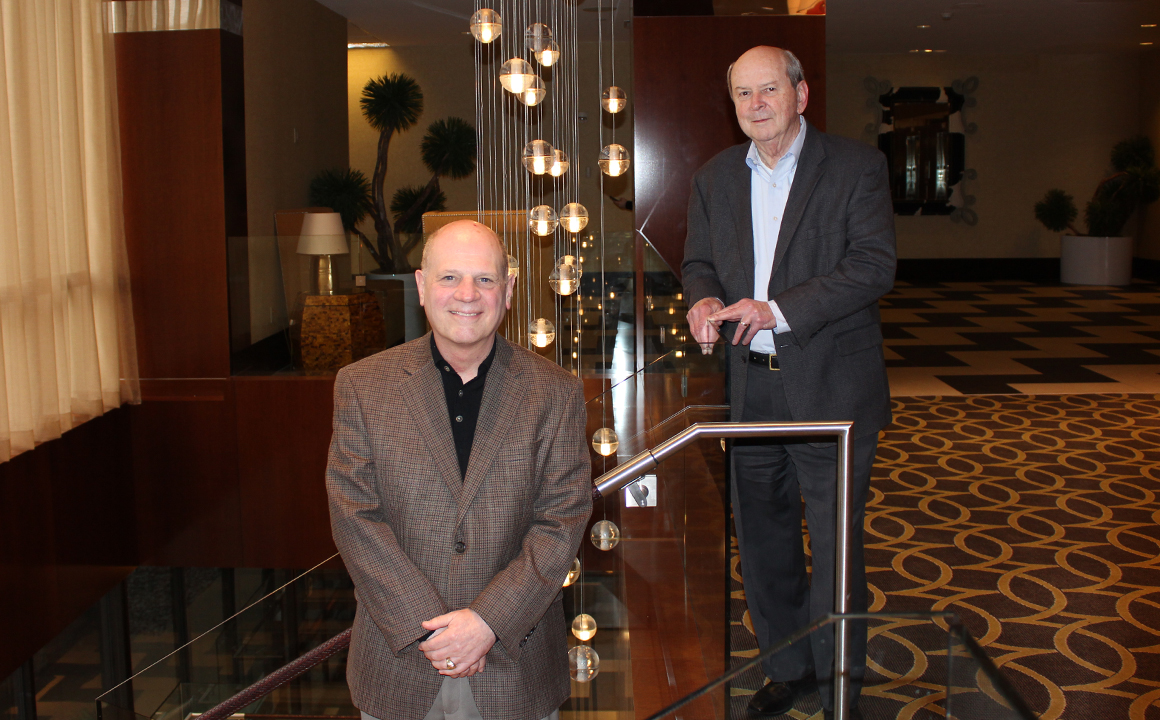 Assistant Dean for Business Development Jon C. Schultz (right) retired on Jan. 20, and we can't thank him enough for his legacy of service as a tireless champion for the advancement of Hilton College. In his 13-year tenure, Jon has been responsible for raising approximately $50 million for the College and has been an instrumental behind-the-scenes player who helped bring about the $14.5 million renovation of the Hilton University of Houston, and the development of the Massad Family Library Research Center, the Conrad N. Hilton College–San Antonio campus and the Spec's Beverage & Food Appreciation Laboratory. He's also established numerous endowments and helped bring the Hilton Legacy Exhibit to the College. He was recognized for these milestone achievements in 2015 with the Charles F. McElhinney Distinguished Service Award, the highest honor for any UH staff member.
For many years before his role in our development office, Jon – former executive vice president at Gerald D. Hines Interests – volunteered at the College, served on advisory boards, raised funds to build the South Wing, and taught a course in hotel development. On Jan. 18, a surprise luncheon in the Waldorf-Astoria Ballroom was held in Jon's honor. After laudatory words from Dean Dennis Reynolds, Jon was named an honorary alumnus of Hilton College. Alumni Association Board Member Randy McCaslin (Hon. '07), Jon's student in 1977, presented the honor. Jon was also presented with his portrait by famed artist and friend Ken Turner. Jon addressed the gathering remarking that working at Hilton College had been the most rewarding experience of his entire career.
"These past 13 years have given me great joy, and a sense of contribution," Jon said. "I've done whatever was necessary to advance the College because I believe in its mission to provide an outstanding education to those committed to a career in hospitality."
Taking over Jon's role is Joel Jaffe, former regional vice president at ClubCorp. Like Jon, Joel came out of retirement to take on his new role, one which he calls refreshing and invigorating. "I wanted to do something with a purpose," Joel said. "And with this position, like my previous one, it's all about building and maintaining relationships."
As Jon passes on the proverbial torch, he offers words of wisdom to his successor: "Be passionate and committed to the cause, and you will reap immense success and satisfaction."
With Joel's background and outlook, Hilton College is in very good hands. Thank you, Jon. You'll be missed! (Photo: Pearl Cajoles)