First Global Masters Cohort Celebrates Graduation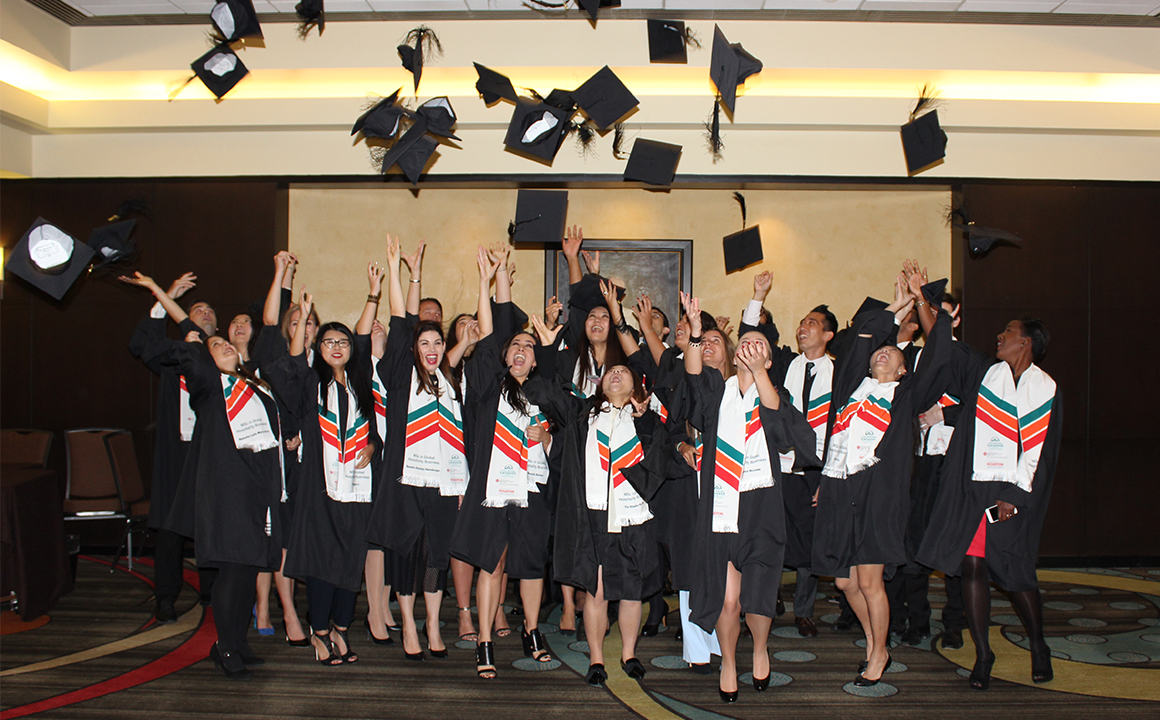 They are ready to take on the world!
The very first cohort of our tripartite Master of Science in Global Hospitality Business received their degrees on Dec. 16 at the Hilton University of Houston's Waldorf- Astoria Ballroom. This exclusive program, a partnership among Hilton College, Ecole hôtelière de Lausanne (EHL) in Switzerland and The Hong Kong Polytechnic University School of Hotel and Tourism Management took our grads to three continents in three semesters, with the final stop in Houston. The 27 students in the program – 21 different nationalities – spent 16 weeks of unparalleled cultural immersion while gaining an understanding of the hospitality world market. By the end of the program, they had completed capstone projects with Accor, citizenM Hotels, Dusit International, Hilton Worldwide, Hyatt, Michel Reybier, Servair, SGS and Swissair.
The graduation ceremony, attended by friends and family from across the globe, representatives from all three campuses, as well as members of our Alumni Association board, included a recap of the students' experiences and lifelong learnings through a slideshow presentation and graduate testimonial. Students were also recognized for Best Capstone Project (Hugo Manzini, Kyu Baek Kim, Marcela Chavez Barreto) and the peer-nominated Spirit Award (Francesco Corbo). Director of International Programs Jennifer Glickman said that the 16 weeks flew by so quickly, and graduation was absolutely spectacular.
"What an amazing first year! Both students and administrators learned a lot in terms of what worked well, and what we can improve upon." One of the best things about the program? "It's the great teamwork and collaboration between all three partner schools. It's a good feeling to know the school coordinators work so well together to ensure seamless transitions for the students from one school to the next," Jennifer said.
The second cohort, 42 students with more than 20 nationalities, started the program at EHL in September 2016, and arrived in Hong Kong earlier this month to start their second semester.
Congrats to all our global master's graduates, and we can't wait to welcome the second cohort to Houston this August! (Photo: Pearl Cajoles)