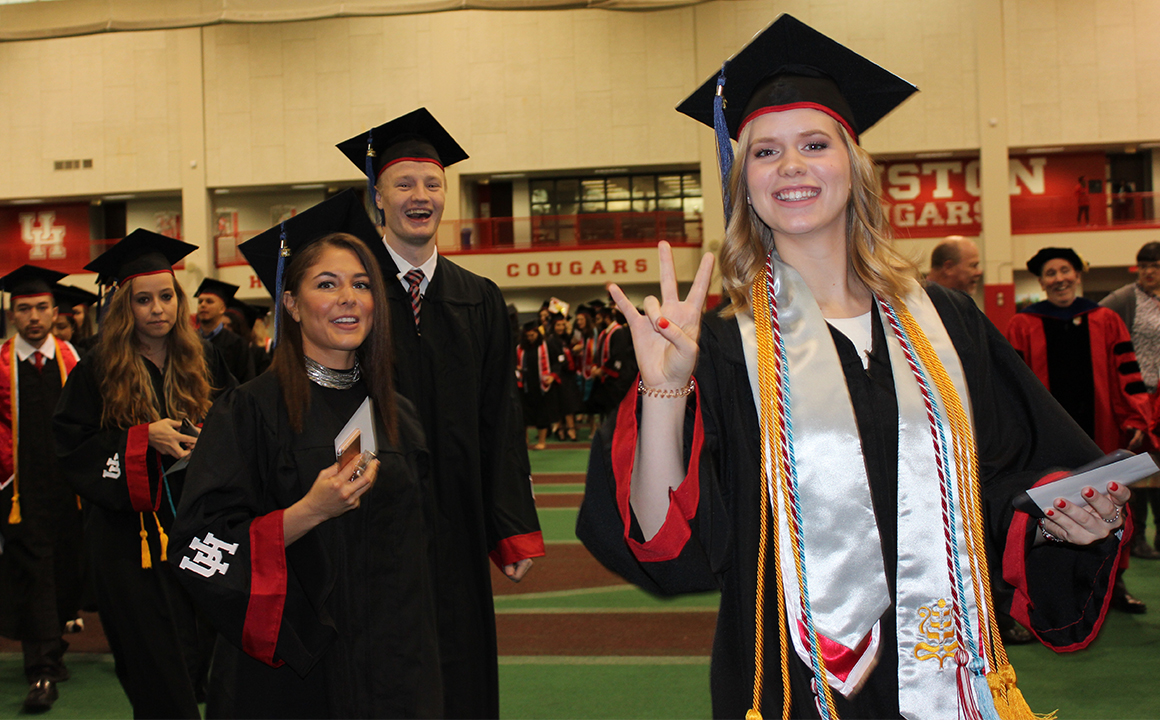 They did it, and we wish them all the best!
Convocation for Hilton College's Fall 2016 graduating class – 108 undergraduates and eight graduate students – took place at Hofheinz Pavilion on Dec. 15. The next day, 27 of our global master's students crossed the stage at a separate ceremony.
Guest speaker Sharmagne Taylor, CMP ('86), member of our Dean's Advisory Board and Eric's Club, inspired our newest grads by challenging them to fulfill all their dreams with the power of an education from the University of Houston. Sharmagne is president and CEO of On-Site Partners, Inc., a full-service consulting firm that provides technology solutions and logistics management for large-scale events. She is deeply involved with the College and is a mentor to ou­­­­­­r students.
After the ceremony, our newest grads and their guests proceeded to Hilton University of Houston's Waldorf-Astoria Ballroom for a reception and awards ceremony. Dean Dennis Reynolds presented the Dean's Award to graduate student Hyejo Shin and to undergraduate Kaitlin Fear (right). The Alumni Award for Scholastic Excellence, presented by Dean Reynolds and Associate Dean for Academic Affairs Mary Dawson also went to Hyejo Shin, and to undergraduates Sau Ling Cheung and Trang Thien Le.
Many from this graduating class have already started careers across the country, and we are so proud of their accomplishments. Congratulations to all! (Photo: Pearl Cajoles)