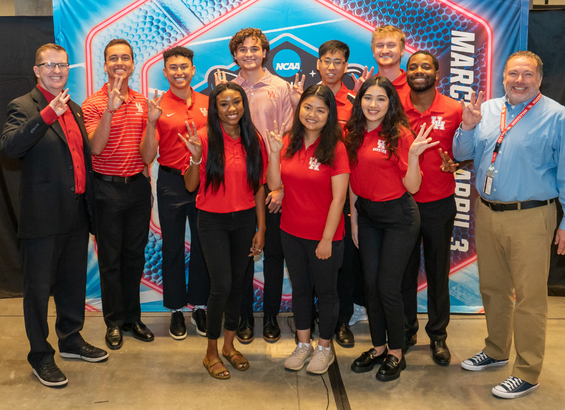 The 2023 NCAA Men's Final Four Houston Local Organizing Committee (HLOC) announced an initiative for students to gain experience and training leading up to the national championship in April 2023. The initiative, a college internship course called "The Business of Major Sporting Events," was announced Aug. 18 at a press conference by NCAA Managing Director of Division I Men's Basketball JoAn Scott and Houston Local Organizing Committee President Holly Kesterson.
Students from the Men's Final Four host institutions – University of Houston, Houston Baptist University, Rice University and Texas Southern University – will work closely with both the HLOC and its committees. Their training will include event planning and management, sport marketing and communication, budgeting, project management, facility management, guest services, and sport governance, among other opportunities.
Ten students from the UH Department of Health and Human Performance (HHP) Sport Administration program have been selected for the program. HHP faculty David Walsh will lead them through the program. He described the program as an invaluable experience for sport administration students to get first-hand access to and help organize one of the largest sporting events in the country.
Training will also include behind-the-scenes access to planning and event logistics meetings, direct involvement with event management and execution and administrative support. Classroom instruction will reinforce degree plan course concepts and skills (e.g., sport marketing) with practical projects and learning opportunities integrated with the field training.