Doctoral Progam in Motor Behavior

Ph.D. in Kinesiology with an emphasis in Motor Behavior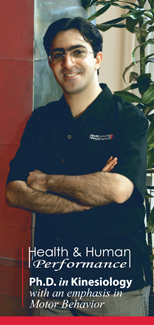 View brochure
This emphasis provides students with the experimental, theoretical, and analytical tools necessary to investigate the basic processes and mechanisms underlying motor control and learning. The results will provide improved training and rehabilitation for special needs populations, including athletes, astronauts, performing artists, patients coping with movement disorders or recovering from traumatic injuries, and normal individuals adjusting to the functional consequences of aging. Graduates of the program will have an expertise in biomechanics, kinesiology, sensorimotor physiology, movement disorders and rehabilitation; and will be qualified to pursue research careers in academia, medical research institutes, government laboratories or corporate research and development centers
The Ph.D. in Kinesiology with an emphasis in motor behavior program is designed for students interested in:
Adaptive sensorimotor control
Biomechanics and energetics of posture and gait
Basic and translational research models
Elite and at-risk populations
Research careers in academia, rehabilitation, space, etc.
Motor Behavior Faculty
Dr. Christopher J. Arellano

Broad interest in understanding the biomechanics, energetics, and balance of human and animal locomotion. Current projects focus on four main areas: Locomotor Training, Stability and Muscle-Tendon Mechanics, Assistive Devices and Human Performance
Full profile and publications



Dr. Stacey Gorniak

Research interests directed towards understanding healthy and pathological neuromuscular control. Specifically interested in sensori-motor challenges in hand function and understanding how neurological pathology changes how people use their hands. Investigating neural changes due to aging, traumatic brain injury, and neuropathy affect functional hand use, particularly in actions of daily living.
Full profile and publications

Dr. Charles Layne

Development of human coordination, investigation of locomotion/posture control and the role of somatosensory input on muscle contraction.
Full profile and publications

Dr. Beom-Chan Lee

Designing and developing real-time biofeedback technology to prevent and reduce falls by leveraging fall recovery performance, designing and developing a cell phone based platform for home-based balance rehabilitation and fall prevention applications, designing and developing a wearable sensory augmentation system, characterizing non-volitional human motor behavior (postural responses) to torso-based vibrotactile stimulation.
Full profile and publications

Dr. Daniel O'Connor

Evaluation of subject-level outcomes and effects; measurement of health, health-related quality of life, and health-related behaviors; measurement error, validity, linear models, and latent variable models.
Full profile and publications

Dr. Pranav Parikh

Sensorimotor mechanisms for motor control and learning in healthy young individuals, older adults, and patients with neurological diseases and injury. Therapeutic strategies to improve sensorimotor function in older adults and patient populations.
Full profile and publications

Dr. Seoung Hoon Park

Underlying neurophysiological mechanisms for deficient motor control and learning in elder adults and individuals with neurological diseases such as stroke and spinal cord injury. Developing novel rehabilitation tools. Behavioral and neural changes in response to rehabilitative interventions
Full profile and publications

Dr. Adam Thrasher

Neuromuscular physiology and motor learning; Biomechanics and gait analysis; Electrical stimulation of paralyzed muscles to restore function; Rehabilitation engineering; Pathological locomotion.
Full profile and publications
Control of posture and locomotion are complex functions that rely on coordinated interactions between the nervous system, the musculo-skeletal system, the cardiovascular system, and the environment. To study these functions, The Center for Neuromotor and Biomechanics Research (CNBR) brings together interdisciplinary research teams having expertise in engineering, physiology, clinical medicine, psychology, human factors, physics, mathematics, and computer science.