Career and Internship Information
What can I do with an economics degree?
Many jobs for economics majors involve some sort of data analysis. You might work in an oil company analyzing price data and market trends, in an investment bank analyzing financial data from publicly traded companies, in a manufacturing firm analyzing sales across regions, costs of production and worker productivity across plants, in a consulting firm evaluating the healthcare costs of the employees of a company, writing policy briefs for a lawmaker, working as a research assistant in a think-tank, collecting and managing economic and demographic data in a state or federal government agency; amongst many others. Other positions are related to sales teams where your training in economics allows you to understand and communicate market and business strategies. As discussed here, the training in economics provides a variety of analytical skills that are not job-specific but instead has applications to many job positions and industries. The pie chart below shows the industries where economics majors end up working. Most are in managing, finance, business and sales related.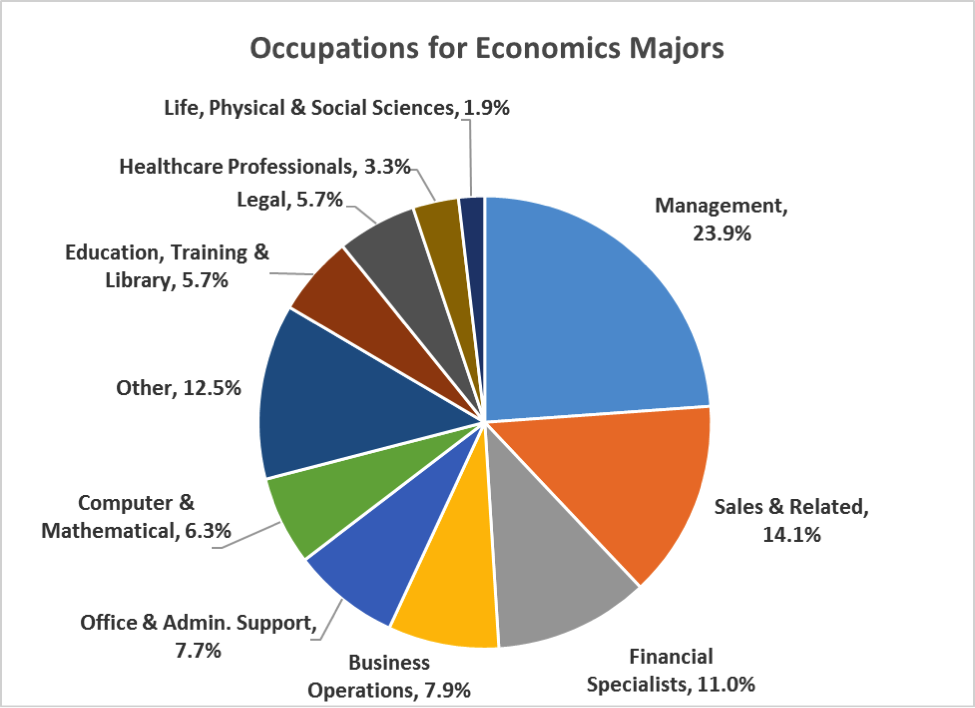 Some job titles
Market, Pricing, Industry or Data Analyst
Assistant Project Manager
Project Administrator
Financial Assistant
Leasing Consultant
Personal Financial Advisor
Loan Officer
Field Marketing Associate
Sales, Marketing and Advertising Manager
Securities, Commodities & Financial Serv. Sales Agent
Real Estate Broker and Sales Agent
Insurance Agent
Wholesale and Manufacturing Sales Representative
Administrative Assistant
State Policy Analyst
Research Assistant
Statistician
Operations Research System. Analyst
Systems Analyst
Here are other good articles about what you can do with a degree in economics.