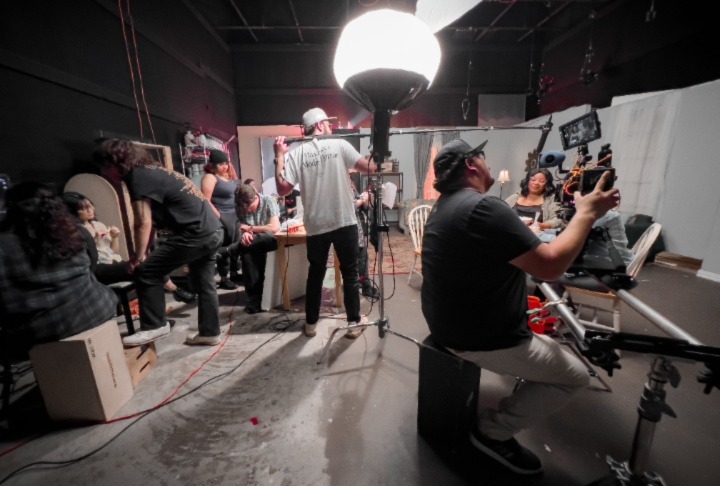 Media production students at the Jack J. Valenti School of Communication are working on the production of a student-led film this semester.
Being a part of the Film Practicum class this Spring, students work under former Valenti student Michael Grossman and associate professor Keith Houk. Outside of the producer roles of the two instructors, students handled every other aspect of the film process.
The film is a product of a script-writing competition between students and was written by media production senior Matt McKisson.
"In addition to writing the script, I worked in the social media department in pre-production," McKisson said. "In production, I worked with the script supervisor as a continuity and set photographer, and in post-production, I worked on the editing team."
Students were encouraged to submit their scripts for consideration in the Fall semester or even earlier if possible. One is selected and pre-production begins in the Spring, while production lasts during the week of Spring Break.
"Matt's was the strongest submission we received," Houk said. "We look at them for viability for production. Matt worked with Mr. Grossman through four revisions of notes."
'Room for None' is a crime comedy centered on a serial thief who runs cons by applying to roommate-wanted ads and robbing them blind. McKisson has been a filmmaker for most of his life, he said and has directed short films before that won awards at film festivals internationally.
"I'm just glad I got the chance to see my work produced in such a great production with a crew this talented and a director as experienced as Mr. Grossman," McKisson said.
Part of the filming is being done in collaboration with the School of Theater and Dance and its director Rob Schimko. This allows students to get experience both in front of the camera and behind it.
Students like media production senior Rachel Dsouza worked on the film as a script supervisor and a grip. These roles had Dsouza working on the script continuity and ensuring set equipment was correctly stationed.
"My role has prepared me by providing me with essential experience to fully understand what is required on set when setting up the foundations of the film, and how to make sure everything flows well not only on set but also during shooting with the scenes," Dsouza said. "I want to become a great screenwriter (and) cinematographer, and I believe my experience enabled me to see a sliver of what to look forward to."
Dsouza said it can be jaunting working with equipment as expensive as the technology full Hollywood production sets use. The cameras used to produce the film were priced at about four times her tuition, she said.
Previous student films the class worked on in other semesters have been nominated and awarded for various film festivals both in the area, nationally and internationally.
"
Everyone has a crew position that is involved in the production process," Houk said. "Everyone is part of a department on set and everyone is vital. This semester's crew was the best so far."