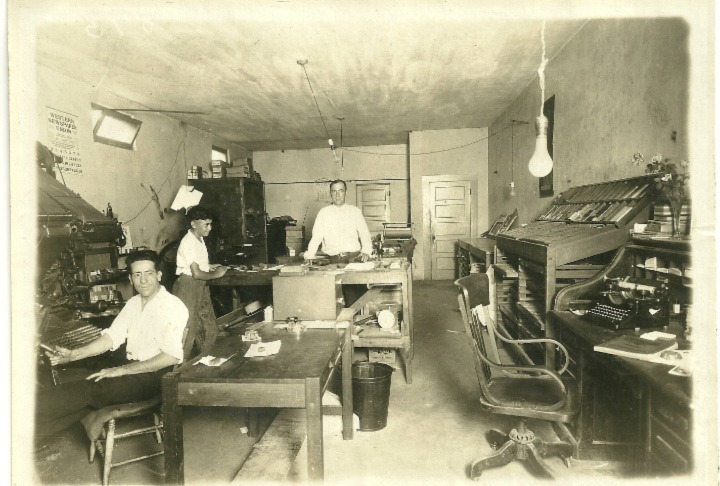 With a journalism award fund that goes back to 1953, the Scardino family has been a staple for student scholarships at the UH Jack J. Valenti School of Communication for decades.
Through the connection of printing, John L. Scardino originally had an award as far back as 1948 which was recorded as the first-ever journalism scholarship to be offered by a local citizen. After opening Scardino Publications in 1929, the print shop acted as the printer for junior and high school publications in the Houston area. He went on to print publications for the University of Houston in the 1940s.
Both John L. Scardino and his son John Jr. made connections with the students and administrators at the University of Houston. They had a long relationship with the University itself, which led to the award going to those students attending UH.
"Sometime in the 40s, my grandfather was very close to UH. He had a lot of students who maintained a relationship with the family all the way through the 60s, even the 70s," John Scardino III said. "He still maintained some of those relationships (after they stopped printing for UH in the 40s)."
The family print shop, Scardino Publications, is three generations, starting with John L. Scardino, then to his sons John Jr., "Dickie," Tom Scardino, and now to John Scardino III. Scardino III works as a retired booker now that he's sold his equipment and printing building.
"I worked in the business from the time I was 13 years old," Scardino III said. "The only time I wasn't there was when I was in college. Then I came back to work in the business after that."
When Scardino III's father and uncle left the business, he took over and ran it as Scardino Printing for 20 years.
After Dickie's passing in 1953, John L. Scardino wrote the book "Printing and Journalism" and dedicated it to his late son. It was used to help bridge the gap between journalists and their printers. That book became a textbook for many journalism classes throughout HISD. In the same year, Scardino started the endowment in Dickie's honor.
The Dickie Scardino Journalism Award was dormant for a few years in the late 1990s and early 2000s. UH would give out small amounts to students, and when the award generated enough cash, it was reinstated, Scardino III said.
"In about 2010 or 2011, I made a small contribution to it," Scardino III said. "Then over the next several years, I picked up some contributions that went on for a number of years. I've gotten thank yous, thank you cards (and) thank you emails, from students who received it."
The Scardino family history has journalism throughout the line. John L. Scardino's work goes back to 1903 with the daily newspapers, said Scardino III. His first job was nailing obituaries on telephone poles and he went on to work for other printing companies in Houston, becoming a "hot metal" operator.
John L. Scardino did not finish grammar school past the fourth grade, but was publishing journalism booklets as early as 1934, Scardino III said. He was self-educated and respected in the journalism field.
"He valued education highly, perhaps because of his short school attendance," Scardin III said. "I was the only member of his family to attend and graduate from college until my daughter graduated from Texas Tech and then my granddaughter from Sam Houston State. No other family members attended beyond high school."
What Scardino III wants for both the print shop's legacy and the family's legacy is longevity. How an operation such as this one was one of the three longest-standing printing companies in Houston and how they learned to adapt over the years to new technology.
Scardino III has made giving back a part of his family legacy with his work in the group Mothers Against Drunk Driving and the endowment itself. He has also done free printing for companies around Houston.
"When I first was involved in it, we did the old style of newspaper printing," Scardino III said. "It's all evolved into something sophisticated. I think the technology is overwhelming, and every industry has that. You either adapt or go away, and I've somehow adapted."