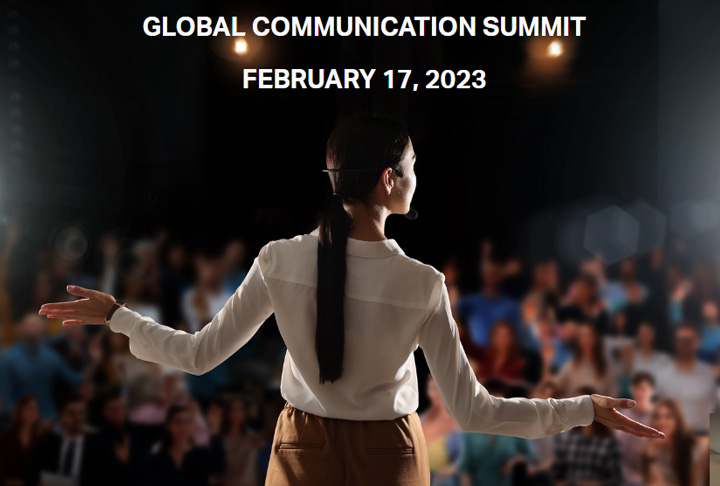 The Valenti School of Communication and the Asian American Studies Center at the University of Houston are bringing together researchers, educators, students, journalists, and activists for the 5th annual Global Communication Summit. This year's summit, to be held from 8:30 am to 5 pm Friday, Feb. 17, in Room 150 at the Valenti School of Communication, will focus on the theme Anti-Asian Racism in Everyday Communication. The hybrid in-person and virtual event is free and open to the public, and registration is available at: https://www.globalcommunicationsummit.org/register 
"Although there has been a significant increase in anti-Asian hate crimes in recent years, a lot of people are still unaware of the situation or do not believe Asian diaspora also experience racism," said UH Communication Professor Zhiwen Xiao, who is organizing the event. "In fact, Asians have been mocked for the way they look or talk, they have been blamed for COVID-19, they have often been dismissed in lots of everyday situations, and they have been victims of anti-Asian hate crimes. One of the purposes of this year's Summit is to raise awareness among the public that Asians are not immune to racism." 
Yali Zou, director of the UH Asian American Studies Center and University Endowed Professor for Global Leadership Studies, said the Center wanted to co-sponsor the event because of how well the theme aligns with the Center's mission to generate knowledge, increase awareness of the Asian/Asian American experience in the United States, and model collaboration. Further, the Center has sponsored research into the impact of the pandemic on anti-Asian acts of racialized behavior, including normalizing racism, xenophobia, hate speech, racial slurs, racist caricature, verbal assaults, bullying, harassment, vandalism, physical assaults, death threats, and even homicide. 
Deliberate, derogatory terms that politicians and even journalists used to refer to the virus "played a significant role in fostering bigotry," Zou said. "This kind of defamatory language, along with the media's extensive coverage of it, incited anger against Asian populations and encouraged widespread xenophobia. This escalation of media-supported anger has led to disturbing levels of violence against Asian Groups. Nationally, over 3800 instances against Asians – defined as discrimination, verbal abuse, violence, and bias--have been reported to the organization STOP AAPI HATE; two thirds of the acts were against women." 
This year's Summit features invited panelists and peer-reviewed research presentations, with topics such as "Anti-Asian Racism in the US: Where are we now and what can we do to bring about change?" and "Social Media, Network TV, and Hate Speech." The full schedule is available at: https://www.globalcommunicationsummit.org/schedule  
Over lunch, the keynote address, "Hate Crimes as the Tip of the Iceberg: Towards a Broader Conception of Anti-Asian Racism," will be delivered by Pawan Dhingra, an award-winner author, associate provost and associate dean at Amherst College, and the current president of the Association for Asian American Studies. 
Other participants include Emmy-award winning journalist Miya Shay of ABC13 in Houston; Chi-mei Lin, CEO of Houston's Chinese Community Center; Jennifer Evans, chief brand officer for RSi; and scholars from across the country and globe, including Nanjing University in China, University of Tennessee, Lamar University, Indiana University, University of Alabama, Arkansas State University, University of Iowa, Pennsylvania Western University-Clarion, and Texas A&M, among others, as well as various departments from throughout the University of Houston. 
As a faculty of Asian descent, Xiao said, she thinks it is very meaningful for the Valenti School of Communication to host an event like this. 
"This Summit, as previous ones, has continuously gained attention and visibility to our school from the public and scholars around the world," Xiao said. "More importantly, Valenti helps validate the experience of Asians when anti-Asian racism is a serious topic. As a school of communication, providing a forum to communicate about anti-Asian racism and flawed stereotypes of Asians and to help people understand each other better meets the school's mission, and it's our school's vision and responsibility to promote social change." 
Zou said she hopes attendees will have an increased awareness of the issues and develop an open and honest discourse and dialogue to critically and practically address these important issues, and will recognize the urgent need to collaboratively develop strategies and solutions for creating environments free from Anti-Asian racism. 
"The fact that two UH departments are working together on the summit allows us to reach a wider audience, to promote inter-department collaborations, and attract more students & faculty to engage on these important issues," she said. "We hope to demonstrate that the issues of racism, prejudice, violence, and microaggressions against Asians/Asian Americans is not wholly the concern of the Asian American Studies Center and Asian American Studies courses, but are important issues for the entire University of Houston population of students, faculty and staff." 
Event details:
When: 8:30 am-5 pm Friday, Feb 17 
Where: Online via Zoom and in-person at 3347, Cullen Blvd, Houston, TX, 77204 (ROOM 150, Valenti School of Communication)
Registration: https://www.globalcommunicationsummit.org/register