Lance T. Funston Communication Center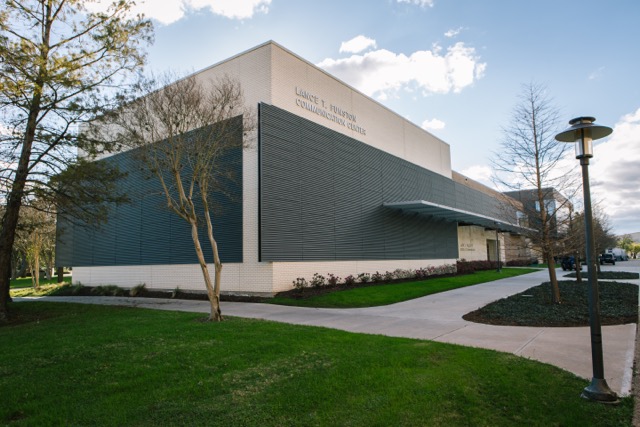 The Lance T. Funston Communication Center is a state-of-the-art media and content production facility at the Valenti School of Communication. The Center encompasses 3,300 square feet of production space between its two studios, complete with high definition studio cameras. It is instrumental in grooming the future filmmakers and broadcast professionals at our school. With a production control room large enough to hold an entire class, the Center is both functional and educational. It also houses three HD edit suites running Final Cut Pro X and two audio edit spaces. Field production and equipment checkout is found within the Center as well, with HD cameras, lighting and sound equipment all available for student use.
About Lance T. Funston
The Funston Communication Center is named for Lance T. Funston, a 1967 graduate of the University of Houston, because of his incredibly generous donation of $1.5 million. He currently serves as chairman and CEO of Ultimark Products, LLC, which he founded in 2000. In 1993, Funston founded TelAmerica Media, a media aggregator representing over 90% of the cable television industry. In 2008, 85% of the company was sold to Cross MediaWorks, Inc., and the balance sold to the Lee Group in 2013.
During the 1980s, Funston founded a Merchant Banking Firm, acquiring over $500 million in corporate properties. Funston's notable transactions included: Mid-Continent Bottlers, O'Day Sailboats, Kittenger Furniture, Brooklyn Seven-Up and Larami Toys, which created the infamous Super Soaker.
In 1967, Funston was appointed assistant to the director of the Federal Deposit Insurance Corporation by President Lyndon Johnson, and subsequently as special assistant to a governor of the Federal Reserve Board.
Funston received his MBA from Harvard Business School in 1970. During his tenure at Harvard, he founded Portfolio Management Systems Incorporated, which developed investment management systems for major financial institutions, including: John Hancock, Fidelity Mutual, American General, Sun Life and Bank of America. In 1973, Portfolio Management created a private real estate equity fund in Houston, Texas and developed over $300 million in residential and commercial properties during a 10-year period.
Funston served as Secretary General and first alternate driver for the American Samoan bobsled team at the 1994 Olympics in Lillehammer. He also served as a board member of the United States Bobsled and Skeleton Federation from 1992 to 1996.
In 2007, Lance and his wife, Christina, founded the Save a Mind Foundation, a 501(c)3 federal non-profit organization that assists at-risk youth in grades 5–8 to stay in school with their innovative Win/Win Program, and continue on to graduate from high school. As an avid fan of Texas Hold 'Em, Funston founded the Poker Players with a Heart Foundation in 2008 which supports various charities including the Philadelphia Committee to End Homelessness.
Born in Kansas City, Missouri, Funston currently lives outside of Philadelphia in Penn Valley, Pennsylvania and Villefranche Sur Mer, France, with his wife Christina. He has six children: Quinn, Zale, Lance, Brent, Blake and Heather.