Order of Omega is a national honor society, founded in 1959 at the University of Miami, to recognize those individuals in the fraternity and sorority community for their service and achievements. The purpose of the Order of Omega is threefold:
To recognize those students who have attained a high standard of leadership in inter-Greek activities, to encourage them to continue along this line, and to inspire others to strive for similar conspicuous attainment.
To bring together the most representative fraternity and sorority members, and to create an organization which will help to mold the sentiment of the institution on questions of local and intercollegiate affairs.
To bring together members of the faculty, alumni and student members of the institution's fraternities and sororities on a basis of mutual interest, understanding, and helpfulness.
Each year, the Kappa Tau chapter at the University of Houston selects qualified members to join the Order as a celebration and recognition of their leadership in their organization, the FSL community, and the greater campus community. Only up to 3% of members of the University of Houston fraternity/sorority community are eligible to join the order per academic year.
Eligible students must meet the minimum qualifications:
Must have completed at least 60 credit hours
Must be a currently enrolled student
Must be currently active in a University of Houston fraternity/sorority recognized/supported by CFSL
Must have a cumulative Grade Point Average above 3.00
Spring 2023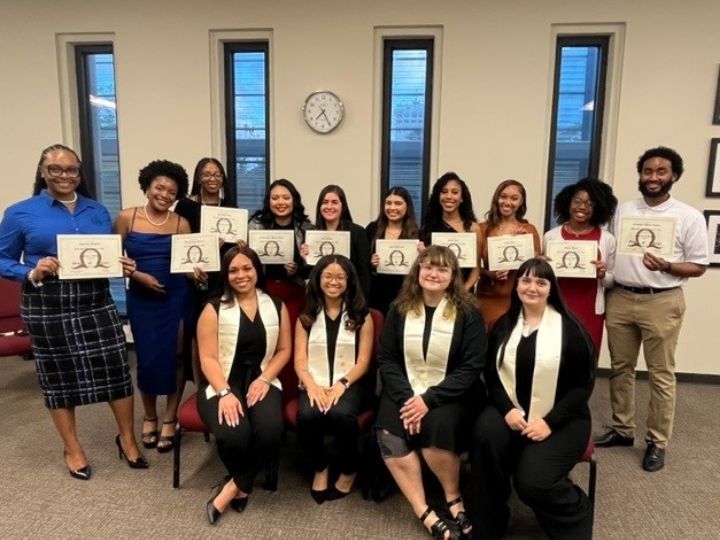 Undergraduate Initiates
| | |
| --- | --- |
| Tumi Adeyoju | Zeta Phi Beta Sorority, Inc. |
| Cristina Barraza Garcia | Kappa Delta Chi |
| Winter Bogan | Delta Sigma Theta Sorority, Inc. |
| Micah Cooper  | Delta Sigma Theta Sorority, Inc. |
| Caleb Covarrubias | Sigma Nu Fraternity, Inc. |
| Deja Giles-Lane | Zeta Phi Beta Soririty, Inc. |
| Marisol Hernandez | Delta Zeta |
| Jordan Mann | Delta Sigma Theta Sorority, Inc. |
| Zoe Peterson | Chi Omega |
| Courtney Rodgers  | Zeta Phi Beta Sorority, Inc. |
| Naila Salazar | Kappa Delta Chi |
| Zerubbabel Tadele | Alpha Phi Alpha Fraternity, Inc. |