Ja'Nelle King
Director
832.842.6269
jsking8@uh.edu
Ja'Nelle joined the Center for Fraternity and Sorority Life in February 2021. As Director, Ja'Nelle provides leadership, strategic vision, organization and administrative oversight to the department while supporting the staff and the fraternity and sorority community. Ja'Nelle received her Master of Education (M.Ed) from the University of Houston in Higher Education Administration and Supervision, and her Bachelor of Health Administration (B.H.A) with a minor in Diversity/Ethnic Studies from Texas State University-San Marcos. Ja'Nelle is passionate about authenticity, identity development, and helping students find their place on campus. In her spare time, Ja'Nelle enjoys DIY projects, doing her nails, and hanging out anywhere there is water. Ja'Nelle supports and advises the Interfraternity Council and Panhellenic recruitment, and co-advises United Greek Council.
---
Cassandra Joseph
Assistant Director
832.842.4951
cfjoseph@uh.edu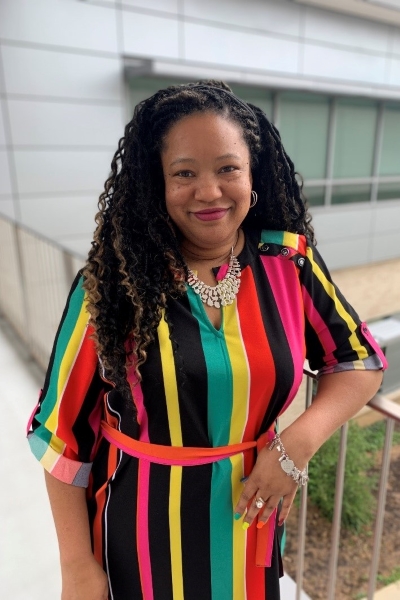 Cassandra started her journey at the University of Houston in May 2005 working with the Greek community, and has been part of the CFSL team since it was established in 2010. During her time with the Center for Fraternity & Sorority Life, Cassandra has had an opportunity to advise all five councils, Order of Omega, and has created many programs and policies that have helped support and develop the Greek community at the University of Houston. She currently supervises the graduate assistant and advises the National Pan-Hellenic Council, Houston Panhellenic Council, and co-advises the CFSL Ambassadors. Cassandra received her Master of Science (M.S) from Texas A&M University in Student Affairs Administration in Higher Education and her Bachelor of Arts (B.A.) in English and Speech Communication from Sam Houston State University. She has also been an active member of her sorority since Spring 2000 serving in both local and regional leadership positions. Cassandra is committed to the well-being of the students she works with and gives her all to ensure they have a fulfilling experience during their undergraduate years. In her spare time, Cassandra enjoys hot stone massages, shopping, and of course having fun!
---
Fraternity/Soroity Housing Coordinator
Vacant
---
DeLaine Fulton
Office Coordinator
832.842.4955
dfulton@central.uh.edu
DeLaine joined the Center for Fraternity and Sorority Life in February 2023. As the Office Coordinator, DeLaine provides administrative support to the students and department in areas such as expenses, contracts, grade reports, organization registration and other projects and events to support the fraternity and sorority community. DeLaine received her Bachelor of Science (B.S.) from Southern University and A&M College Baton Rouge in Criminal Justice. DeLaine is passionate about student development, youth advocacy, police reform, and prison reform. In her spare time, DeLaine enjoys fitness training, cooking meals for her family, and listening to podcasts.
---
Hunter DeCarolis
Graduate Assistant
832.842.4952
cldecaro@cougarnet.uh.edu
Hunter joined the Center for Fraternity and Sorority Life as a student employee in November 2018, and more recently joined the team as the Graduate Assistant as of June 2021. As the Graduate Assistant, Hunter assists in supporting individual chapters, councils as well as the entire fraternity and sorority community in the ongoing implementation of a full leadership experience. Hunter received his BA in Psychology with a Minor in LGBT Studies from the University of Houston, and is currently pursuing a Master's degree in Social Work. In his spare time, Hunter enjoys exploring with their dog, repurposing old items, and watching cartoons. Hunter supports and advises Multicultural Greek Council.